If you fell down the stairs and injured yourself in a place of business, a government building, or a private residence, you may be eligible for compensation.
Here's all you need to know about premises liability, stairway hazards, and keeping stairs as safe as possible.
Why Are Stairs Considered a Hazard?
Falls are among the most common causes of injury in the U.S., with anywhere between 7% and 36% of fall accidents taking place on stairs.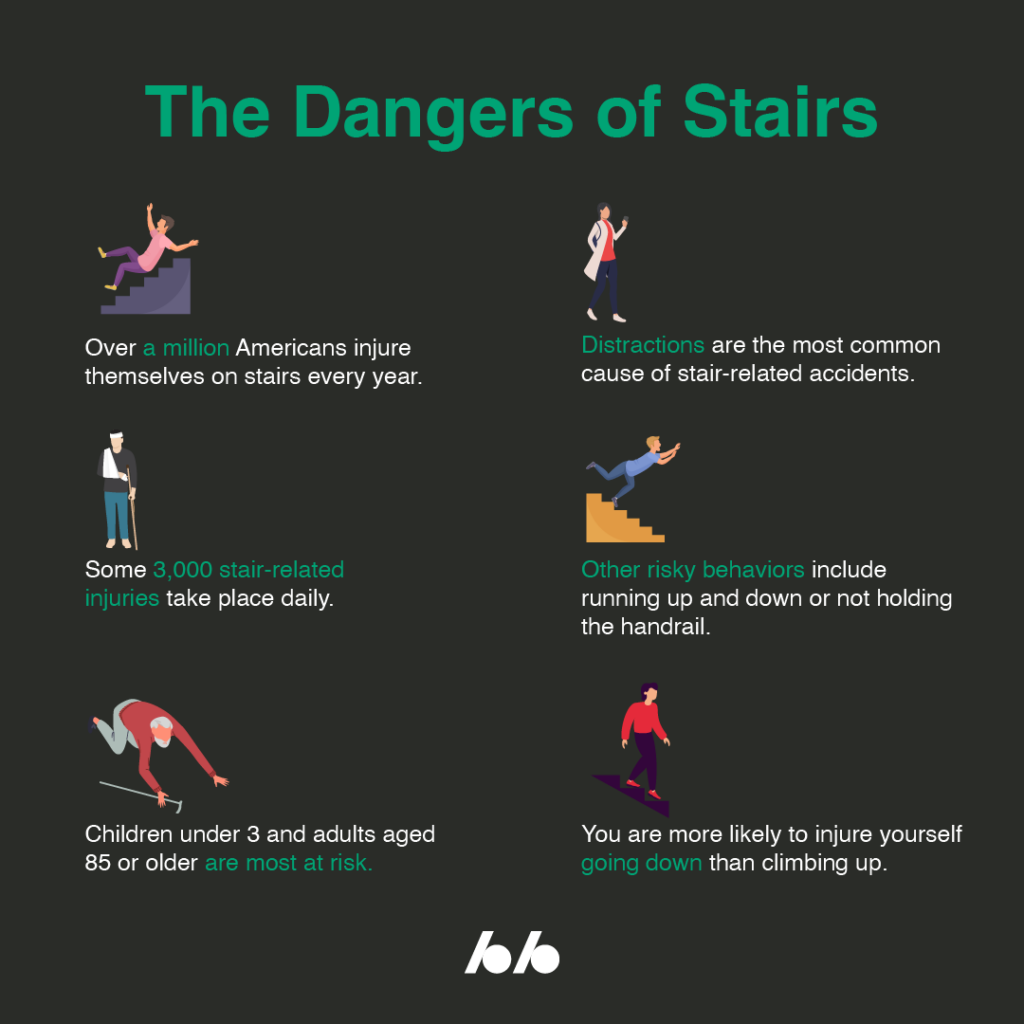 How Many Stair/Step Accidents Occur in the U.S. Each Year?
On average, as many as 1,076,558 people in the U.S. suffer a staircase-related injury every year.
What Are Some Common Stair Hazards That Cause Falls?
People commonly fall down stairs due to:
Objects on the stairway: Storing or leaving items on stairs is dangerous, as this creates a tripping hazard and hinders handrail use.
Poor lighting: Insufficient natural light during the day and/or dim lighting at night due to low-wattage, burnt-out, or missing light bulbs make it hard to see obstacles, broken steps, and other hazards.
Loose or frayed carpeting: Improperly fitted rugs and carpeting often cause slip-and-fall accidents.
What Are Common Defects of Stairs Themselves That Can Cause Accidents?
Structural defects that cause stair falls include:
Slippery steps: If stairs are made of slippery materials, they should be covered by a non-slip surface, such as carpet or rubber.
Broken or missing stairs: Loose, uneven, rotting, crumbling, or missing steps pose a danger to users.
Missing or damaged handrails: Missing or poorly secured handrails cause falls rather than prevent them.
What Are Possible Injuries from Falling Down Stairs?
Falling on the stairs can cause anything from minor to life-threatening injuries, including:
Cuts and bruises
Ankle or knee sprains and strains
Muscle strains in the legs, arms, neck, or back
Leg pain
Back pain
Buttock bruises
Herniated discs
Bone fractures
Neck injuries
Back and spinal cord injuries
Head injuries
Concussions
How to Tell If an Injury from a Stair/Step Accident Is Serious
If you notice any of the following symptoms, call 911 immediately:
Loss of consciousness, even if the individual comes to and seems fine
A severe headache
Confusion
Nausea and vomiting
Severe bleeding that doesn't stop after 15 minutes of pressure
An obvious bone fracture
Loss of feeling in any of the extremities
Difficulty walking
Difficulty speaking
Other symptoms may not require a trip to the emergency room, but you should still seek medical attention in the days or weeks after the incident. Examples include:
Blurry vision
Back pain that lasts for weeks and possibly worsens
Headaches that come and go or continue for days
Persisting muscle weakness
Numbness in the extremities or the groin
Heightened sensitivity to light and other stimuli
Swelling that doesn't go away with ice and rest
Severe pain that doesn't respond to over-the-counter pain relievers or interferes with sleep
Where Do Stair Fall Accidents Occur? Does the Location of the Stair Accident Matter?
Stair falls take place in all kinds of environments:
Homes
Apartment buildings
Commercial establishments
Business premises
Government buildings
Workplaces
Construction sites
Generally, the location doesn't matter with regard to liability. All property owners have a duty to keep stairways reasonably safe for visitors.
What Compensation Is Available to Victims of Stair Accidents?
Stairway injury cases settle for anywhere between $5,000 and $1,000,000. The average value is around $10,000. The exact amount will depend on the type and severity of the injuries.
What Is Premises Liability?
Property owners and non-owner residents are responsible for keeping the premises reasonably safe, so that visitors don't suffer an injury. If an accident occurs and someone gets hurt, property owners and residents will be liable. This responsibility is known as premises liability.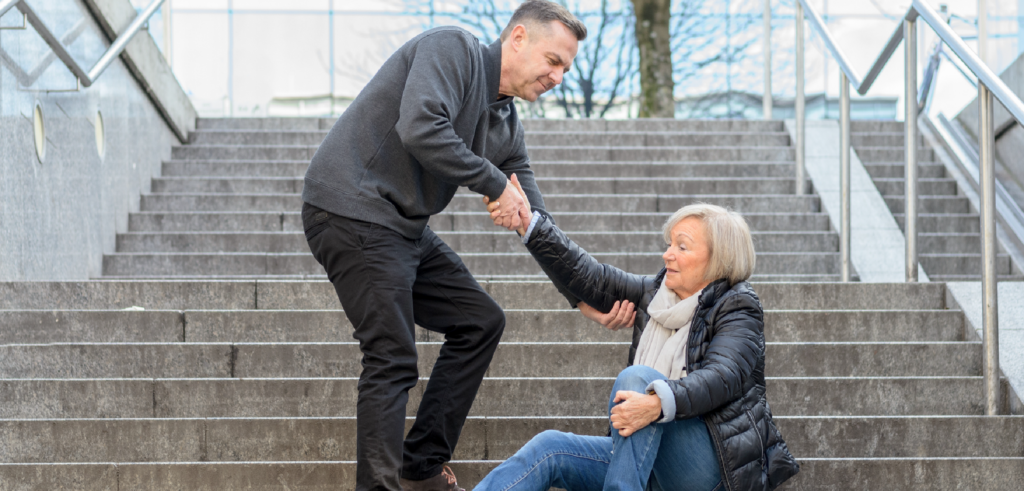 Who Can Be Held Liable for a Stair Accident Premises Liability Claim?
In California, premises liability is conditional on showing that the owner or possessor of the property was negligent and failed to exercise reasonable care to ensure the safety of visitors.
To establish a premises liability personal injury claim, you must prove the following:
The defendant owned or possessed the property at the time of the accident
The defendant negligently failed to exercise care to prevent injury
The plaintiff was injured on the premises
The defendant's negligence was a substantial cause of the injury
All of these components must be present to make a legitimate premises liability claim. If it is found that the defendant has been negligent, they may be ordered to pay for the plaintiff's medical bills, pain and suffering, lost earnings, and other losses.
Are There Any Instances in Which the Premises or Liable Party Isn't Responsible?
California is a comparative fault state. If the defendant shows that the victim was at least partly responsible for their injuries, the settlement amount may be reduced.
A property owner or possessor may also try to avoid liability altogether by arguing that the victim was careless or reckless, or that the injuries did not result directly from the fall.
Finally, if a third party intentionally pushed the victim down the stairs, they may be guilty of a crime such as assault or battery. The victim may also file a civil personal injury lawsuit to recover damages. In such cases, the owner of the premises won't be responsible.
Who Is Most at Risk of Falling Down Stairs?
While everyone is at risk, the most serious stair fall injuries affect young children and older adults.
How Do You Make Stairs Safe for Children and Elderly Adults?
To make staircases safer for kids and older adults, consider:
Removing carpet runners: Runners increase the risk of tripping for unsteady children and older adults who use a cane.
Adding a resting spot: If the staircase has a landing, add a place to sit for seniors to take a break on their way up or down the stairs.
Installing a stairlift: Electric stairlifts are the safest way for older people to go up and down stairs.
Adding overhead lighting: Shadows can make stepping difficult for seniors with impaired depth perception. Overhead lighting makes stairs safer by preventing shadows on the steps.
Using contrasting colors: Bright, contrasting colors make it easier to tell where steps end and begin.
What Are Ways That You Can Help Prevent Stair Accidents?
The following measures can help prevent stair fall accidents:
Handrails: Use a handrail when going up or down stairs, even on short staircases. If your stairs have no railing, have one installed, and make sure the banister is easy to grip.
Non-skid surfaces: Wooden and metal stairs should be covered by non-slippery surfaces, such as carpets or non-skid treads.
Visibility: Stairs must be easily visible at all times and illuminated at night.
Tripping hazards: Clear the stairs of objects that could be fall hazards.
Be mindful: Take your time climbing up and down stairs, and never carry objects in both hands. Be especially careful if you wear bifocals, as they may distort your depth perception.
What Factors Must We Consider in Designing Safer Stairs?
When designing safe stairs, bridges, stairlifts, overhead lighting, non-skid surfaces, and contrasting colors are all essential. Opting for stairs with a lower rise can also help ensure that you don't have to step too high to get from one step to the next.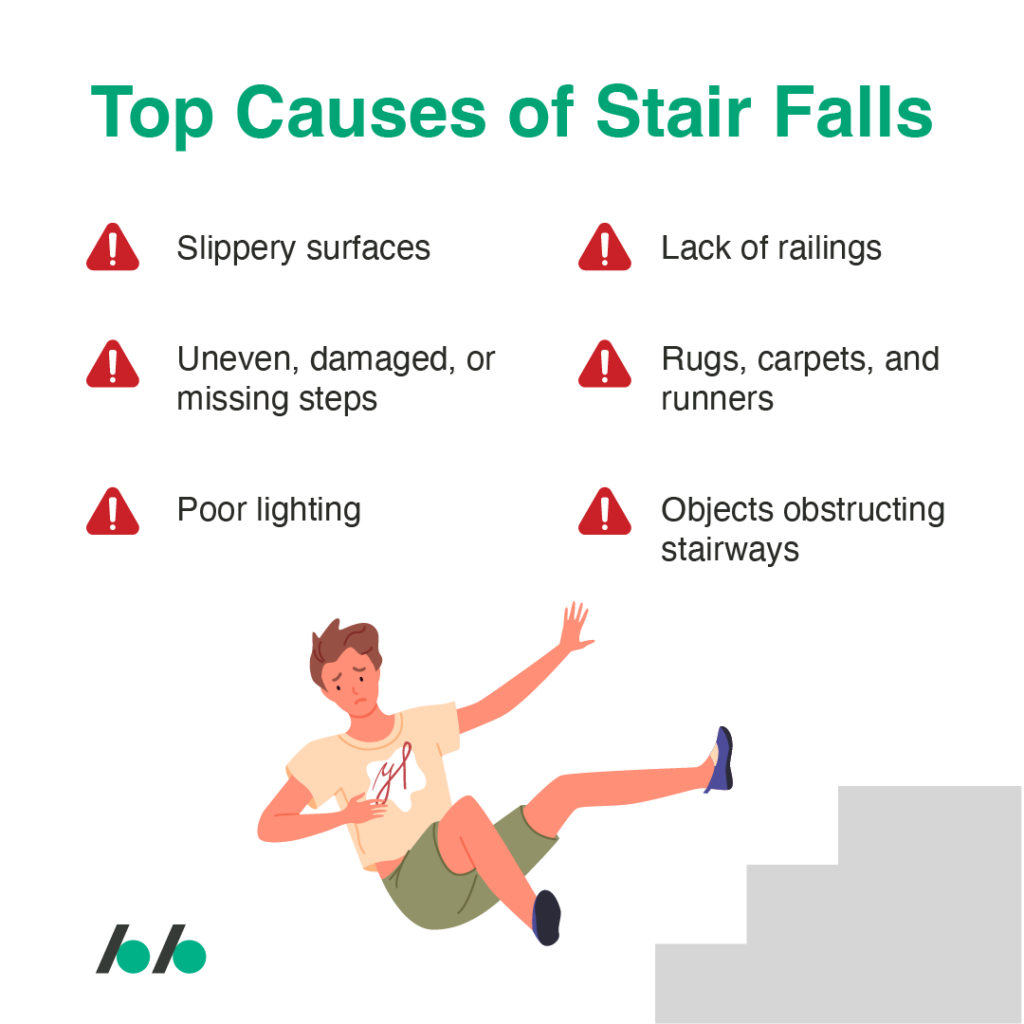 If You Fell Down the Stairs, We Can Help
"I fell down the stairs. Should I go to the doctor?"
"I fell down the stairs, and now I feel sick."
"I fell down the stairs and landed on my tailbone."
"What should I do?"
We get these questions frequently at Adamson Ahdoot LLP. While we can't help you with your physical pain, we can ensure that you get the compensation you deserve. Our aggressive team has over 100 years of combined legal experience and has recovered millions for our clients in premises liability claims.
Call us at (800) 310-1606 today for a no-cost, no-obligation consultation.