California Whiplash Injury Attorneys
Adamson Ahdoot LLP is Committed to Obtaining Justice and Fair Compensation for Your Whiplash Injuries
One of the most common injuries sustained every year in the United States is whiplash. Although many people assume whiplash isn't a "serious injury," it can cause chronic and debilitating pain. According to recent statistics, almost half of these victims will suffer some degree of pain over time.
Did you suffer whiplash in an accident caused by someone else's carelessness? If so, you may be entitled to financial compensation. Contact the attorneys at Adamson Ahdoot LLP today to review your case and explore your legal options. Our experienced legal team is determined to get you the results you seek. We will use all available resources to ensure that you receive the compensation you deserve.
Call us today at (800) 310-1606 to schedule a free consultation, or submit your inquiry through our website.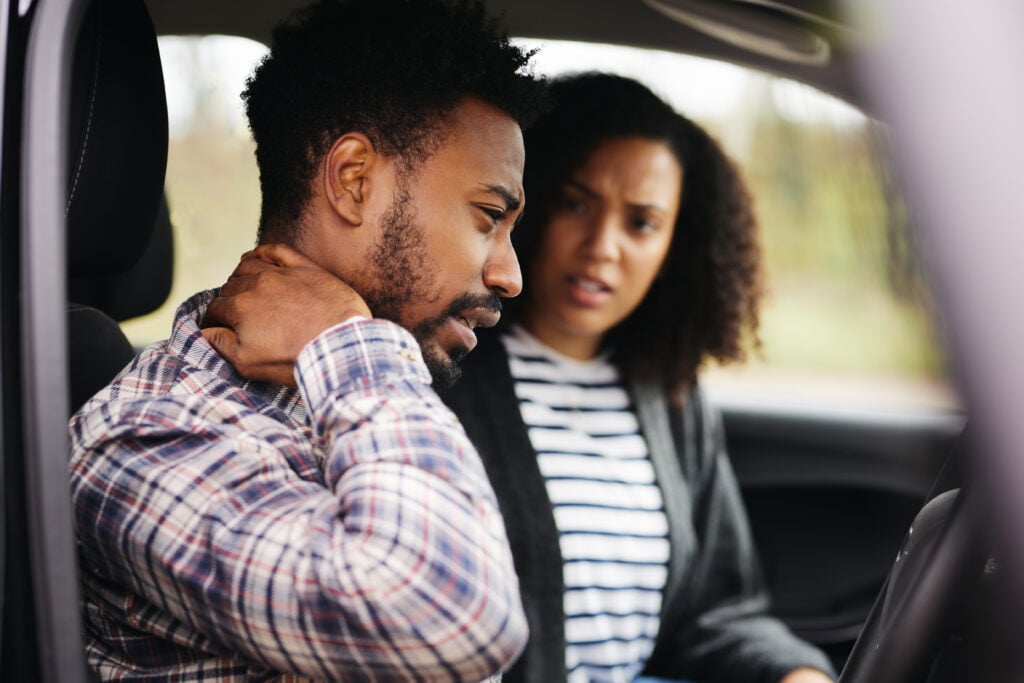 What is Whiplash Injury?
The National Institute of Neurological Disorders and Stroke describes whiplash as "an injury to the soft tissues of the neck. It is also often referred to as a neck strain or sprain. This cervical trauma usually occurs when the neck is jolted or subjected to a sudden back-and-forth motion. A sudden whipping or jerking motion can damage the delicate ligaments, muscles, joints, and nerve roots in the neck.
Common Whiplash Injury Symptoms
Although the whiplash signs often appear immediately, they can also take days or weeks to manifest themselves. Some of the early whiplash symptoms are neck pain, neck stiffness, dizziness or headaches. However, shoulder and back pain and strange sensations such as burning or pins and needles are also common. In severe cases, victims may also experience memory loss, irritability, nervousness, fatigue, depression, and an inability to concentrate.
Los Angeles Whiplash Injury Statistics
Every year, there are approximately 3 million cases of whiplash injuries nationwide. As mentioned above, approximately 50% of these sprains sustained in the U.S. will result in chronic symptoms. Statistics show that women are 5 times more likely than men to suffer a cervical injury sprain in an accident. Women also tend to experience more severe injuries in accidents than men because of their smaller neck size. Children are also at high risk for serious injury due to their smaller neck size.
Not surprisingly, many whiplash victims face a longer-than-expected recovery period. The average time away from work following whiplash treatment is approximately 8 weeks. Some people face the harsh reality of never returning to work. More than 60% of whiplash victims will require long-term medical care. In addition, nearly 50% will experience some form of neck pain for up to 20 years after the initial injury.
Leading Causes of Whiplash Injuries
One of the leading causes of whiplash is car accidents. Although many people assume whiplash only happens in high-speed accidents, many cases occur at speeds of 12MPH or less. Although any type of car accident can result in whiplash, several types of auto accidents are more likely to result in damage to the neck, including:
Rear-end crashes
Sideswipe accidents
Head-on crashes
Some of the other causes of whiplash include contact sports or physical abuse. In addition, it can also happen from pedestrian accidents, bicycle or motorcycle collisions, boating incidents, and slips and falls.
Determining the cause of your whiplash is important. If someone else's careless actions led to your injury, it may provide a basis for recovering financial compensation. At Adamson Ahdoot LLP, our experienced Los Angeles whiplash lawyers can determine the cause of your injury and help you determine who is financially responsible for your damages.
Our law firm can be of great assistance in your case. We will assign an experienced whiplash lawyer to investigate and evaluate the best legal strategy. We can help you get the whiplash compensation you deserve for your injuries.
What Damages Are Available to Whiplash Victims?
The personal injury lawyers at Adamson Ahdoot LLP understand the difficulties you face and can help you make the future look brighter. Our primary goal is to obtain the maximum financial compensation possible for the damages resulting from your injury. You may qualify for financial compensation for:
Lost wages
Medical bills
Pain and suffering
Emotional distress
Loss of enjoyment of life, and more
If you or a loved one has suffered a whiplash injury, you may be wondering what steps to take next. Whiplash may not seem like a serious injury, but it can result in weeks, months, and even years of recovery. Unable to work and in pain, victims often struggle to pay the mounting medical bills and whiplash injury treatment costs.
Get Help From a California Whiplash Lawyer
If the unexpected happens and you have to deal with a painful whiplash injury, don't hesitate to seek help from a whiplash lawyer at Adamson Ahdoot LLP. We have more than 100 years of combined legal experience and will fight aggressively to get you a fair result. We work on a contingency basis, meaning you won't pay any out-of-pocket costs until we win your case.
Schedule your free consultation today by calling (800) 310-1606 or chatting live with one of our knowledgeable team members. Remember, you only have a limited amount of time to file a claim, so act now.