Dog Sitter Dog Bites
Our Attorneys Have Extensive Experience in Dog Bite Cases
You never know when you might be attacked by an animal. Especially a dog. Taking a walk around the neighborhood can be a very bitter experience if you come across dogs with violent behavior that end up biting you. In California, dog bites are usually the responsibility of the owner. But, what if these pets attack the dog sitter or bite another person while walking with the dog sitter?
It is normal not to know how to react to such a traumatic experience. The injuries and emotional distress of a dog bite can leave lasting and painful effects. However, while the legal process may seem complicated, with the dog bite attorneys at Adamson Ahdoot, the legal procedure can be simple.
Our experienced California dog bite attorneys have won millions of dollars for victims in prior cases. As one of the most successful firms at recovering financial compensation, we can help you win your case. Call (800) 310-1606 today for a free case evaluation. We will not charge you until we get you the settlement you deserve.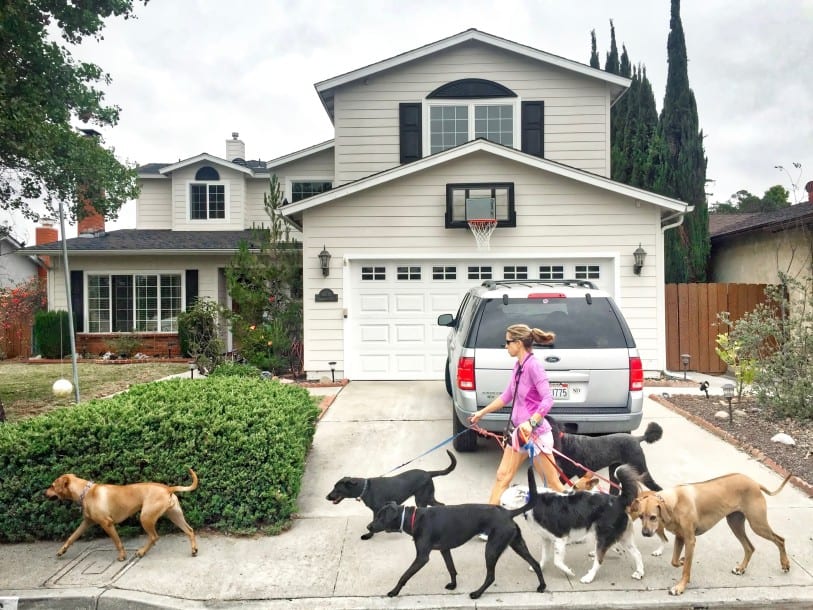 Dog Bite Liability While in the Care of a Dog Sitter
Everyone knows the age-old adage that dogs are man's best friend. Our furry companions are wonderful assets to our lives. However, we sometimes forget that they are still strong and powerful animals. As a result, they can react negatively when under stress or feeling threatened. Part of being a responsible dog owner is keeping yourself and others safe. Especially when the dog is with a dog walker. However, despite our best efforts, attacks can still happen. Read on to find out who is responsible in the event of a dog bite while in the care of a dog walker.
So, who is liable? It varies from state to state. California has very strict liability laws in that the owner is almost always responsible. However, these liability statutes often claim that the sitter can be considered the owner in certain situations. So it's still not as cut and dry as it seems. Even so, state laws with strict liability statutes make it easier to litigate dog bite injury cases. This is because there is no need to prove negligence: if a dog bites you, the owner is liable.
What if the Dog Bites the Sitter?
Technically, if the owner knew he or she had a dangerous dog breed with bad behavior, the owner is still responsible. However, the sitter, in particular, is a gray area. Since dog bites California law carries exceptions for those "voluntarily" putting themselves at risk, sitters who are aware of a dog's proclivity for violence may carry partial liability if the dog bites them while under their care. If the sitter is negligent, or somehow provokes the dog, they could be partially responsible for a dog bite as well.
What if the Dog Bites Someone Else?
The owner is liable if the bite victim was "lawfully in a private place," or else in a public place when the dog bite occurred. The pet sitter can be considered the negligent party. Especially if the pet sitter did not take reasonable steps to control a vicious or otherwise dangerous dog. For example, in the situation where an owner leaves out of town and leaves a muzzle for when the dog goes for a walk. If the pet sitter forgets to put it on and the dog bites a passerby, the sitter will likely be responsible. Even if she or he is not the true owner of the dog. This can change, however, if the person is going through a specific sitting service, like Wag or Rover, which has their own rules and policies as outlined below.
Dog Bites While in the Care of Rover:
Technically, even if in the care of a Rover sitter, the pet sitter or dog's owner is liable. However, should the animal bite a third party while in the care of a Rover provider, Rover offers what they call, "The Guarantee." This is an extra fund that can supplement a pet owner's insurance, should a dog bite lawsuit be filed against them.
It's important to note that while this works like insurance, it is not a replacement for insurance, and is considered a last resort by Rover policy. Rover clearly states in their policy that pet owners and providers should contact their insurance first when something goes wrong—though they also ask that any incident be reported within 48 hours to be eligible for the program.
The Guarantee will not reimburse for any damages incurred to the pet sitter or pet care provider, however—only to a third party. The Guarantee is good for up to $1,000,000 for personal injury and requires the party taking advantage of the guarantee to contribute at least $250 towards their payout.
Dog Bites While in the Care of Wag:
Wag does not have such a generous policy. Since Wag is closer to the gig economy model, it considers providers independent 1099 contractors, not employees. This absolves them of all responsibility in the matter, and they take full advantage of that absolution.
Their policy states, "WE SHALL NOT BE RESPONSIBLE FOR YOUR CONDUCT OR ANY THIRD-PARTY CONDUCT. THIS INCLUDES BODILY INJURY, INJURY TO ANY PETS, EMOTIONAL DISTRESS, AND/OR ANY OTHER DAMAGES THAT MAY RESULT FROM YOUR USE OF THE SERVICES."
While this seems pretty cut and dry, their terms of service also offer a $500 limit for any damages under "applicable consumer law." So, it is possible to ask Wag for help or hold them accountable should the worst happen.
Are Employees Liable When a Dog Bites?
The short answer is that yes, often the company can be held accountable if the dog bites, though dog bite California laws are stricter than most as far as owner responsibility. If the dog bites someone while in the care of a professional pet sitter, most often that provider's insurance will be the one covering any claims of negligence or personal injury. However, as stated previously, 1099 contractors like those working for Wag or Rover do not fall under this category. Since it's more often a "side hustle" than a profession, these providers are less likely to have insurance. Since, without insurance, any litigation is limited to the assets the individual owns, it's smart to discuss with your legal counsel how much settling may actually behoove you.
If a Dog Walker Is Bitten While Working for Rover or Wag, Can They Sue?
Though we stated previously that Rover's guarantee explicitly doesn't cover dog bite injuries to the dog walker or sitter, it's far from being that simple. These services often require sitters to accept jobs without knowing the pet previously. This means they can be contractually obligated to care for a pet without any previous knowledge of violent behavior. In addition, damages can be difficult to collect for pet sitters, since California law states that anyone working with pets assumes a certain level of risk (sometimes called the Veterinarian's Rule or Fireman's Law). If the sitter or pet care provider can prove that it was negligence on the part of the dog owner that caused the injury, then even under strict liability statutes sitters can be absolved.
A dog bite injury lawyer who is experienced in handling dog bite cases is essential when dog sitters are involved. In cases where the dog owner isn't present, figuring out who's responsible can be a tricky and confusing business. Negligence becomes complicated in these cases, and can sometimes be so exasperating that judges dismiss cases altogether. Having experienced legal counsel with experience in dog bite injury cases can ensure dog bite compensation for damages. Medical expenses, pain and suffering, and other losses will count towards the verdict
No matter who is liable, it's important that you file the suit within the statute of limitations. In California, the prescription period is two years. However, it can sometimes extend if the dog's owner leaves the state for a period of time. This prevents owners from running from a potential dog bite lawsuit. This also allows the victim to avoid being left in the lurch for injuries, loss of income, or other damages.
Experienced Dog Bite Lawyers in Cases with Dog Sitter
At Adamson Ahdoot LLP, we specialize in personal injury law. We have over 100 years of combined legal experience defending the rights of dog attack victims. Our free consultations are available by calling (800) 310-1606 or by filling out an easy contact form.
We have offices throughout California and stand ready to serve our local residents as best we can. We offer Spanish-speaking services and other community-oriented programs. Likewise, we're proud to take care of our community and hope our legal expertise can be of service to you. We know this is a complicated and difficult world, so we want to make it easy for you. You never have to be alone when you're with us.