Car accidents in California are an unfortunate reality of driving and can have a wide range of outcomes, affecting your health and finances. In best-case scenarios, you have minimal vehicle damage, but in more extreme situations, you may have painful injuries that require expensive medical care and time away from work. What complicates the process is when you are hit by an uninsured driver in California, who leaves you scrambling to find available recourse.
Here, we break down California's auto insurance requirements and provide an understanding of how that affects you when an accident happens. We also discuss some options you may have after an accident with an uninsured driver.
How Auto Insurance Works in California and the Minimum Requirements for Drivers
Like other states, California imposes obligations on drivers to have proper coverage for when they are a party to a car accident. Maintaining financial responsibility for your vehicles in California is necessary to keep your vehicle's registration in effect. The most common method for obtaining coverage is car insurance. The minimum liability insurance requirements for the drivers of private passenger vehicles are as follows:
$15,000 for injury or death to an individual
$30,000 for injury or death to multiple individuals
$5,000 for property damage
Liability insurance provides compensation to people other than yourself (i.e., the policyholder) and is separate from comprehensive or collision insurance, which provides coverage for you and your property. Driving without it can lead to unfortunate consequences such as financial penalties and loss of driving privileges in California.
Can You Comply with the Law Without Buying Auto Insurance?
Traditional motor vehicle liability insurance is the most common method for meeting California's financial responsibility requirements for a driver. However, California permits other forms of insurance that you could use to comply with the law. Some of those options include:
A cash deposit with the DMV in the amount of $35,000
A surety bond for $35,000 from a California-licensed company
A DMV-issued self-insured certificate
California Has a Low-Cost Auto Insurance Program If Your Income Is Limited
The premiums for motor vehicle liability insurance can be costly, and the other coverage options that California permits require large lump sums of cash that might not be feasible for your financial position. California recognizes these difficulties in obtaining proper coverage, which is why it is one of a few states that offer a state-sponsored, low-cost insurance program (the CLCA) available to certain drivers. The California Department of Insurance is the state agency responsible for operating the CLCA, and to qualify, you must:
Have a valid California driver's license
Own a vehicle valued at less than $25,000
Be over 16 years of age with a good driving record (or be a new driver)
Satisfy the income eligibility requirement
The CLCA website provides a free tool to see the income limits that apply to your household size. For example, a household of four can qualify for CLCA insurance with an income under $69,375. In addition to liability insurance, you may also be eligible to obtain other types of coverage to protect against injury to you or your property in case of an accident.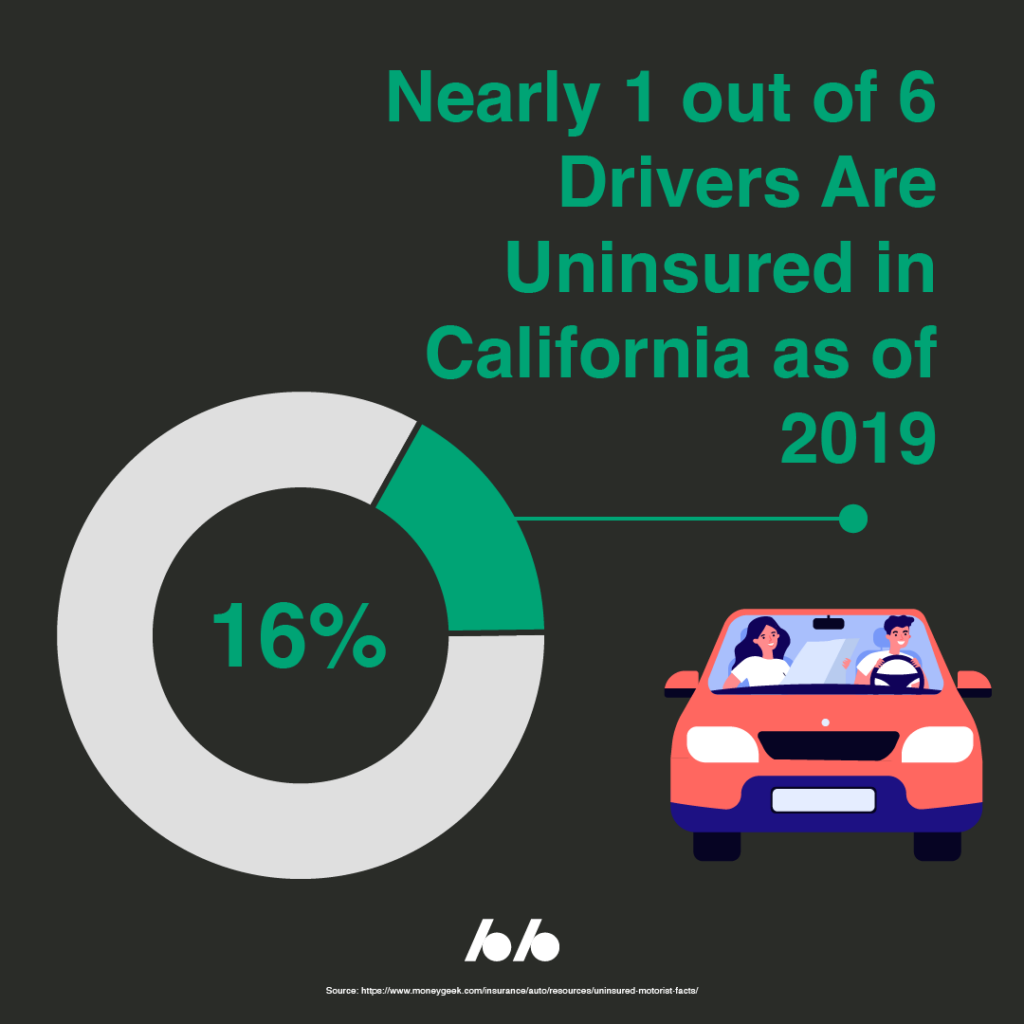 Reporting Someone Who Is Driving Without Car Insurance in California
You can report unsafe drivers, including those who are driving without proper insurance coverage, to the DMV. Simply contact the driver safety branch office for the location nearest you or the uninsured driver.
Taking Legal Action After Being Hit by an Uninsured Driver in California
When you are in an accident involving an uninsured driver, your options for legal recourse will depend on your specific situation. Generally, you will have two different methods for seeking compensation. The first is filing a claim against any insurance policies you carry. The second method is through a personal injury lawsuit. In many cases, both will play a role in helping you obtain owed compensation for your injury from a car accident.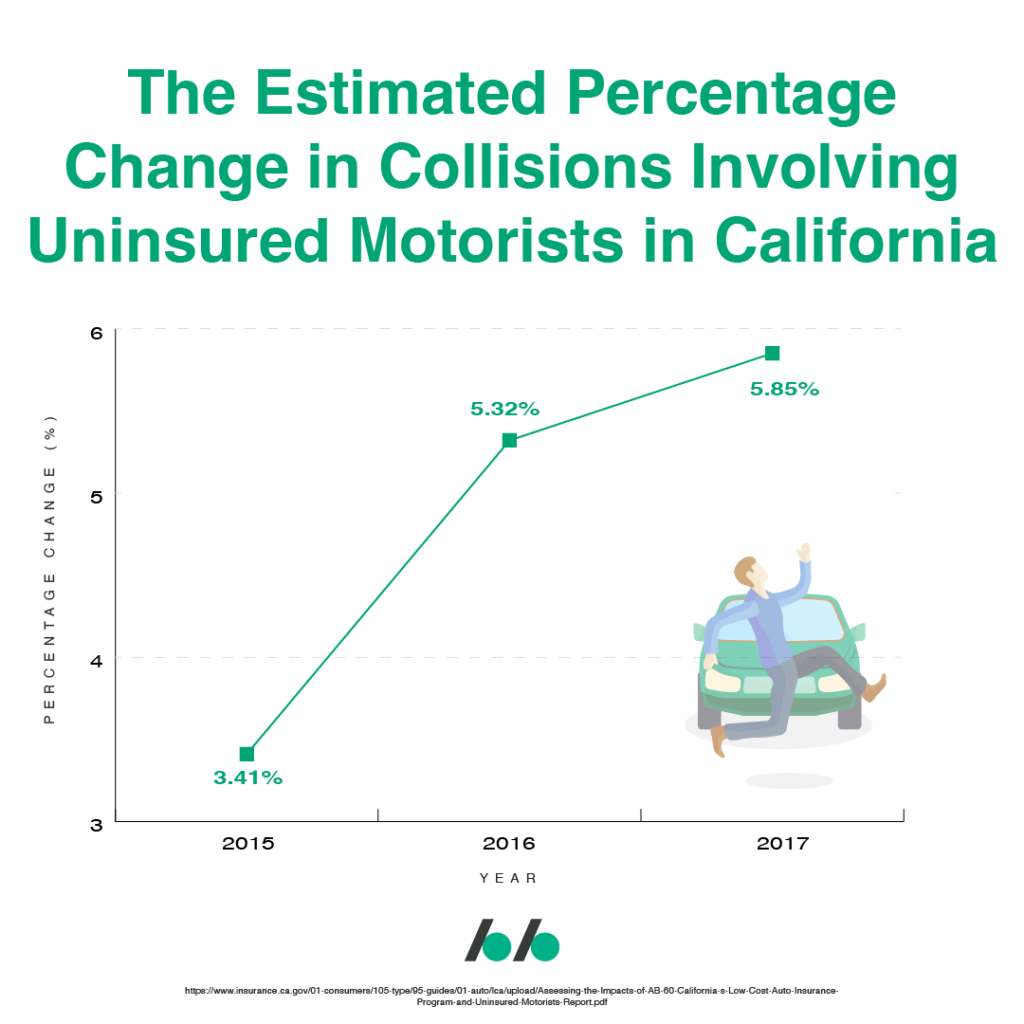 Filing a Claim on Your Auto Insurance
Aside from liability coverage, you may carry other types of auto insurance that might provide coverage in case of an accident. Common examples include medical payments coverage, physical damage coverage, and uninsured (UMC) or underinsured (UIM) motorist coverage. These policies may provide compensation in cases where the driver at fault lacks proper insurance.
The specific coverage will depend on the terms of the policy. Those injured in an accident should carefully review the terms of their policy for any notice requirements or other conditions to successfully file a claim. Our attorneys are available to help review your policy after an accident and take the steps to process a claim that may apply.
The Effect of California Being an "At-Fault" State Instead of a "No-Fault" State
Drivers involved in a car accident also need to understand how California's status as an "at-fault" state applies to the process of obtaining compensation after an accident. Simply put, it means that you must first establish fault for an accident, and then you file a claim against the insurer of the driver who was at fault. In contrast, a "no-fault" state is one where each party to an accident files a claim against their insurer regardless of who was at fault. The insurance companies may then have subrogated claims against the insurer of the driver or drivers at fault.
While driving in a "fault" state may provide lower premium costs, the process for filing and getting paid on a claim is more difficult and takes longer because you must establish fault first. In some cases, fault won't be readily apparent because of the number of vehicles involved or the nature of the crash. Working with an attorney could be helpful in these situations to identify at-fault drivers and pursue claims against their insurer.
Filing a Personal Injury Claim Against an Uninsured Driver
When dealing with an uninsured motorist (or one whose policy won't cover your damages), your next available option for recourse may be a personal injury lawsuit filed in a local court. Generally, this means filing a claim for negligence against the driver at fault. California follows the pure comparative negligence method, so claimants can only recover damages reduced in proportion to their level of fault. For example, if you were 30% at fault, then you could only recover 70% of your damages against the other driver.
What Kind of Compensation Can I Get for an Uninsured Driver Accident in California?
Personal injury claims arising from car accidents usually allow for two types of damages. The first is economic damages, which compensates for the things you can more readily quantify, such as medical costs, property damage, and lost wages (both past and future). Non-economic damages, in contrast, more broadly compensate for the hardship you've endured because of the car accident (i.e., your pain and suffering).
How California Uses Its "No Pay, No Play" Law and What It Means for Uninsured Drivers
California, because of Proposition 213, became one of several states to adopt a "No Pay, No Play" law, which impacts the recoverable damages an uninsured driver can recover from an accident. If you are an uninsured driver in California, then you won't be able to claim any non-economic damages, even if you were not at fault. These laws exist to deter people from driving without proper liability insurance.
The Value of Hiring a California Attorney to Pursue an Uninsured Car Accident Claim
Navigating the insurance and personal injury claim process after a car accident in California can be challenging because of the complex rules involved. This is especially true when you are trying to recover from a car crash and are dealing with an uninsured driver. Hiring a personal injury lawyer could prove beneficial in many aspects of getting the compensation you deserve from those at fault and their insurers. Some areas where you may find our experience and knowledge especially useful are when it comes to evaluating proposed settlements, identifying responsible parties, and calculating the damages available to you.
If you were recently injured in a car accident, with an uninsured motorist, or otherwise, call (800) 310-1606 to schedule a no-obligation, free consultation with one of our lawyers for the help you need.