Yes!
But the issue is nuanced.
You've likely used Amazon or another e-commerce platform to purchase a wide range of products from a variety of sellers. However, the goods you purchase from Amazon – not unlike other products – may carry the risk of physical injury to yourself or your property due to defects in their design, production, and associated warnings (or lack thereof). When this happens, the issue becomes your rights under product defect claims and Amazon's potential liability.
The legal landscape for Amazon's strict product liability of defective goods offered on its platform is somewhat unsettled. Although, current cases (some of which are subject to further appeal) may be creating some precedent for Amazon to take greater responsibility for the defective products on its platform that cause injury. Your likelihood of success with a product liability claim generally depends on the specific facts, the nature of your injury, and the applicable state or federal law.
The product liability attorneys at Adamson Ahdoot, LLP offer a free consultation to answer your questions and discuss your legal rights. Our lawyers have recovered millions of dollars for victims of serious injury, including injuries from defectively designed, manufactured, and marketed products. We are not afraid to take on difficult product liability cases and large corporations such as Amazon.
California and Other States Are Raising Legal Issues About Amazon Product Liability
Historically, responsibility for the strict liability of a product defect will apply to the members of a product's supply chain. This may include the designer, manufacturer, distributor, and seller.
The issue with Amazon and other e-commerce platforms is consumers may be at risk of purchasing defective products from third-party sellers. Furthermore, third-party sellers may be impossible to locate and obtain a judgment against after an injury occurs. This creates confusion about how and if an internet marketplace should fit into that supply chain of liability. The status quo has been that Amazon can avoid liability in many instances because it is simply a service provider that lacks control over defective products from third parties.
A large percentage of gross merchandise sales on Amazon come from third-party sellers.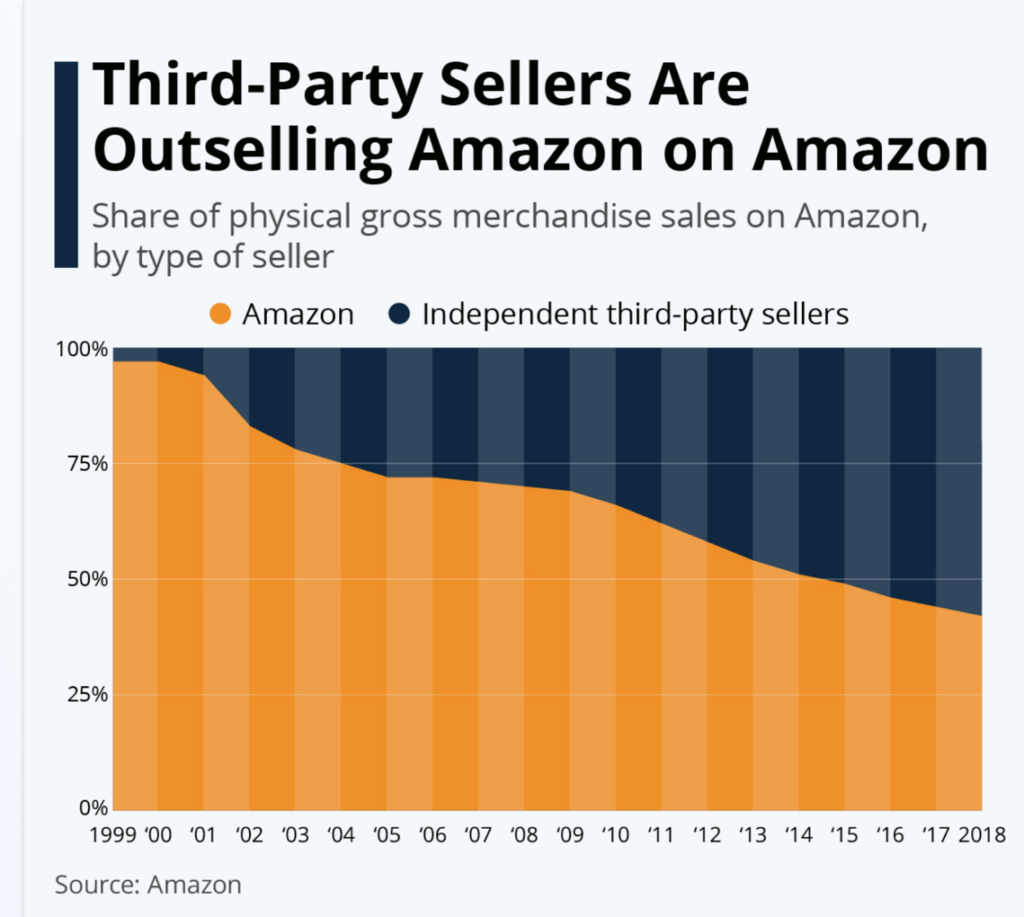 Recently, the California Fourth District Court of Appeals challenged the status quo in August after a woman purchased a third-party, replacement laptop battery that later exploded, causing her serious burns. In Bolger v. Amazon, the court stated, that under the circumstances of the case, Amazon could be held strictly liable for defects in third-party products sold via its website.
The court relied on the following facts to determine that Amazon was within the supply chain that could make it strictly liable for the exploding laptop battery:
Amazon took possession of the laptop battery (i.e., stored it in its warehouse) and directly fulfilled the customer's order through delivery.
Amazon's listing of the product did not conspicuously inform the consumer of the third-party seller's identity or the nature of Amazon's relationship to the sale.
Amazon controlled the entire sales transaction.
Amazon can adjust the costs of liability with other participants in its manufacturing and marketing enterprise.
Amazon's ability to exert pressure on third-party sellers to enforce safety mechanisms and to seek indemnity from sellers after the fact.
A spokesperson for Amazon acknowledged the company's intent to appeal the Court's decision.
However, the case reflects a judiciary sentiment that Amazon bears some responsibility to injured parties for harm from defective products sold through its platform.
Other States With Recent or Ongoing Litigation Concerning Defective Products Sold on Amazon
California is not alone in its consideration of cases regarding the application of strict product liability for third-party products sold on Amazon. Additionally, other state and federal courts hearing cases on the topic are doing so with differing outcomes, while many other states are still silent on the legal issue.
Texas
A woman in Texas filed a product lawsuit against Amazon after her toddler swallowed a remote-control battery from a third-party seller, causing esophageal burns. She claimed the remote's defect was that it did not properly contain the battery, which allowed the toddler to access and swallow it.
However, the Texas Supreme Court decided on appeal that Amazon did not meet the definition of a seller under the Texas Products Liability Act, which excused it from responsibility for the incident. The Court relied on Texas' common law to define seller, and a major point in its reasoning was the idea that sellers are those who relinquished the title of the defective product. As a result, Amazon was not a seller because it never had the title of the defective product.
Wisconsin
A Wisconsin court recently dealt with the issue of when a faulty product from Amazon damaged property in a 2019 lawsuit. The man in that case purchased a faucet from a third-party seller, but the faucet malfunctioned and flooded his entire home.
Under Wisconsin's strict liability law, the court determined culpability could extend beyond the manufacturer if another entity assumed one of the responsibilities of the manufacturer. Alternatively, another entity could be liable if neither the manufacturer nor the insurer could be given service of process within the state. The court then noted that Amazon was largely responsible for getting the malfunctioning faucet into the stream of Wisconsin commerce.
Pennsylvania
Finally, a court in Pennsylvania also found Amazon could be liable to injured parties in defective product lawsuit cases. In that case, a woman claimed a faulty dog collar broke, which led to a retractable leash recoiling and hitting her in the face, blinding her in one eye. The court, like the Bolger case, acknowledged a few different factors that supported holding Amazon liable:
Amazon was the only party available to the plaintiff for recourse
Placing liability with Amazon would provide an incentive to enforce safety measures
The legal terms established between Amazon and the third-party seller
Ultimately, the Pennsylvania court felt Amazon has the power to exert substantial control over third-party sellers, which was enough to place liability on the company's shoulders.
The Types of Product Defects and Severe Injuries That May Create Liability
Theoretically, any product defect that causes physical injury to your person or to your property could create a potential product liability case. Common product defects, as the cases above illustrate, may involve consumer electronics with faulty parts prone to explosions and fires that cause burns or other damage. You may also think of product defects involving potentially dangerous machinery or other heavy equipment. However, even the simplest of products (e.g., a dog collar) can lead to permanent injury when a defect occurs in certain contexts.
The jury awards for product liability are high compared to other personal injury causes.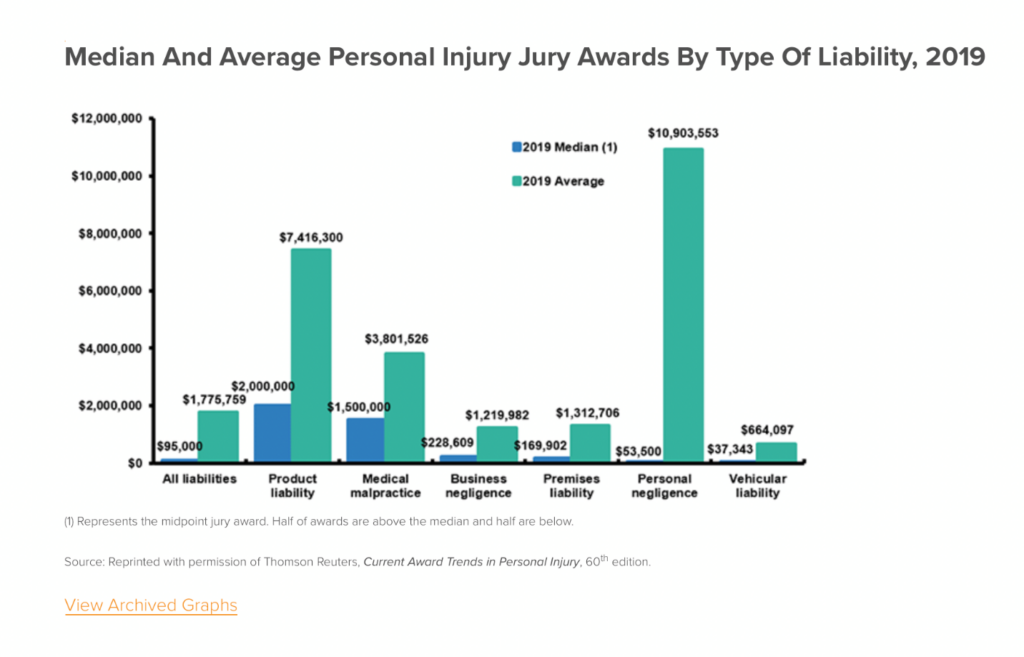 You may also be curious about the types of injuries that qualify for product defect cases. Generally, severe, or permanent injuries are most common. You may think of injuries that cause extensive pain and suffering, require hospitalization and a long recovery, prevent you from working, or otherwise have permanent effects. As an example, injuries from a product defect may include:
What if I Get a Defective Product From Amazon?
When a product you purchase through Amazon's website or platform causes injury, you may want to consider taking some of the following steps. The first is to seek proper medical evaluation to help you identify and treat injuries from the incident. As soon as is reasonably safe to do so, the next step may be to schedule a consultation with an attorney. Your attorney may be able to provide important guidance about your rights under the law and may help you execute other steps necessary to recover after a product defect injury.
Finally, you will likely want to preserve all objects and documents related to the incident. This may include some or all of the following items:
The defective product (or any photos or other remnants available under the circumstances)
Records and items related to your purchase of the defective product (e.g., original packaging, advertisements, order receipts, etc.)
Medical records and other bills related to the accident or your injuries
Any reports from police, EMTs, firefighters, or other related parties (e.g., insurance company)