Distracted driving is becoming more and more frequent. Alarming figures published recently indicate so. Truthfully, how many times have you answered a phone call while driving, sent a text message while at a red light, or eaten a snack on your way to work? These types of distracted driving are some of the many behaviors that take thousands of lives each year.
In the eyes of the law, when a car is involved in an accident due to a distraction, it'd be considered at fault without hesitation. If you or a loved one has suffered an incident on the road at the hands of an irresponsible driver, keep reading this page. We explain everything you need to know about this type of driving conduct and its terrible consequences.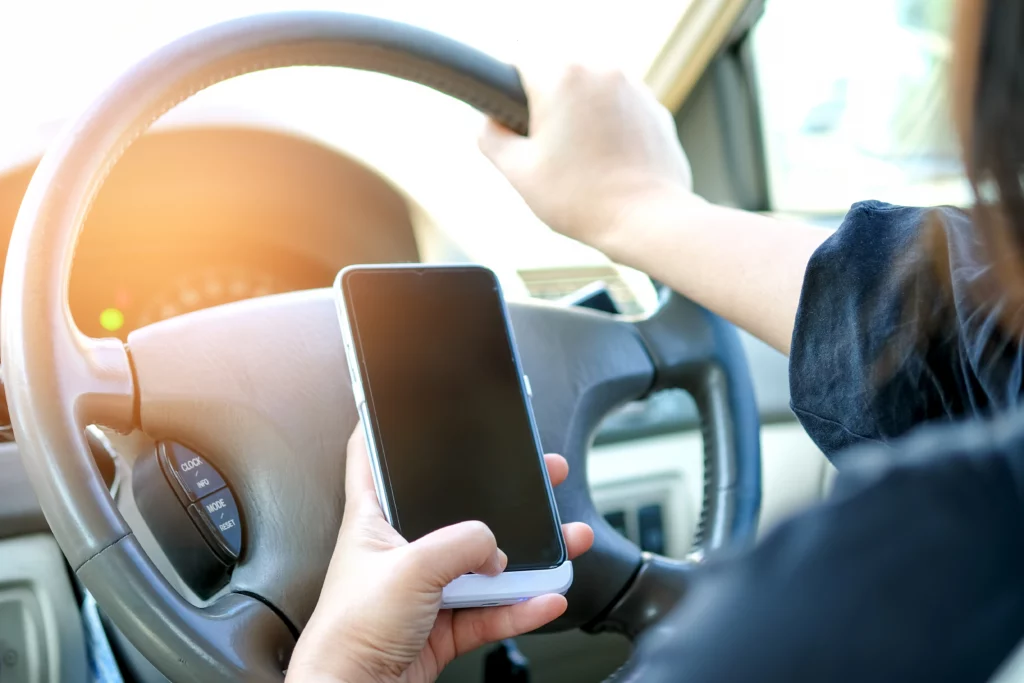 What is Distracted Driving?
According to the National Highway Traffic Safety Administration, "distracted driving is any activity that diverts your attention while operating the vehicle." That is, any action that distracts your eyes, hands, or mind from driving. If you are not 100% attentive to the road, you are already considered to be driving negligently.
There are many ways to neglect the task of driving, as we will show you below. For example, if you are talking to a family member or friend in the car, drinking a coffee while driving, or looking in the rearview mirror at a red light. Therefore, it is essential to do everything possible to concentrate on the road. Otherwise, the chances of having an accident are very high.
Although we will explain the specific types of distracted driving below, they can be divided into four patterns. As indicated by the Centers for Disease Control and Prevention, the types of distractions are differentiated as follows:
Visual distractions that cause you to take your eyes off the road.
Manual distractions that make you remove your hand from the steering wheel.
Auditory distractions that, through sound, cause you to change the priority of your attention.
Cognitive distractions that divert your mind from paying full attention while driving.
Numerous Awareness Raising Campaigns
Each year, the NHTSA and other agencies celebrate Distracted Driving Awareness Month in April. The goal is to raise awareness of the dangers of this behavior. But this is not the only initiative. On a national scale, the best-known campaign is U Drive. U Text. U Pay, launched by the NHTSA. Although this initiative targets all forms of distracted driving, it focuses especially on irresponsible drivers who use their cell phones while driving. Why? Because it is the most common and most dangerous distraction: driving while using a cell phone causes visual, manual, and cognitive distractions.
In California, OTS also has several programs to try to reduce the number of these accidents. Among the priorities are the following:
Decreasing fatal crashes involving drivers using cell phones
Reducing injury crashes caused by drivers using hand-held cell phones
In California, it is illegal to use a cell phone or any other electronic device while driving. The only way to use it is if it is not being held, as a speakerphone or hands-free. As a result of studies and research indicating that using a cell phone while driving increases the risk of a collision threefold, the California Office of Highway Safety launched several awareness campaigns. The most prominent is the Put Your Phone Down. Just Drive. The agency has also launched other initiatives aimed at young people. This is the case of the Silence the Distraction campaign, launched in 2015, to raise awareness among the Californian community aged between 16 and 24 about the risks of distracted driving using the phone.
Recent Distracted Driving Statistics
The data shown below is the strongest justification for why you should stop distracted driving. These dangerous illegal behaviors have caused a whopping $10 billion in damage to the nation's economy by 2022.
The most recent report on the impact of distracted driving was produced by Cambridge Mobile Telematics (CMT). The results show disturbing figures. The summary of this troubling data shows that distracted driving is more prevalent than ever in the United States: since 2020, it has increased by 23%. In other words, drivers are spending more and more time using their cell phones while driving, among other bad habits.
According to this study, for every 10% growth, 420 people die, and it costs the country $4 billion more per year. This growth originating in the last two years has had a violent impact on the roads: 420,000 accidents, 1,000 deaths, and $10 billion spent in 2022.
The number of drivers interacting with their cell phones rose to 58% last year, up from 54% in 2020. In fact, the average hourly cell phone usage is 2 minutes and 12 seconds. This is an increase of 23% compared to the previous report. Drivers who use their phones visually, manually, and cognitively are 240% more likely to have an accident.
Studies also show that the most distracted driving hours are between 6 p.m. and 11 p.m.
Diverting Attention from the Road Causes Thousands of Deaths Each Year
Every day, nine people die and more than 1,000 are injured due to distracted driving crashes. On average, this amounts to approximately 3,500 fatalities and more than 400,000 injuries per year. NHTSA states that of all injuries resulting from motor vehicle crashes, about 20% are the result of distracted driving.
On average, distracted driving is responsible for between 7% and 10% of all fatalities. Specifically, one in five people killed in traffic incidents is involved by a distracted driver.
Phone distraction takes up on average about 10% of total car travel time. Out of an average of five million traffic accidents per year, statistics from the last decade corroborate that distracted driving is responsible for between 14% and 17% of all collisions.
The figures for the last decade in terms of fatal accidents are as follows:
2010: 3,092 deaths and 416,000 injured.
2011: 3,331 deaths and 387,000 injured.
2012: 3,328 deaths and 421,000 injured.
2013: 3,154 deaths and 424,000 injured.
2014: 2,955 deaths and 431,000 injured.
2015: 3,526 deaths and 391,000 injured.
2016: 3,450 deaths and 421,000 injured.
2017: 3,166 deaths and 431,000 injured.
2018: 2,841 deaths and 400,000 injured.
2019: 3,119 deaths and 424,000 injured.
2020: 3,142 deaths and 400,000 injured.
2021: 3,522 deaths and 400,000 injured.
That's 34,966 total deaths and 4,830,000 injured in just over a decade attributed to distracted driving.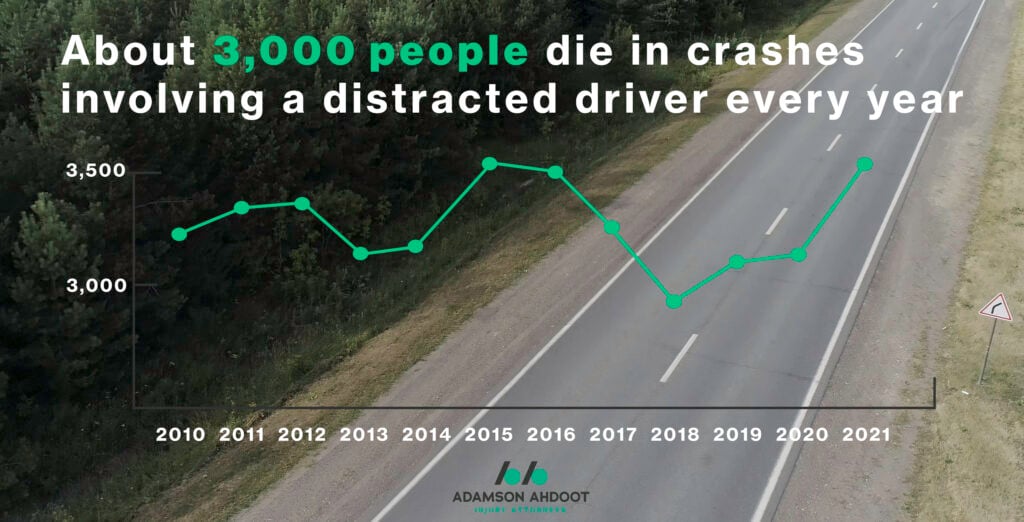 The California Stats
California is one of 47 states that prohibit texting while driving. It is also one of the states with the most education and awareness campaigns about distracted driving. Thanks to its strict programs and laws, California is among the top ten safest states in the country. In fact, it ranks seventh among the states with the most citations and fines for cell phone use. Moreover, the numbers on distracted driving in California aren't elevated compared to other states: 96 people died, and 9,733 were injured in the last year. While this is not a very high number, it is still alarming. Of the 200,000 total car accidents in California, 18% are due to absent-mindedness, distractions, or inattention.
Recently, the California Highway Patrol released a report stating that they have increased efforts to penalize these irresponsible drivers. From 2021 through the end of 2022, CHP officers issued 57,446 citations for cell phone violations.
In 2021, OTS conducted a public survey and found interesting results. 74.3% of Californians are concerned about their traffic safety due to distracted driving. In fact, nearly 60% of citizens stated that in cases of a minor collision or near miss, the driver of the other car was distracted using their cell phone.
As we will see in the next section, distracted driving and younger people are becoming a headache for the country. Especially in California. It is estimated that of all accidents involving teenagers, 60% were due to inattention from using a phone or interacting with passengers.
Younger Generations are the Most Irresponsible
The so-called Millennials and Generation Z are the populations that lose focus the most when they are behind the wheel. As seen above, teenagers are one of the main perpetrators of these crimes. The 15-20 age bracket accounts for a high percentage of fatalities. According to NHTSA, they make up approximately 7% of the total. A survey revealed that 42% of U.S. high school students admitted to texting or emailing while driving.
However, the population between the ages of 25 and 34 is the most involved in fatal distracted driving crashes. In 2020, some 729 drivers in this age group lost their lives. In contrast, the 15 to 20 and 21 to 24 age groups suffered 321 and 317 fatalities, respectively.
Types of Distracted Driving
Two factors influence a driver's attention: external and internal. Among the different types of distracted driving, several common circumstances occur among the population:
Using the cell phone: messaging, calling, checking social media, etc. Around 60% of the population aged 25-34 admits to interacting with their phone while driving. Taking photos while driving is also a common behavior, in fact, it is believed that approximately 12% take photos while driving.
Interacting with other passengers. Having other passengers can make the trip more enjoyable, especially if you are driving for a long period of time. Although it is considered normal to talk while driving, you can do so as long as you do not take your eyes off the road and focus your attention. Arguments, a tense atmosphere, or the presence of children in the car can be the cause of an accident.
Eating or drinking. A driver is three times more likely to crash with this habit. In a survey prepared by The Zebra, 52.5% of participants admitted to eating while driving in 2021. This is 4.2% less than in 2020. 3.4% of drivers have drunk alcohol at some point while driving.
Makeup/Grooming. It is common to see how drivers take advantage of traffic jams or red lights to fix their hair or apply makeup. This action, however, alters the concentration of subsequent driving. It is estimated that approximately 6.5% of drivers use this time to freshen up their hair or makeup in the car.
Searching for objects. Taking objects out of the glove compartment, picking up something that has fallen out, rummaging in the bag for an object, etc. These actions are extremely dangerous: they increase the risk of impact by 800%.
Operating the GPS or radio.
Smoking.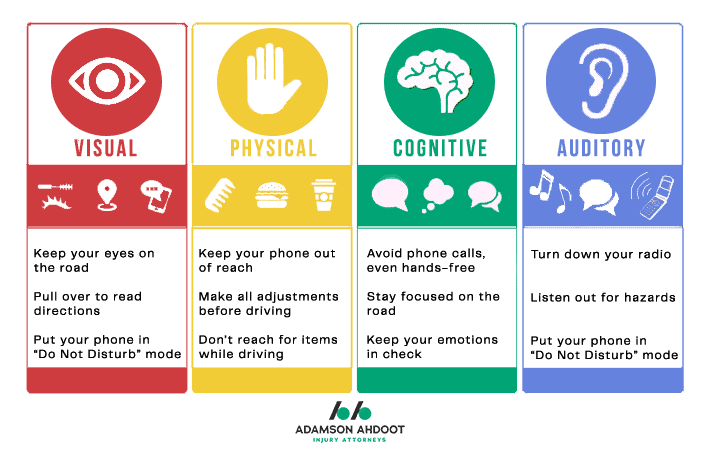 Consequences of Distracted Driving
Drivers are unaware of the dangers of inattention on the road. In fact, being inattentive for just 5 seconds while driving a vehicle at 55 mph is equivalent to driving the length of a soccer field without looking. Unfortunately, in as little as one second, misfortune can happen if you are not paying attention.
One of the awareness campaigns is to expose the consequences of these irresponsible actions. Unfortunately, the aftermath of being involved in a distracted driving accident can result in injuries that affect the quality of life forever. The most common injuries from these incidents are:
Broken bones
Traumatic brain injuries
Internal bleeding
Back and neck injuries
Brain injuries
Wrongful death
In addition to the detrimental health consequences, another negative aspect of distracted driving is the increased cost of auto insurance rates. In fact, since 2011, distracted driving has been blamed for an increase in insurance premiums by as much as 16%.
Similarly, distracted driving is also heavily punished in the eyes of the law. As a result of California Vehicle Code 23123.5, police can issue citations even for eating behind the wheel. This, in this case, would carry a fine of between $20 and $50. However, penalties for driving and using a cell phone carry higher fines of between $150 and $200. In addition, a repeat violation of this law within 36 months of the first offense will result in a point being removed from the driver's record.
Tips for Increasing Distracted Driving Awareness in 2023
If you are sleepy, stop and rest. Drowsiness increases the risk of road impact fourfold. Government research states that 37% of drivers have fallen asleep while driving at some time.
In case you are accompanied in the car, do not take your eyes off the road. As previously mentioned, paying attention to a conversation behind the wheel may cause you to become distracted while driving.
Do not use your cell phone under any circumstances. If you need to send a message, make a call, or send an e-mail, stop the vehicle. It is recommended to put the phone in Do Not Disturb mode to avoid any distractions.
Before starting your trip, make sure that the hands-free is ready for operation.
Put both hands on the steering wheel.
Do not pick up anything that has fallen out of your bag or glove compartment until you have parked.
Avoid eating and drinking.
Don't play loud music.
Do not consume alcohol before driving.
If you are fatigued, it is advisable to stop to stretch your legs and rest your mind. When you are tired, you are more likely to be distracted.
Place your children and pets properly, so they can't get loose and take your attention away from the road.
What to Do If You Spot a Distracted Driver
Distracted driving is not only a risk to the driver and passengers but to the people surrounding the vehicle. This involves pedestrians, other cars, bicyclists, or outdoor workers. At Adamson Ahdoot, in honor of Distracted Driving Awareness Month 2023, we want to encourage all of our audience to do their part when driving their car. If we all do our bit, we will all get home safely.
If you spot a distracted driver on the road, it is important to take steps to ensure their safety. To do this, avoid contact and proximity to prevent any type of collision. It is best to leave a wide margin between the distracted driver and your car. Depending on your position, you may want to move away from the distracted vehicle, either by passing it or letting it pass. If the vehicle in question will not allow you to do either of these actions, call 911.
In any case, once you have escaped the danger of the inattentive driver, you have a duty to call the authorities and report the incident. It is important not to chase him or watch him, otherwise, your health could be harmed.
Call Us if You Are Involved in a Distracted Driving Accident
Have you suffered serious injuries due to the negligence of an irresponsible driver? If you were injured in a distracted driving accident, we can help. Contact our team of experienced auto collision attorneys today to get started on your claim.
With more than 100 years of combined legal experience, the attorneys at Adamson Ahdoot are recognized in California for successfully pursuing compensation for their clients. We excel at being ambitious, aggressive, and empathetic in every case.
Available 24/7, contact one of our team members today to learn more about your accident. Call now at (800) 310-1606 to schedule a free appointment. We can assist you in English and Spanish.