Carbon monoxide (CO) is a gas produced anytime a fossil fuel is burned (e.g. cars, stoves, or furnaces emit CO). Carbon monoxide fumes are colorless, odorless, and deadly if not detected soon enough. CO is often referred to as a "deadly gas" because of its ability to sicken or kill without being detected. According to the Center for Disease Control and Prevention (CDC), approximately 200,000 people visit the emergency room every year for symptoms of CO poisoning. Of those seen in the ER, more than 4,000 are admitted to the hospital for carbon monoxide poisoning. Tragically, more than 400 Americans die as a result of CO poisoning every year in the U.S.
Because of CO's deadly propensity, many laws have been passed requiring the use of carbon monoxide detectors in new home builds, hotels, daycares, rentals, apartment complexes, and other places where people dwell. But, what if the CO detector used to prevent a tragedy from occurring failed to keep you and your family safe?
If you or a loved one suffered CO poisoning and are now coping with the injuries related to CO exposure, help is available. Talk to a Los Angeles defective carbon monoxide detector attorney today to learn what your legal rights may entitle you to. At Adamson Ahdoot LLP, we can help determine who may be liable for your injury and make sure you get financial help for your past, current, and future injury needs.
What are the Symptoms of Carbon Monoxide Poisoning?
The symptoms of carbon monoxide poisoning can vary considerably but are often described as flu-like. Because it's colorless and odorless, some people may pass out or die before they exhibit symptoms of CO poisoning, especially if they're sleeping or drunk. Some of the more common symptoms of CO poisoning are: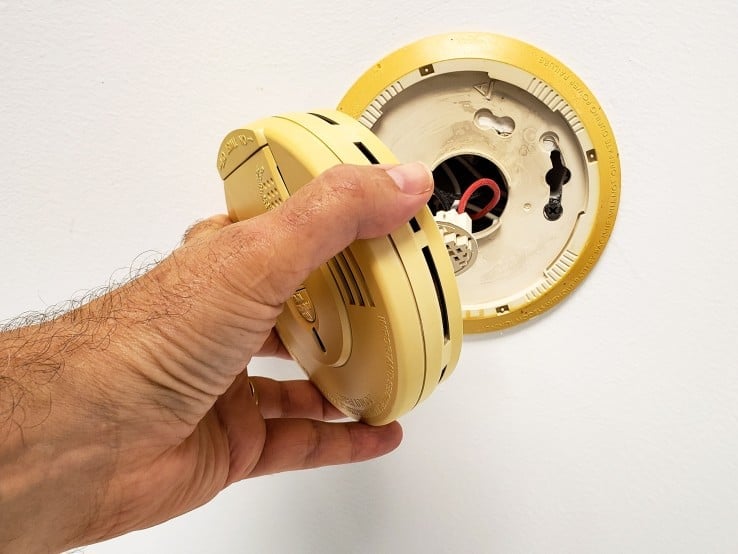 Chest pain
Headache
Dizziness
Nausea
Vomiting
Shortness of breath
Altered mental state
Unconsciousness
Irritability
Weakness
If you or a loved one has developed symptoms of CO poisoning, seek medical attention immediately. CO builds up in the bloodstream and continued exposure to a toxic environment where CO is being emitted can cause severe tissue damage and, eventually, lead to death.
What are the Sources of Carbon Monoxide Gas?
Carbon monoxide fumes can be emitted by a number of household appliances and items like:
Stoves
Fireplaces
Cars
Trucks
Motorcycles
Furnaces
Lanterns
Gas grills
Charcoal grills
Generators
Water heaters
It's important to note: CO fumes emitting from these types of appliances and items aren't necessarily dangerous if used properly. However, if an appliance is used in a small space with poor ventilation or is used in a closed space, deadly CO fumes can build up and poison the air.
Determining Liability for Carbon Monoxide Poisoning-Related Injuries
After suffering from CO poisoning-related injuries, you may be wondering who may be liable for your injuries. Claims involving CO exposure may involve a number of parties, such as the manufacturer of a carbon monoxide detector or a maintenance company. At Adamson Ahdoot LLP, we've handled CO poisoning cases involving:
Landlords
Carbon monoxide detector manufacturers
Hotels
Grill manufacturers
Auto manufacturers
Stove and gas range manufacturers
Furnace and heater manufacturers
Following an injury or injuries related to CO poisoning, it's best you speak to a Los Angeles defective carbon monoxide detector lawyer right away. Cases such as these can be challenging and difficult to prove. The manufacturer of the CO detector may try to say you didn't install it right or didn't use it as intended. No matter what they may try to say, we know you are not at fault and deserve to be fairly compensated for:
Lost wages from taking time off work
Lost earning capacity
Hospitalizations and doctor visits
Medicine and medical devices
Rehabilitation
Disability
Reduced life capacity
Emotional distress
Physical pain
Other types of damages
Why You Should Choose Adamson Ahdoot LLP to Represent You in Your Quest for Justice
Why choose Adamson Ahdoot LLP to represent you in your quest for justice? For years, throughout Los Angeles and the surrounding areas, we have vigorously pursued justice for the injured and are dedicated to getting our clients maximum compensation for injury expenses.
We are a boutique firm with a proven track record and believe you should choose us because:
We have more than 100 years of combined litigation experience
We have recovered millions for our client's damages
We work with the best investigators, doctors, and medical experts
We treat every client as if they are our only client
We work on a contingent basis – no fee until we win your case
We are known in the legal community as aggressive negotiators who aren't afraid to take a case to court if necessary.
If you think you have a case and would like more information on how we can help you, please submit a contact form to Adamson Ahdoot LLP today or call (800) 310-1606.