If you're seeking compensation after being injured in a motorcycle accident, you should be aware that there are motorcycle laws that can affect your case. Your compensation could be decreased if you violated one or more safety laws.
When you operate a motorcycle, you need to be familiar with the California Vehicle Code. This contains all laws that apply to the general rules of the road. It also includes specific laws that apply to motorcycle drivers.
Motorcycle Safety Laws
Following motorcycle safety laws can reduce your risk of an accident. If someone hits you, and you suffer an injury, compliance with these laws can clear you of blame. If you did break one or more laws, you may be held partly responsible for your accident, resulting in less compensation.
Helmet Laws
The state of California requires motorcycle operators and passengers to wear motorcycle safety helmets. Helmets must comply with the regulations of the U.S. Department of Transportation (DOT), and they must be labeled as U.S. DOT Federal Motor Vehicle Safety Standard (FMVSS) 218 compliant. The right helmet can save your life.
Head trauma accounts for some of the most common injuries in motorcycle accidents. Failure to wear a helmet can affect the amount of your compensation if you suffer a head injury. Someone can argue that if you had followed the law, your injuries would have been less severe.
Lane-Splitting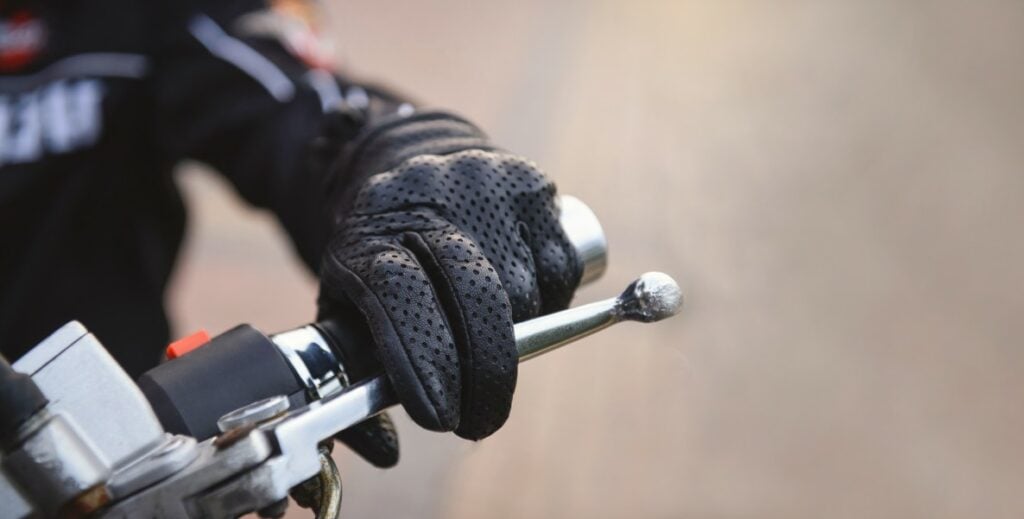 Driving your motorcycle between vehicles in two adjacent lanes is known as lane-splitting. California is the only state where lane-splitting is legal. While it's safe at slow speeds or in lines of stopped traffic, lane-splitting while driving over 30 mph can be dangerous.
Even though lane-splitting is legal, you should still be cautious. Some car drivers won't know it's legal and may respond negatively. Also, you could be seen as reckless if you try to lane-split at high speeds or in low visibility.
Motor-Driven Cycles
A motorcycle with an engine size of less than 150 CC is considered a motor-driven cycle. Motor-driven cycles aren't typically considered road-safe on major freeways or expressways. They are best suited for residential or rural areas
Most California freeways and expressways have signage prohibiting motor-driven cycles. If you disregard such signage and drive on such roads, you're breaking the law and putting yourself at risk.
License Requirements
You need a motorcycle license to lawfully drive a motorcycle. This is generally an M1 license that lets you drive a two-wheeled vehicle. You can operate a motor-driven cycle with an engine of less than 150 CC with an M2 license.
If you are operating a motorcycle without a license, you may be found reckless. Non-compliance with licensing requirements can indicate that you're irresponsible, which could cause problems when it comes to your case.
Driving Under the Influence
Operating a motorcycle while under the influence of alcohol or drugs is a major violation. If you're under 21, you can't have a BAC of 0.01% or above. If you're 21 or older, you can't have a BAC of 0.08% or above.
Drinking and then driving any vehicle is very dangerous. If you fail a BAC test, you could be in trouble with your case because it can put a large percentage of responsibility for the accident on your shoulders.
Comparative Negligence
In California, a judge will decide the compensation amount for a personal injury case. Then, the liability for payment rests on the basis of who was most negligent. Moreover, this also includes the injured party or parties.
Example
Jake is riding his motorcycle to work at dawn, but he isn't wearing a helmet. A truck runs a stop sign and hits him. Jake suffers a broken leg and a traumatic brain injury that leaves him needing speech therapy to work through an impediment.
The judgment assigns Jake $260,000 in total compensation. However, it also holds him 25% responsible for the accident. Jake will receive only 75% of the judgment, or $195,000.
Should You Still Seek Compensation?
Even if you bear some responsibility for an accident, you should still seek compensation. Maybe you weren't wearing a helmet, or you were lane-splitting at high speeds, but that doesn't mean you have to accept a brain injury, damaged limbs, or PTSD. You can still receive compensation, even if you are at fault or partially at fault for the accident.
Compensation for a motorcycle accident can vary widely. The total amount awarded will depend heavily on what type of injury you suffered and what expenses you will likely incur. Amounts based on medical expenses, loss of income, and pain and suffering are eligible for allocation.
So, knowing which motorcycle laws can affect your case is step one. Step two is hiring an experienced motorcycle accident attorney who can help get you the highest level of compensation you deserve. Call Adamson Ahdoot at (800) 310-1606 today to schedule your free case evaluation.