5 Common Causes of Car Accidents in California
Motor vehicle incidents on West Coast roadways are at an all-time high. Although many citizens try to drive cautiously, there is a high rate of drivers who act recklessly, drive while distracted, or operate their cars under the influence of alcohol or drugs. As the state with the worst statistics for automobile crashes, its residents have to commute every day knowing the risk of driving on certain roads. And, although it is now known that the most common causes of car accidents in California have been distraction, speed, and alcohol, collisions on the road continue to occur. The trend does not seem to be improving.
If you want to learn more about why accidents occur in California, their consequences, and how to legally proceed in the event of a collision, keep reading this blog.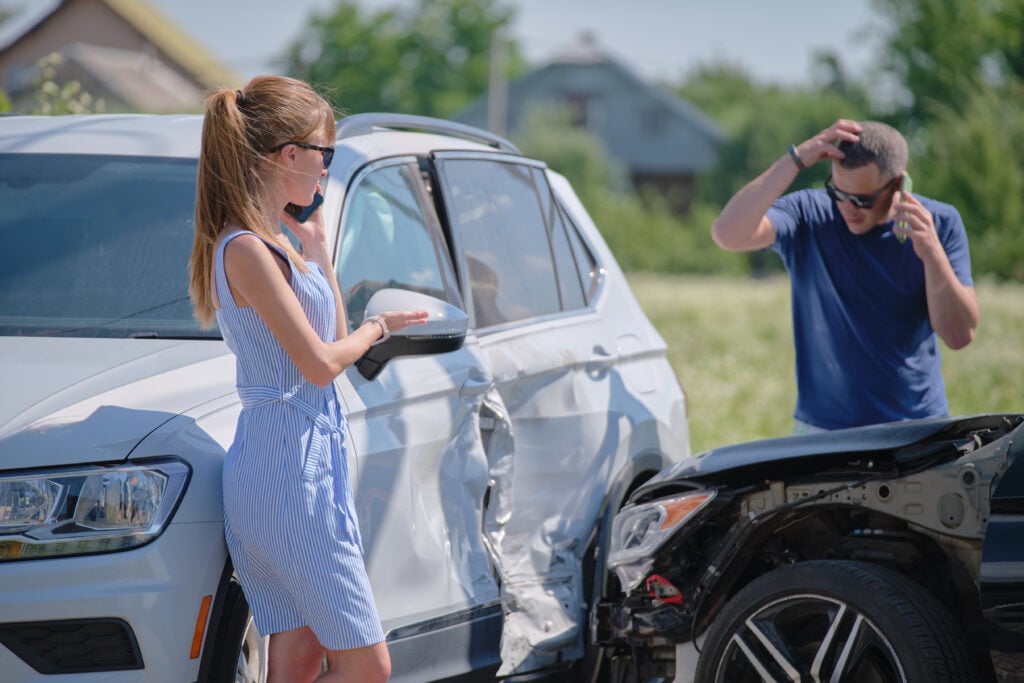 California, Top State for Lethal Car Crashes in the Nation
According to the most recent data from the California Highway Patrol (CHP), California ranks second in the nation in car accidents, with approximately 215,000 and 165,978 injuries in 2022. However, the Golden State leads the nation in fatalities as well, with about 3,800 annually.
Rear-end collisions were one of the primary types of crashes, accounting for 27% of the total in 2022. This type of collision occurs frequently, as it is triggered by common causes that consistently lead to car accidents in California: distractions, alcohol, and reckless driving. When the driver wants to react, he/she does not have time to brake and crashes into the car ahead.
Of all the cities, Los Angeles had the highest number of accidents with 36,562. It was followed by San Diego, with 17,851, and San Francisco, with almost 15,000.
What are the Most Frequent Causes of Car Accidents?
The number one reason for most motor vehicle incidents that occur in California is distracted driving. There are many types of distractions that drivers face when they are on the road, so it is important to drive focused and not give in to temptation. Among all the ways of distracted driving, the use of the phone is the reason for many accidents. But not only that, eating, smoking, or talking to other passengers can also cause the driver to look away and have an accident.
In addition, alcohol or drugs are also among the most common causes of car accidents in California. When a driver of a vehicle is intoxicated, their judgment, vision, and ability to react are greatly impaired.
Similarly, fatigued driving does not help reduce the number of crashes on the Golden State's roadways. Driving drowsy or tired after long hours of work can cause one to fall asleep at the wheel or not have all of one's senses on the road.
Lastly, data shows that reckless driving and speeding are the main reasons why there is such a high rate of motor vehicle incidents in cities like Los Angeles. Due in part to the congestion of cars on the roads, drivers tend to be more careless and drive fast in potentially risky areas.
Types of Traffic Accident Injuries
When someone is involved in an accident, it is difficult to know whether they will have serious or minor injuries right away. And, when going to medical services, it is complicated to know the long-term extent at first. That is, whether medical treatment is needed, how long rehabilitation will be required, or whether lifelong therapy will be necessary. The impact of injuries, especially in rear-end collisions, can be very long and painful. Although each case occurs differently, the following injuries typically occur when drivers are involved in the most common causes of car accidents in California:
Brain Injuries
The main focus here is on traumatic brain injury (TBI). This type of trauma causes loss of consciousness and cranial fractures. Depending on the severity, they can significantly diminish the victim's quality of life, also reducing their autonomy. Specifically, injuries range from cognitive difficulties, and loss of vision or hearing, as well as permanent disability.
Neck and Back Injuries
Whiplash and spinal cord injuries affect mobility, flexibility, and body control. They cause loss of sensation, stiffness, and dizziness, and can be very painful. Whiplash, in particular, is one of the most common injuries resulting from rear-end impacts. In the best-case scenario, the victim must undergo rehabilitation for a long period of time.
Broken Bones
Very typical in all types of accidents. The most affected area is usually the extremities, such as the arms. The abrupt impact can cause the fracture of a wrist or arm. It can also eject one's own body out of the car. The ribs, on the other hand, tend to fracture easily.
Cuts and Scratches
When a collision occurs on the road, many parts are ejected. These broken objects and fragments of the car, which in many cases are sharp, suddenly move as a result of the collision and often impact the passengers in the car. Although in most cases these are minor injuries, sometimes they can lead to the victim rapidly bleeding to death.
Soft Tissue Injuries
This type of damage is caused by unexpected trauma and encompasses different types of injuries. They affect muscles, ligaments, and tendons. It can range from sprains, muscle tears, severe strains, or contusions.
Internal Injuries
The consequences of a violent shock can also cause internal injuries that are not perceptible to the human eye. If a severe or penetrating blow has been sustained, it may result in serious injuries to the spleen, liver, heart, lungs, or kidneys. However, they usually result in abdominal pain, internal bleeding, or swelling.
Psychological Damage
Sadly, psychological or mental problems are part of the lives of many victims who experience extreme situations on the road. Irritability, mood swings, anxiety, depression, or isolation are some of the symptoms. It is a difficult injury to heal and requires therapy over a long period of time.
Average Economic Settlements for Automobile Crashes
According to the Centers for Disease Control and Prevention, the total cost of traffic crashes each year amounts to $55 billion. This also includes medical expenses and lost income in the form of wages.
You've probably heard from a friend or family member how much they've been compensated for their accident. However, the reality is that each case is different, and it is complicated to know the compensation in each case. The circumstances, the type of accident, and the injuries vary in each collision. The only way to know more precisely is by contacting an experienced attorney who, after evaluating your case, will provide you with an estimate.
Settlements and awards are intended to cover the losses suffered by the accident victim. Typically, the compensation awarded as a result of an automobile accident is based on:
Medical bills
Lost wages
Pain and suffering
Emotional stress
Property damage
However, there are several factors to consider when settling a traffic collision claim. The main ones are insurance coverage, as drivers must carry liability insurance; liability, which is based on each party's percentage of fault in the accident; severity of injuries; state laws; and economic losses.
Highest Compensation Claims Negotiated By Adamson Ahdoot
Our reputation is based on the results we deliver. We base any case on empathy and efficiency. We are here to help our client in any way necessary, so we will make every resource available to make the process as painless as possible.
Constant communication and extensive knowledge of the legal field of common causes of car accident cases in California have made us recognized as a firm that is instrumental in obtaining high settlements for injured victims.
In fact, here are the claims with the highest injury awards that Adamson Ahdoot attorneys have recently obtained:
$5.75 million for a rear-end collision in Los Angeles. The responsible car was speeding and violently rear-ended the victim. This caused lasting back and neck pain to everyone in the car.
$3 million settlement for the impact of a pickup truck on a vehicle. Again, due to a rear impact, the victim of this hit was seriously injured. A pickup truck failed to slow down in time and rear-ended our client's car.
Injured by Another Driver's Negligence? Let Us Help You
Going through an unpleasant ordeal such as an accident with injuries can take its toll on our health. Both physically and psychologically. Not only that, but it is also a costly process financially. Without legal counsel to help with a lawsuit, the expenses victims face can be overwhelming.
At Adamson Ahdoot, we want to let you know how important it is to hire an attorney when you have a car accident. Now that you've seen the most common causes of car accidents in Los Angeles – or any other city in California, it's time to be forewarned and stay in touch with a legal expert in the automotive field. With more than 100 years of combined legal experience, we are one of the law firms that has represented the most injured clients on West Coast roadways. We know how tough it can be, and we understand the fears and concerns victims have.
Want to know how much money you are entitled to for a minor or serious car accident? Do you want to discuss the legal options in your case? Feel free to contact us today. Our team is available 24 hours a day, 7 days a week. Don't be afraid to discuss your case with a reputable car accident attorney today. Call us at (800) 310-1606 or send us a message through our website.
Client-First Approach
Above all else, our clients come first. We go above and beyond to obtain the highest level of compensation possible.
Meet Our Attorneys
Multi-Focus Law Firm
Adamsom Ahdoot has successfully executed a plethora of personal injury cases.
Cases We Handle
Get in touch with our firm
Our team can better advise you on your legal options once we receive any available evidence about the incident.
Take Action Now