Have you been injured in an accident involving a lathe? You may be entitled to financial compensation for your injuries, including medical care expenses, lost earnings, and pain and suffering. When injuries from a lathe are serious, compensation may be substantial. However, without a lawyer who understands both product liability and workers' compensation liability, it may be impossible to obtain full and fair damages.
The California personal injury lawyers at Adamson Ahdoot LLP represent victims of lathe injuries. We are familiar with the complex nature of these cases and do not shy away from them like other attorneys. We will pursue every avenue of liability, and seek compensation from manufacturers, distributors, and/or resellers of the machine. This allows full accountability and a much fairer outcome than a sole workers' action.
Having successfully recovered compensation in product liability claims for lathe accident victims, including a major 7-figure settlement recently for a victim of traumatic amputation, we have the knowledge and skills to recover the maximum compensation you are entitled to. Contact us to arrange a free consultation.
What is a Lathe Machine? 
Lathe machines are dangerous industrial equipment used in toolrooms, machine shops, and workshops. Lathe machine accidents often involve pulling a hand into a spinning blade. These accidents can cause serious injuries or even death. Lathes are used to produce and shape all types of components that are cylindrical about an axis. Objects that can be produced on a lathe are diverse and include:
Table legs
Screws
Musical instruments
Baseball bats
Gun barrels
Pool cues
Pillars
Bowls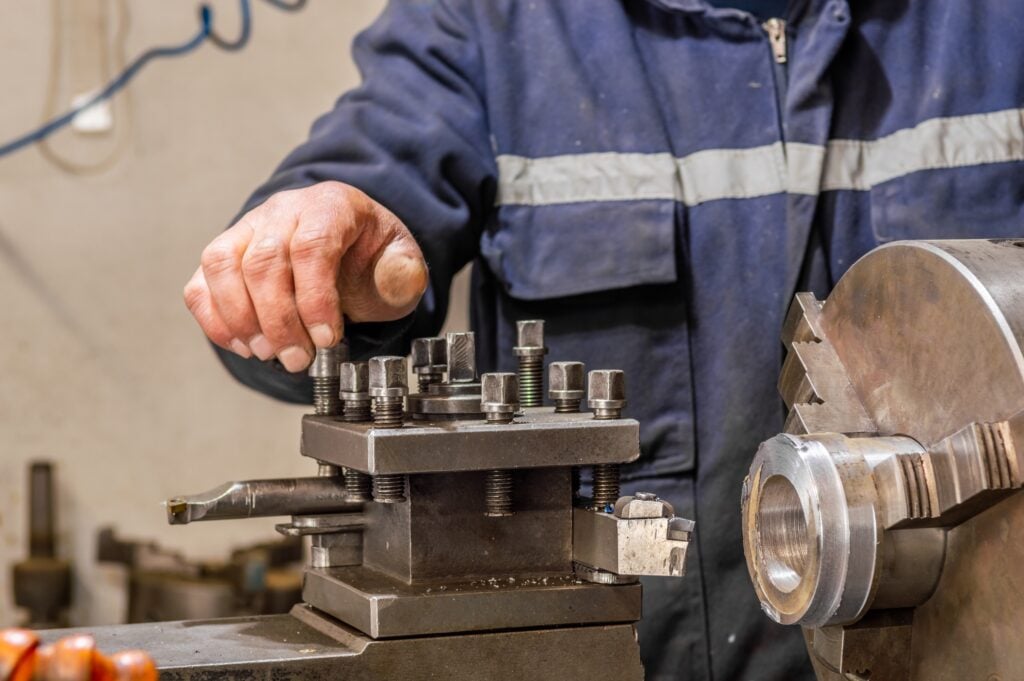 A lathe holds a piece of material and rotates it, allowing another part of the machine to move along it, cutting and shaping it a certain way. Lathes can be operated manually or through an advanced computer program (CNC lathes). Major lathe manufacturers and supplies in the USA include:
DMG Mori
Hanwha International, LLC
Ellison Technologies
Murata Machinery USA, Inc.
Grizzly Industrial
JTEKT Toyoda Americas Corp.
Milltronics
Star CNC Machine Tool Corp.
Lomar Machine & Tool Co.
Index Corp.
Lathes must be adequately guarded to prevent contact with the operator. In 2011, a Yale student was killed in a laboratory accident when her hair became entangled in a lathe. Federal safety inspectors later determined that Yale failed to provide safeguards on the piece of machinery.
If a guard is missing, or a guard is defective, the manufacturer of the lathe or the supplier may be liable for injuries or death in a resulting accident.
Occupational Safety and Health Standards require machines to have a guard. Specifically, 29 CFR 1910.212(a)(1) requires one or more methods of machine guarding to protect the operator. OSHA does not endorse or approve safety devices, but does encourage individuals and/or companies to participate in the development of safety devices.
Guards are Necessary to Prevent Entanglement / Entrapment Injuries
Guards are critical because even highly skilled and experienced lathe operators can be at risk for injury. Risks of injury may be heightened when workers are rushed or trying to work more efficiently. Employers must provide training in lathe operator safety and emergency shutdown procedures. Operators must be taught the importance of not wearing loose-fitting clothing, lanyards, or jewelry that could pull an operator into a lathe and cause traumatic injuries.
In 2016, a 57-year-old male machinist died in New Jersey when he was pulled into a lathe at a machine shop job. At the time of the accident, the man had worked with his employer for 8 years, and used a lathe for nearly 20 years at another company. When the accident occurred, the man had been wearing a long-sleeve sweater, which got caught in the jaws of the lathe. The engine lathe had a metal guard, however, it was in the "up" position while the spindle was rotating. As a result of accidents such as this one, many machine shops have adopted rules which prohibit long sleeves or loose-fitting clothing which could become entangled in machinery.
What Types of Injuries Result from Lathe Accidents? 
Lathe accidents have caused serious injuries, including:
Arm crush or hand crush injuries
Arm, hand, and finger amputations
Broken bones
Electrocution / electrical shock
Lacerations / deep cuts
Nerve damage
Spinal Cord Injury and Nerve Damage from lathe machines
Struck by flying objects from lathe machines
Traumatic Brain Injury (TBI)
Traumatic eye injury – resulting in partial or complete blindness
Wrongful death from fatal injuries suffered as a result of lathe accident
Injuries can be catastrophic, and victims may be unable to work due to permanent disability and intense pain. Additionally, emotional injuries from a lathe injury may include anxiety, stress, depression, sadness, and sleep challenges. Physical and emotional injuries can be combined with debilitating financial hardship.
Get a Free Consultation With a California Personal Injury Lawyer 
At Adamson Ahdoot, our attorneys have a combined 100 years of collective experience representing personal injury victims. We will provide effective, compassionate, and aggressive representation in your legal matters. We handle all cases on a contingency fee arrangement, which means there are no legal fees unless we recover money for you. This allows you to focus on healing and recovery while we fight for the compensation you deserve.