We live in a world full of injustice, and the abuse of power is becoming more and more frequent. In most cases, this overreach results in a violation of rights. Police misconduct causes plenty of headlines, although misconduct is not always linked to police. This inappropriate police behavior often results in a breach of civil rights.
Those who have unfortunately had to live through situations involving police abuse, mistreatment, or brutality can attest: victims find their civil rights violated. Although one might be pessimistic when it comes to suing negligent police acts, the reality is that more and more complaints are being successfully settled.
Have you ever been in a situation where your civil rights were violated, whether by law enforcement officers, state institutions, or individuals? Have you experienced a case of police misconduct that resulted in personal injury? We can help. At Adamson Ahdoot, we know all the legal channels to get your claim compensated as you deserve.

What Are Civil Rights and Police Misconduct?
When we speak of civil rights, we are referring to constitutional protection that guarantees the right to equal treatment. In the United States, the Constitution looks out for the civil interests of all its citizens. Its purpose is to defend and protect freedom from any kind of violation against an individual.
These civil rights are fundamental to society. With this equal protection, people must be treated fairly, receive proper care, and be free from any action taken by governmental entities.
Such rights are intended to prevent any type of discrimination that may arise as a result of different factors that define us as a person:
Race or skin color;
National origin;
Disability;
Age;
Religion;
Sexuality;
Or gender, among many others.
As we mentioned above, the objectives of these constitutional laws are to protect U.S. citizens from abuses of power by individuals or government entities. Specifically, from police misconduct. This includes everything from unconscionable oppression, exceeding the limits of authority, unlawful detention, false arrest, physical brutality, and racial discrimination, to excessive use of force, among many others.
Thanks to these constitutional principles, society has the right to denounce discriminatory injustices. A successful resolution in a case of police misconduct can include punitive sanctions against the offender. But, above all, adequate financial compensation for the damages caused to the victim.
Civil Rights Laws: Section 1983
The U.S. Civil Rights Act is a federal statute enacted in 1871. It was created for the purpose of eradicating oppressive conduct by the government. One of the sections is Section 42 U.S.C. § 1983 – also known as the civil action for deprivation of rights statute. This rule made public officials, including police officers, liable for financial compensation for damage or personal injury caused by violating a person's constitutional rights.
You can apply this legal avenue for holding government workers liable for unconstitutional actions in many scenarios. And the claims do not always have to involve violence. However, most complaints involve victims who have suffered inappropriate conduct by law enforcement officers. In addition to cops, misconduct can also come from prison employees, correctional guards, electoral officials, social services, or leaders of a school district.
The Constitution supports this law. When a figure employed by a state or federal institution violates civil rights, he or she usually also violates two amendments:
The Fourth Amendment: It protects people from arbitrary apprehension. In other words, it prevents unreasonable seizures and searches.
The Fourteenth Amendment: It prohibits the states from depriving "any person of life, liberty, or property, without due process of law."
The term "under color of" is used under the law to refer to individuals who, on behalf of the state for which they work, abuse their authority or power.
Principle of Qualified Police Immunity
Following the 1871 Act, where Congress adopted 42 U.S.C. § 1983, a principle of police immunity was also established. The doctrine of qualified immunity protects "state and local officials, including law enforcement officers, from individual liability unless the official violated a clearly established constitutional right."
In other words, police-qualified immunity renders police officers unfit to be sued for doing their jobs. This means that if a police officer is interacting with or interrogating a suspect, he or she will not be able to sue the agent.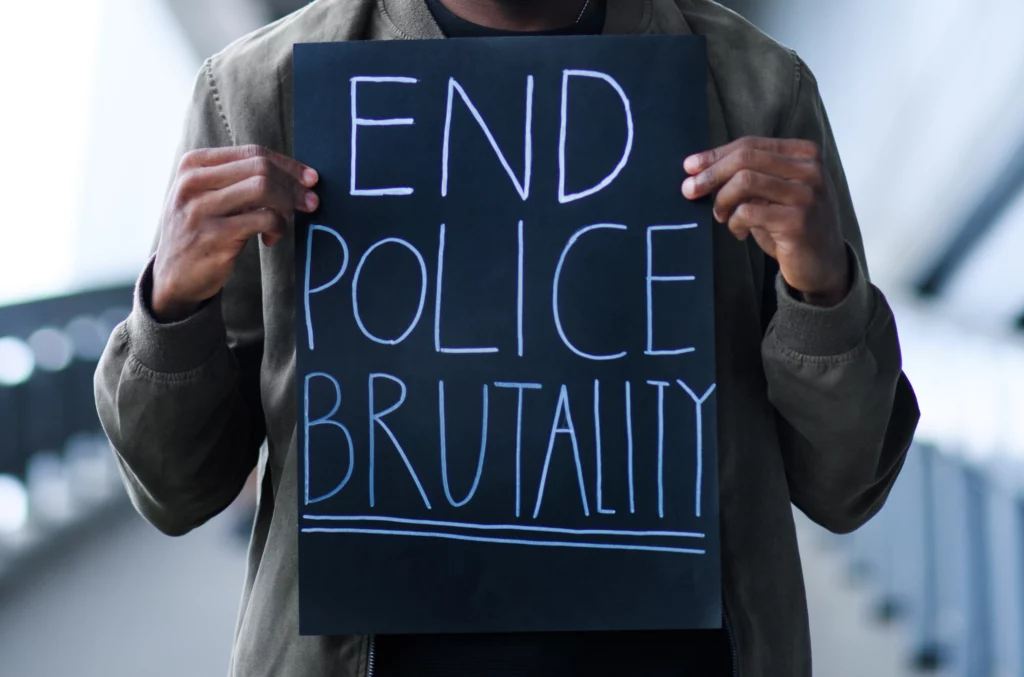 As long as the officers are doing their job properly, it will not amount to a violation of any individual's rights. Police are authorized to justifiably use force if the situation requires it.
Although many voices today have proposed a modification or elimination of qualified immunity, no change has yet been made to federal law. The most recent proposal that wanted to address such legal liability for law enforcement officers was in 2020. When it failed to come to fruition, states began making modifications to their state laws. Colorado was the first to limit the use of qualified immunity as a defense in cases where state law applies. In 2021, California also incorporated the proposed BS2 Act into its law.
What Is a Bivens Lawsuit?
This is a civil rights lawsuit against a government official seeking monetary damages. Although quite similar to Section 1983, this law focuses on actors working for the government as well as federal entities:
Drug Enforcement Administration (DEA) or Federal Bureau of Investigation (FBI) agents.
Agencies such as the Department of Justice (DOJ), Immigration and Customs Enforcement (ICE), or Federal Deposit Insurance Corporation (FDIC).
U.S. Government Has Domestic Agencies Against Illegal Law Enforcement Behavior
The U.S. government itself also has an agency that focuses on ensuring protection against unlawful discrimination. The Office for Civil Rights (OCR), as part of the U.S. Department of Health and Human Services (HHS), was created in order to "improve the health and welfare of all Americans."
The U.S. Department of Justice (DOJ) also has a section that addresses police misconduct laws. DOJ officials may conduct an investigation and share the results with the victim. However, they do not act to provide any legal advice as a private attorney would.
Is Police Misconduct Considered a Civil Right Violation?
Yes. While police brutality is the first thing that comes to mind, there are many other ways in which police can engage in unlawful conduct. Any action by an officer that results in a violation of rights, whether it is an abuse of force or discrimination, is categorized as police misconduct.
How Do Civil Rights and Police Misconduct Infractions Interact With Personal Injury?
Establishing a civil rights law is essential to society. Because of this, we can receive fair and indiscriminate treatment, proper care, and be free from forceful actions by the government. But, what happens if civil rights are violated and, as a result, there are personal injuries?
The experience of a rights violation case involving physical injury can be very intense. Not only do you see your principles inflicted, but you also sustain injuries that can mark you for life. Police misconduct, unfortunately, is closely related to personal injury. In fact, the most well-known and common cases often involve physical violence at the hands of a law enforcement officer. The most frequent cases of police misconduct involving personal injury are:
Excessive and unreasonable use of force;
Negligence involving shootings;
Police dog attacks;
Exploitation, harassment, and being forced to live in inhumane conditions;
Denial of medical care;
Or, physical abuse.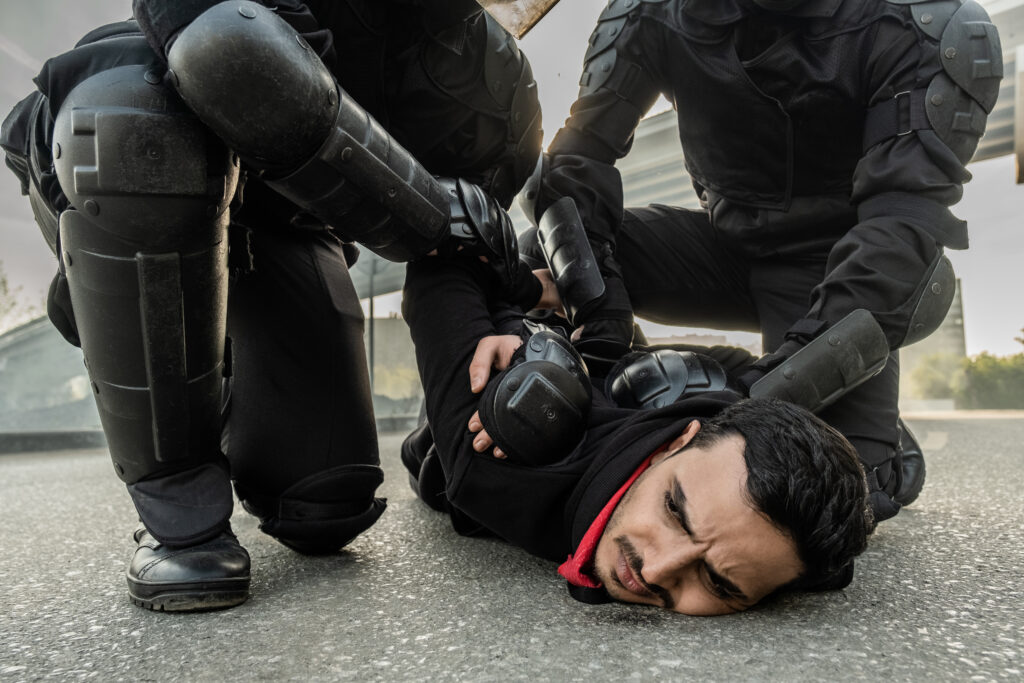 Police Misconduct Civil Rights Violation Statistics
Many police officers risk their lives to protect the country. The legal power they have over the public makes them a key tool in maintaining proper social control. Similarly, they can denounce injustices where civil rights have been violated.
Despite the general good police work, the numbers do not lie. Although the absence of official data is evident, different agencies and private investigations have compiled information about police misconduct. And the conclusion is clear: police abuses are rampant, complaints are not made public until very late, and a lot of public money is spent.
Thousands of complaints are processed each year involving police officers who use their authority to violate the constitutional principles of others. These complaints involve officers violating civil rights: from racial discrimination, illegal detention, excessive use of weapons and riot control strategies, as well as torture or sexual abuse, among many cases.
Concrete Data on Race and Gender
Thanks to research conducted by PNAS, using data from 2013 to 2018, we were able to deduce estimates of deadly police accidents by age, race, and gender. The analysis clearly shows an inequality towards people of color: they have nearly twice the odds as white males of being killed at the hands of the police.
Young adulthood is the most common age for these incidents. The report indicates that out of every 100,000 African-American citizens, 96 are killed by police misconduct. In contrast, white people see their average almost halved: only 39 deaths out of every 100,000.
In 2019, Rutgers University published a study showing that police violence was the leading cause of death for young men in the country.
However, this number has risen again in the last two years. As evidenced by Mapping Police Violence, today African-American citizens are 2.9 more likely to die in a police malpractice crash than white people.
According to data obtained in the first five months of 2022, police had taken the lives of a total of 491 people. During that period, there were only 8 days with no recorded fatalities. Compared to 2021, which had a total of 1,157 deaths, this year already has 18 more fatalities.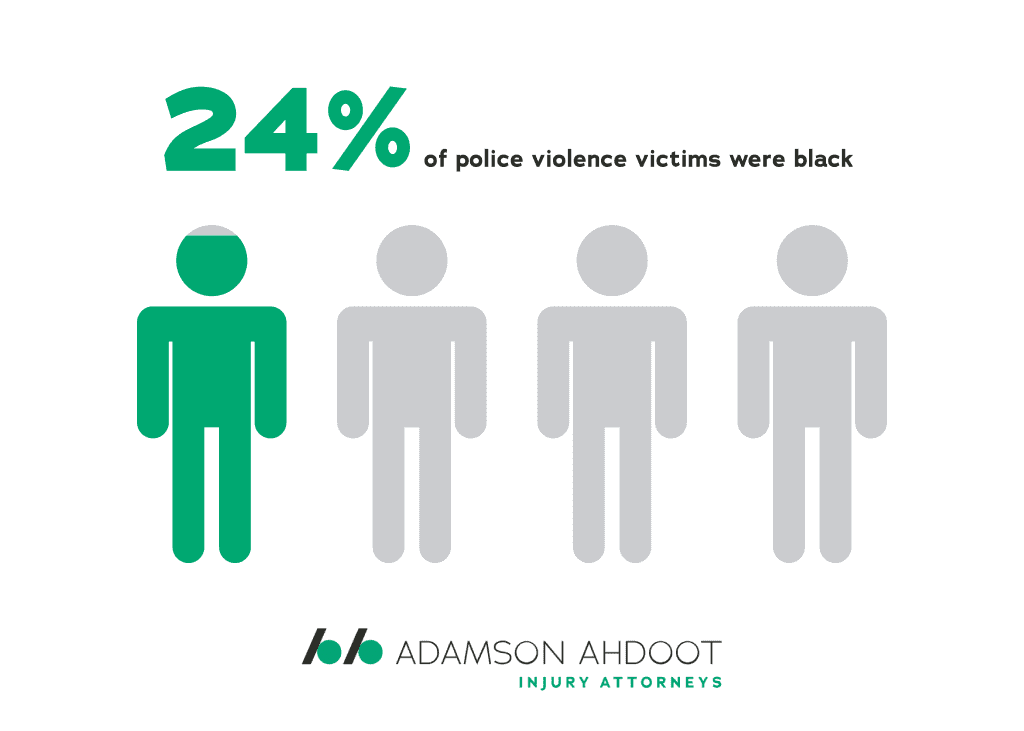 Overview of Police Violence in Recent Years: Shocking Facts and Figures
The average rate of police violence toward African-American citizens is one every 40 hours.
Police departments typically handle any cases or evidence of police brutality and abuse internally.
Mapping Police Violence data shows that only 1% of negligent officers who used misconduct were charged in 2020.
The same research group indicates that 2021 was one of the deadliest years.
Out of 1,127 people killed by police in 2020, 80 were unarmed.
According to data provided by the National Vital Statistics System, a high number of police officers involved in fatal shootings had been engaged in a shooting previously. Specifically, at least 14 officers were part of 440 cases. Five of them had already been part of multiple shootings.
A large portion of police-initiated shootings stems from non-violent crime.
Many shooting deaths arise from traffic infractions. As The Guardian reports, police have killed nearly 600 people over routine traffic stops since 2013. 10% of annual fatalities.
In 2020 and 2021, police misconduct took 97 and 104 lives of victims who were in the midst of a mental crisis.
A 2018 Journal of Urban Health study showed that there is a 40% greater likelihood of a shooting occurring in states with higher gun ownership.
The Washington Post revealed that, since 2015, African Americans account for nearly 24% of the 6,000 fatal shootings by police. The national population of African-American citizens is 14%.
Statistics of Police Misconduct in California
Illegal police behavior also has a strong presence in California. According to several studies, there has been a high increase in wrongful deaths by law enforcement officers over the past decade. While not all of them are civil rights violations, the reality is that there are a large number of citizens who have died due to police misconduct. In 2021, police used force in 628 incidents, resulting in 233 shootings and causing 149 deaths.
The data, as is the case with the national figures, is devastating. According to PPIC reports, there are an average of 195 law enforcement deaths in California each year. The statistics for the last six years in the state reflect the increase in police violence. As shared by the California Department of Justice, the total number of fatalities since 2016 is 1,000 fatalities.
Without going any further, as Mapping Police Violence tracking shows, police killed 51 civilians in the first five months of 2022. However, in contrast to the national average, this period records 17 fewer deaths than in 2021.
In California, black people are more likely to be killed than white people, exceeding the national average of 3.6 times. Similarly, they are also three times more likely to be seriously injured or shot.
Among the most shocking data is the high number of victims from police traffic stops. Up to 15% of those injured or killed as a result of inappropriate behavior by officers arise after routine stops of vehicles or pedestrians.
Shooting, the Most Common Cause of Police Negligence in California
Of all police-induced wrongful deaths, shootings are the most common cause. In particular, there are about 250 shootings against citizens per year.
Shootings are the most controversial cases of unlawful police behavior. As was the case with the murder of David Ordaz Jr., many officer-involved gunshot wounds are perpetrated against people with mental problems or disorders. Exactly four out of every ten gunshot victims had a diagnosis related to psychological illness.
The PPIC study also points out that not in all shooting cases the civilians involved in the incident were armed. While 80% did carry a weapon, the remaining 20% were unarmed. In the cases of victims with serious non-weapon injuries, the figure is striking: about 56% were unarmed.
The question for many residents is the same, do officers implicated in negligent cases tend to be charged with misconduct and civil rights violations? Yes, although most lawsuits do not materialize. Currently, the Golden State has over 78,000 law enforcement officers. Out of this number, approximately 80 were arrested for police misconduct.
Types of Civil Rights Violations and Unlawful Police Conduct
Not all civil rights violations come from law enforcement. However, most of the complaints filed involve police misconduct.
The Most Common Cases of Civil Rights Violations:
Excessive or Unreasonable Force/Police Brutality: This usually arises during an arrest. It results in serious physical injury or death.
Abuse of Power/Authority: A police officer takes advantage of his or her position for a particular benefit.
False Arrest: If a police officer does not have prior authorization from a judge or sufficient and logical evidence, any arrest will be illegal.
Unlawful Detention: Focuses on victims who have felt their constitutional rights violated while in police facilities or in police custody.
Discrimination: Detaining or targeting someone under the pretext of discrimination; violates a citizen's civil rights.
Malicious Prosecution: Police charges made without foundation, with the intent to harm and ruin an individual's reputation.
Sexual Assault: Occurs when there has been sexual harassment or abuse, both physical and verbal, as well as any non-consensual sexual act, such as rape.
Negligent Shooting: Groups together any shooting or gunfire that causes a fatality or serious injury when the situation did not require it.
Prison Abuse: Sexual abuse or harassment, coercion to perform tasks for the benefit of officers, abuse of authority, police brutality, excessive use of force, as well as discrimination based on their status as prisoners.
Witness Tampering or Manipulation of Evidence: These situations often arise as a result of improper police behavior. This may occur when members of the state forces try to cover up their own mistakes, by coercing witnesses or tampering with evidence.
Police Dog Attacks: The officer responsible for the police dog causes serious personal injury to the victim.
Failure to Intervene: When a police officer witnesses a crime and does not intervene.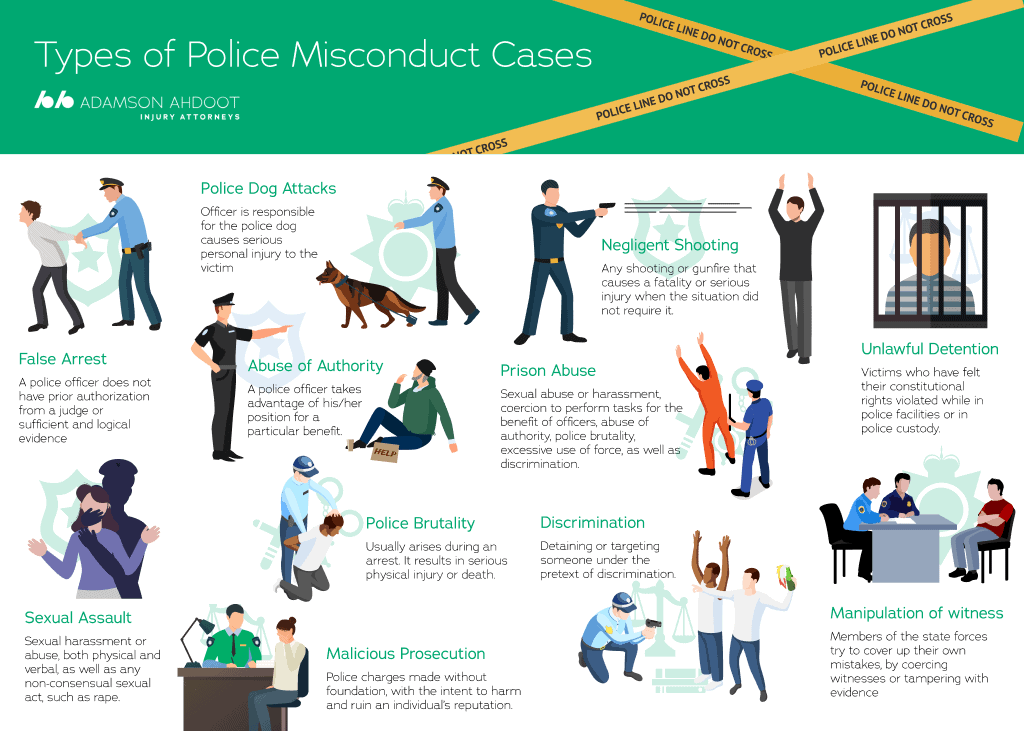 Major Incidents of Civil Rights Violations and Illegal Law Enforcement Conduct
In 2021, California was one of only four states that did not have statewide power to de-license police officers. However, that same year, Governor Newson pushed through the proposed BS2 Act. This one made law enforcement punishable for misconduct and negligence.
At that time, personal injury and wrongful death claims for police misconduct began to take center stage on the national scene. California, unfortunately, ranks as one of the states with the most high-profile police negligence cases.
Society takes into account that, at times, the police may make a negligent mistake. The problem comes when there are numerous mishaps, both national and statewide, where the same officers are involved in different conflicting cases. Consequently, the state's budget is used to pay claims for damages to victims.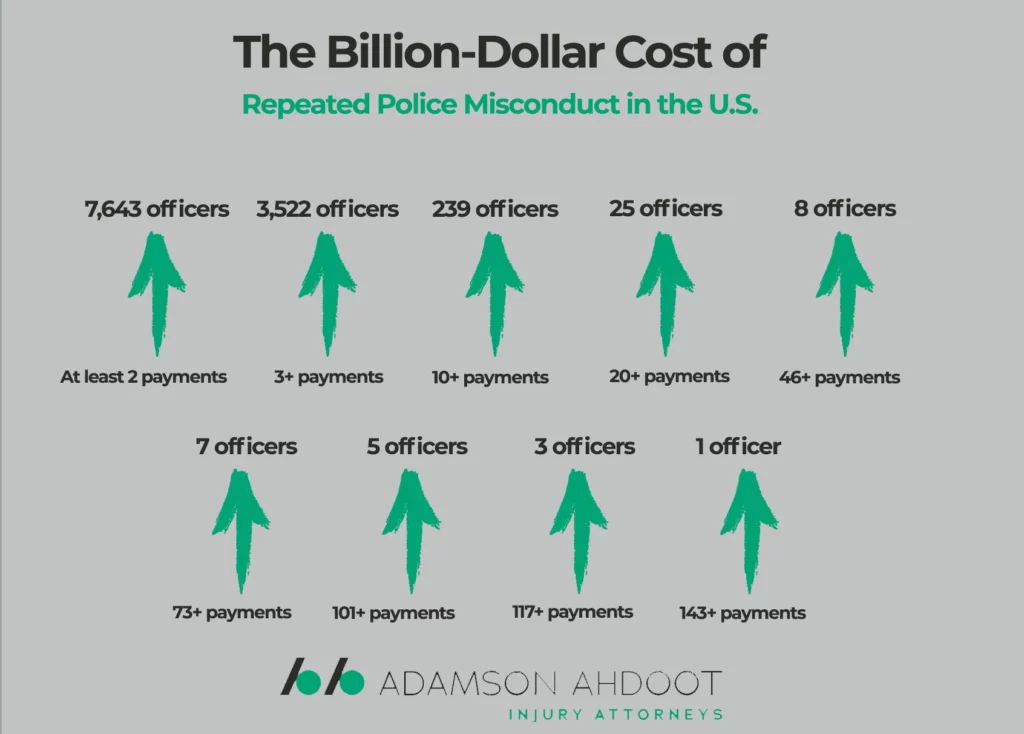 A report by The Washington Post has uncovered dirt on many of the nation's police departments. According to the investigation based on data collected over the past decade from the nation's top 25 police agencies, there were more than 40,000 payouts for police malpractice cases. These payments totaled $3.2 billion to settle.
But, how many of those payouts were for cases involving police officers who already had cases of misconduct under their belts? Repeat police misconduct by officers cost nearly half of the total claims, $1.5 billion.
Impactful Misconduct Cases and Settlements in California
2005 to 2018. $190 million. As The Wall Street Journal reported in its analysis, Los Angeles paid nearly $200 million in settling cases of illegal police behavior.
2010 to 2020. $77 million. Riverside County paid nearly $80 million in police misconduct cases. As The Washington Post investigation explains, $63 million was for excessive force cases and $12 million for false arrests.
2015 to 2021. $245 million. According to a Los Angeles Times analysis, between 2015 and 2021, Los Angeles County allocated more than $245 million to pay for Police Department negligence cases.
October 2022. $47 million for five California misconduct lawsuits. The Los Angeles Board of Supervisors approved nearly $50 million for five families.

Timothy Neal ($16M) was shot in the back while suffering from a bout of schizophrenia.
Eric Briceño ($16.25M) was suffering a mental breakdown when he was beaten and shot with a Taser by a group of police officers.
Andres Guardado ($8M) was on his knees with his hands on the ground when a sheriff's deputy shot him in the back.
Pedro Lopez ($5M) was accidentally shot while in the backyard of his home when several police officers were chasing a suspect.
Rufino Paredes ($1.9M) committed suicide while in judicial custody. The victim was suffering from mental problems.

November 2022. $3M. Vallejo police fatally shot angel Ramos. Agents falsified the official report to cover up their negligence.
David Ordaz Jr.: Adamson Ahdoot Leads Next Big Misconduct Case in California
In March 2021, another injustice filled the front pages of the media. Los Angeles law enforcement officers shot and killed David Ordaz Jr. in gross police negligence. The victim was in a mental breakdown when one of the Sheriff's deputies, Remin Pineda, fired up to 12 shots when Ordaz Jr. was already on the ground. As can be seen in the visual evidence obtained by witnesses and police, the victim was defenseless when he died. The worst part of the case is that the officers were aware of Ordaz Jr.'s psychological problem when they arrived.
Adamson Ahdoot was the law firm chosen to represent the case. While the legal process is still ongoing, there were developments in November 2022. Los Angeles County District Attorney, George Gascón indicted Officer Pineda on charges of assault by a semi-automatic firearm and assault.
We will keep you updated on developments in the case.
George Floyd, the Case that Shocked the Nation
The incident that awakened society to the seriousness of police malpractice was the George Floyd case. It occurred on May 25, 2020, when a food store clerk reported to police that Floyd had purchased a pack of cigarettes with a fake $20 bill. Cops arrived on the scene, where they found Floyd, who resisted arrest. The officer responsible for his death, Derek Chauvin, placed his knee on Floyd's neck for 9 minutes, while Floyd gasped and claimed he couldn't breathe. The rest is history: police brutality recorded by dozens of people and witnessed by millions. Chauvin was sentenced to 22 years in prison in 2022. The victim's family received a $27 million settlement.
How Can Victims of Police Misconduct Defend Themselves? Know Your Rights
Currently, federal and state laws are on the side of the citizen. Although it has taken a while to implement them, victims of police brutality, abuse or discrimination can get the justice they deserve. Choosing a law firm that specializes in misconduct cases and collecting all the evidence will help you win your claim.
Also, it is important to know your civil rights before you begin your complaint. As we have noted, as of 2021 California state law has reduced qualified immunity for police officers. This will make it easier to file a complaint against a state or federal employee.
How to Sue a Civil Rights Violation or Police Negligence
Reporting any instance of unlawful police behavior is the key to upholding citizens' civil rights. Although it may seem like a difficult process, you just need to find the right help.
While it is positive to pursue an internal complaint against the agency, it is also vital to file a civil rights complaint for police misconduct. This lawsuit will be vital in obtaining financial compensation for the personal injuries sustained. It will also impose heavy penalties and punitive damages on the law enforcement officer involved in the police negligence. This can range from disbarment to years of imprisonment.
What are the Procedures to Follow in Filing a Police Misconduct Claim?
At Adamson Ahdoot, we recommend building a strong case through these steps:
The first thing you should do is go to the doctor. Even if the harassment or abuse has been verbal. Getting an injury report strengthens the case.
Hire an attorney with experience in police misconduct cases. This will allow you to put the stress of the legal process aside, so you can recover from your injuries. The lawyer will be sure to review a legal analysis and plan a future strategy for the case.
Gather as much evidence as possible. This can range from documents to medical reports, audio, videos, testimonials, or photographs.
File an internal complaint with the police department. Some consider it imprudent to do so, as there may be a risk of the accused tampering or destroying evidence.
Submit a claim within the statutory period. This procedure may involve the defense trying to use its position as an agent of the law to get even for its responsibilities.
If the judge has made a favorable decision for the victim, they will award compensatory damages. These will vary according to the severity of the case and may also include punitive damages.
How Can Adamson Ahdoot Help You with Your Case?
If you or someone in your family has experienced police misconduct, we can help. Our firm, with over 100 years of combined legal experience, knows how to handle these accidents. Our bilingual police misconduct experts will make sure you get maximum compensation for your damages.
We have attorneys who have handled a large number of law enforcement misconduct cases and are ready to guide you through this process. From the first day to the last, we will put all of our resources into getting you the compensation you deserve.
Injured by Police Brutality? Did you Suffer a Violation of Your Rights? We Can Help You
While there are many respectful, ethical, and dedicated law enforcement officers in the Golden State, there are others who do not adequately perform their duties. Although the role of a police officer is to enforce the law, in recent years a civil rights violation problem has grown: police misconduct.
Experiencing a case of police misconduct can be stressful. The experience of police brutality, discrimination, or excessive use of force by an officer can leave lifelong scars. Especially if the victim sustains serious personal injuries or even dies as a result of police negligence.
Don't let a police officer's abuse of authority go unpunished. File your lawsuit against the negligent cop today. Call us today at (800) 310-1606 if you would like to learn more about how to file a personal injury claim. We assure you that our team will assist you with the sensitivity and empathy you deserve.