Why it's Important You See a Doctor After Being in a Los Angeles Car Accident
Have you suffered an injury in a Los Angeles car accident? Car accidents are one of the most common causes of injury in the U.S., reports the Center for Disease Control and Prevention (CDC). Millions of Americans are injured in car accidents every year and suffer all different types of injuries like head injuries, broken bone injuries, and neck injuries. 
Injuries sustained in a car crash can vary significantly depending on the type of accident and the vehicles involved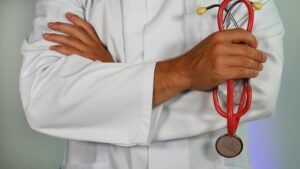 in the crash. For example: a motorcycle driver may sustain more serious inquiries when hit by a large car or truck than a driver of a car hit by a motorcycle. It's important to remember: no matter how minor you think your injury is, it's imperative you see a doctor as soon as possible after the accident for a number of reasons:
You don't want to complicate your injury 
Car accident-related injuries don't always "appear" suddenly. Many different types of injuries and conditions don't develop symptoms until days or weeks after sustaining them. One of the most common types of car crash injuries – whiplash – is often not detected right away. A delay of treatment can make your injury worse and lead to other complications.  
You don't want to jeopardize your ability to collect compensation 
Insurance companies often require victims to seek medical care within a certain amount of time in order for you to be covered under personal injury protection. Waiting to see a doctor may jeopardize your ability to collect funds for injury damages, and put your recovery and health care at risk. Make sure your doctor is keeping a detailed record of your injuries, and follow your doctor's treatment plan and recommendations. 
You don't want to the opposing insurance company to discredit your claim
After suffering an injury in a Los Angeles car accident caused by another person, you may want to get financial help for the expenses related to your injury treatment. However, the other driver's insurance company will do whatever they can to discredit your claim and diminish the extent of your injury in an effort to get out of paying you. As mentioned before, injury symptoms don't always appear immediately after an auto accident, but if you did not see a doctor within a reasonable amount of time (approximately 24 hours within the accident occurring) the insurance company may assume you didn't suffer an injury and fight your claim.
The more time that passes between the accident and the date you sought medical treatment, the more likely it is your claim will be denied. Don't wait to see a doctor following a car accident and don't wait to contact Adamson Ahdoot LLP. Our caring Los Angeles car accident attorneys are standing by, ready to help you get the right care and get the claims process started so you can make a full recovery (if a full recovery is possible). 
You can get in touch with our law firm by calling (800)310-1606 or by submitting a contact form. When you call or email us, we'll have a member of our team contact you and gather information about your accident and injury. If you can move forward with filing a lawsuit, we'll take your case on a no win, no fee basis. Getting you full and fair compensation for injury expenses is our Los Angeles car accident lawyers' main mission. 
Client-First Approach
Above all else, our clients come first. We go above and beyond to obtain the highest level of compensation possible.
Meet Our Attorneys
Multi-Focus Law Firm
Adamsom Ahdoot has successfully executed a plethora of personal injury cases.
Cases We Handle
Get in touch with our firm
Our team can better advise you on your legal options once we receive any available evidence about the incident.
Take Action Now