What's the Difference Between an Accident Involving an Uber Car and My Own Car?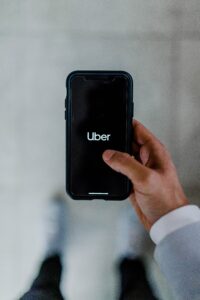 The popularity of rideshare services like Uber and Lyft in cities like Los Angeles has skyrocketed over the last few years. Companies like Uber offer riders the ability to "book" a ride from almost anywhere in the city at almost any time, right from their phone. But what happens when you're involved in an accident with a rideshare vehicle? What's the difference between an accident involving an Uber car and your own car?
When you're involved in an accident in your own car and you've suffered an injury as a result of another person's actions, a claim can be filed against the at-fault driver's insurance company. Your claim is then put through the claims process and if handled by a qualified attorney, settled for a fair value. Victims are usually compensated by the at-fault driver's insurance company. 
Cases involving rideshare vehicles aren't always as clear cut as cases involving personal vehicles and here's why:
The status of the rideshare driver at the time of the accident must be determined. Liability may vary depending on whether or not the driver was an employee or independent contractor at the time of the crash.

Rideshare vehicle insurance coverage varies considerably and is affected by many different factors, such as if the driver was en route to a passenger, picking up a passenger or waiting for a ride request. 

If an Uber or Lyft accident resulted in injury to a passenger, pedestrian or any other person and the rideshare driver caused the accident, the driver may be partially responsible for damages. 

The rideshare company may also be responsible for damages depending on the status of the driver at the time of the crash. 
As you can see, accidents involving rideshare vehicles can be complicated and difficult to navigate without a clear understanding of the law. However, there's no need to worry if you hire a qualified attorney to handle your claim. What's most important is knowing what to do after being injured in an accident with an Uber or Lyft driver. 
After being injured in a rideshare vehicle accident, it's imperative you seek medical attention as soon as possible. Even if you don't think you were injured, it's best you get a thorough medical exam within 24 hours of the accident. At Adamson Ahdoot LLP, we've seen many cases turned away because victims failed to get medical help for a delayed onset or difficult to detect injury. 
After seeking medical attention, retain the representation of a Los Angeles Uber accident lawyer at Adamson Ahdoot LLP. We will help you with every step of the claims process –  from filling out paperwork to handling talks with insurance companies, doctors, and investigators. Most importantly, we'll carefully research every avenue of compensation to determine who may be responsible for paying you funds for injury expenses. In a rideshare accident, the driver, the driver's insurance company, and the rideshare company may all be responsible for compensating you.
You can learn more about your legal rights, by calling (800)310-1606 right now to speak with one of our knowledgeable Los Angeles Lyft accident lawyers. We are aggressive litigators who won't back down to intimidating insurance companies or big corporations. Consultations are free and all cases are taken on a no win, no fee basis. 
Client-First Approach
Above all else, our clients come first. We go above and beyond to obtain the highest level of compensation possible.
Meet Our Attorneys
Multi-Focus Law Firm
Adamson Ahdoot has successfully executed a plethora of personal injury cases.
Cases We Handle
Get in touch with our firm
Our team can better advise you on your legal options once we receive any available evidence about the incident.
Take Action Now