The Adamson Ahdoot Outreach Marks 1-year Birthday
The AA Law Outreach Team Partnered With Water Drop LA for Its May Event!
It's been a good year for the Adamson Ahdoot Outreach Team. We've worked with some of the most impactful organizations in Los Angeles and California over the past 12 months. During that time we've built houses with Habitat LA, tried to bring much-needed relief to our local waters with Heal the Bay, and walked to find a cure for childhood illnesses with St. Jude Children's Research Hospital, to name just a few of the events we've participated in. And the May event was just as impactful!
The Adamson Ahdoot Outreach team linked up with frequent collaborator, Water Drop LA for the fourth time on May 20, 2023. Water Drop LA's work is critical to Skid Row, one of the country's largest populations of people without homes in the United States. Essentials like water, toiletries, and clothing are scarce in this area. Thus, ensuring our neighbors here have clean, fresh water and other necessities is vital. They have been focused on bringing relief to Skid Row since its founding in 2020. Since then, they've had almost 150 straight weeks of distributing over 2,000 gallons of water every Sunday.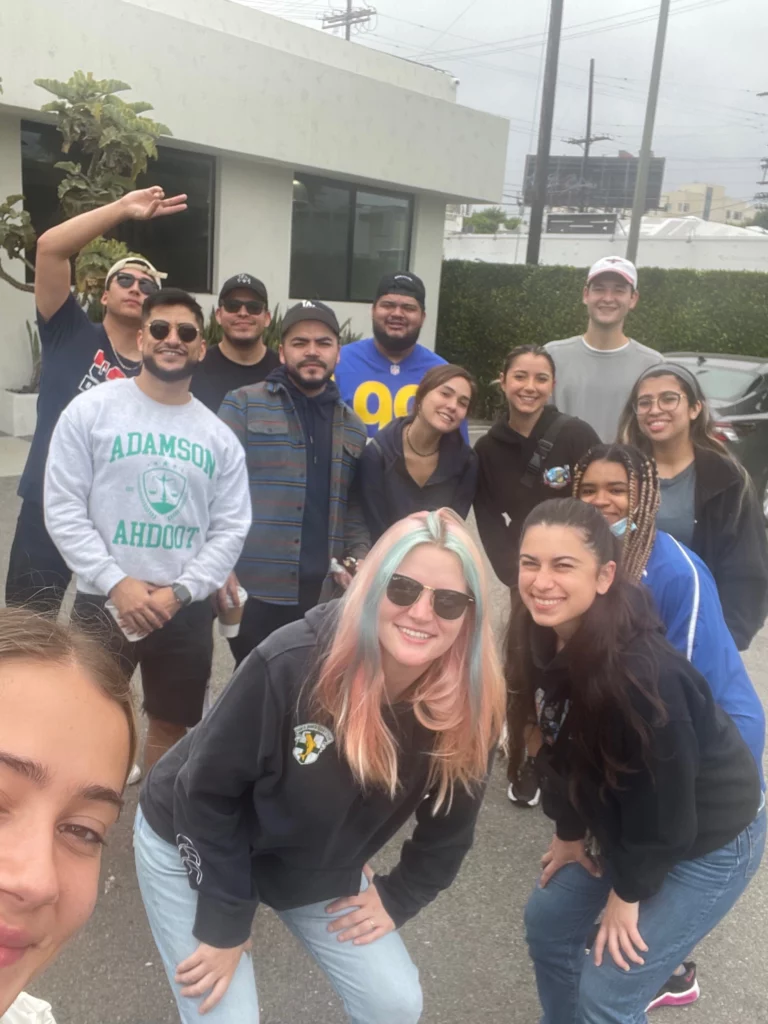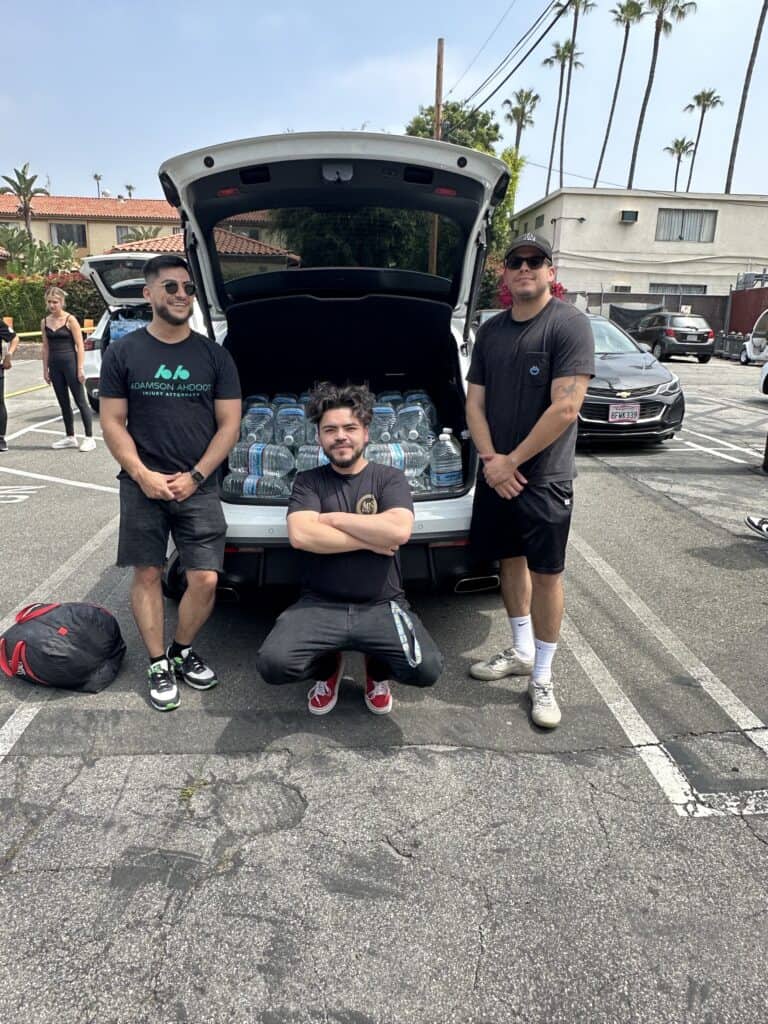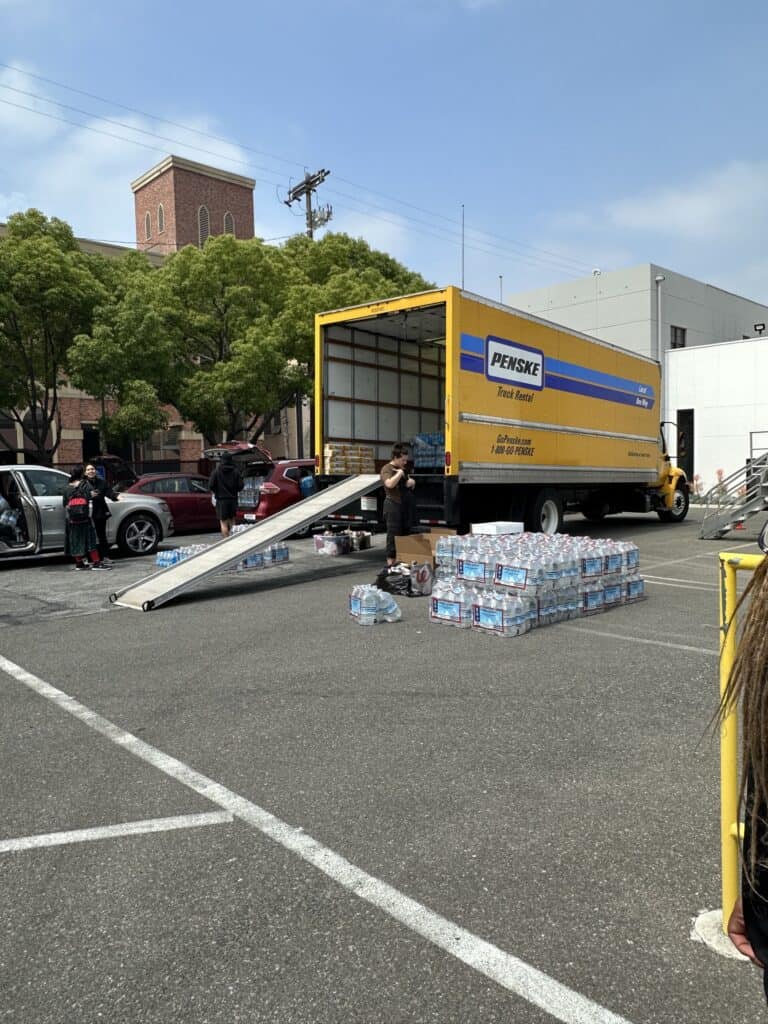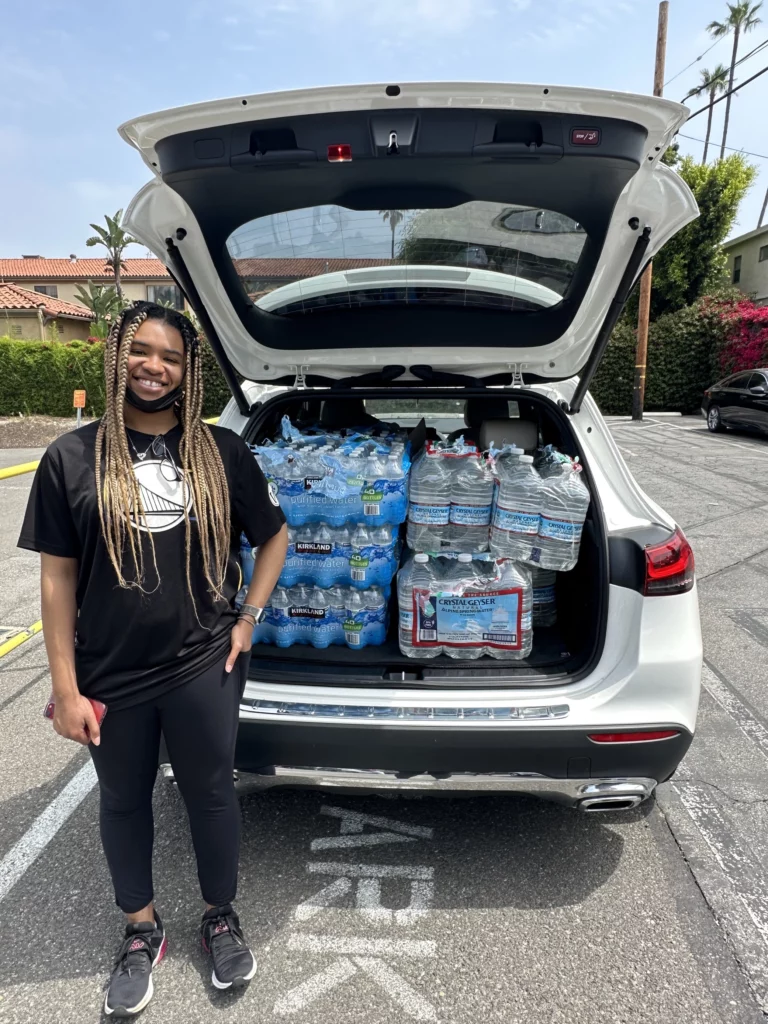 Angelenos Helping Angelenos
Adamson Ahdoot Case Manager Elijah Ozuna was among the AA Outreach birthday revelers who participated in the latest Water Drop and AA Law linkup. As a native of Los Angeles, Ozuna knows just how important bringing these vital resources to this community is.
"Having been born and raised here in LA, seeing how much community plays a part in our city is fascinating. Volunteering with Water Drop LA this past weekend was truly a humbling experience. Being able to give back to those in need is a privilege that many take for granted," Ozuna said of the May event. "Thank you, Adamson Ahdoot and Water Drop LA for reminding us that we need to be the change we want to see."
Despite the turnout, there is still work to be done. But, it's super easy to get involved. Water Drop LA has a weekly water distribution event in Skid Row every Sunday from 11-2 p.m. All supplies are provided, and all ages are welcome. Additionally, Water Drop LA currently accepts donations one Saturday a month in the parking lot of 3131 S Figueroa Ave. Check Water Drop LA's social channels for the exact date.
Next AA Law Outreach Event
Stay tuned for the next Adamson Ahdoot Outreach event. AA Law will partner with Pride LA in June!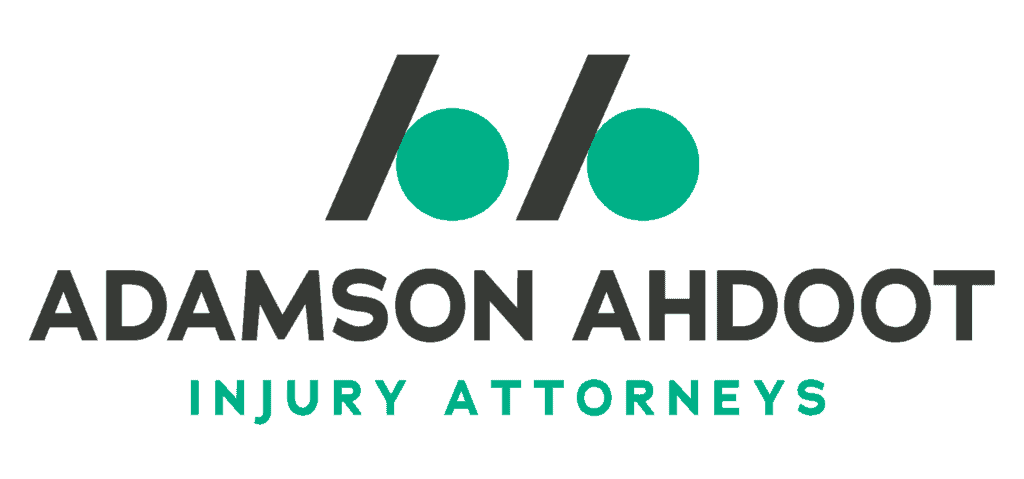 Client-First Approach
Above all else, our clients come first. We go above and beyond to obtain the highest level of compensation possible.
Meet Our Attorneys
Multi-Focus Law Firm
Adamson Ahdoot has successfully executed a plethora of personal injury cases.
Cases We Handle
Get in touch with our firm
Our team can better advise you on your legal options once we receive any available evidence about the incident.
Take Action Now