Takata's Airbags Keep Killing
Deaths continue to be reported nationwide, while thousands of cars are still driving around unrepaired
Who are some of the top car manufacturers affected by the global Takata airbag recall?

The Takata airbag recall affected more than 70 million vehicles worldwide. While around 50 million vehicles have already been inspected, thousands of vehicles are still on the road unrepaired. Some of the 19 biggest car manufacturers affected are:

Tesla
Ferrari
Range Rover
Jaguar
Ford
Honda
Toyota
General Motors
BMW
Mercedes-Benz
Ferrari's recent recall for some owners to replace the copilot seat airbag has brought the focus back to the 'Takata case'.
The manufacture of millions of defective airbags by the Japanese company Takata caused a tragedy in the automotive world. The problems created by the manufacturer not only affected the Italian brand, but also other car companies.
Although the first complaints were reported in 2007, and it was publicly accused six years ago, one of the most controversial companies in history is still in business today.
Issues started in 2017, when one of the largest airbag producers, Takata, was found guilty of manufacturing deadly airbags. The Tokyo-based company was sentenced to pay $1 billion after more than a decade of supplying defective products. The legal case resulted in a total cost of $24 billion, which led the company to bankruptcy.
Officially withdrawn from the market in 2015, nearly 70 million vehicles of different car brands had malfunctioning airbags in the United States. Although 50 million have already been inspected, thousands of automobiles continue to drive unrepaired. Takata's airbags have led to the largest auto repair recall in the country's history.
According to the investigations, the airbags produced by Takata were life-threatening when they were triggered after an accident. The fault lies in the operation and sealing of the inflator which, after a chemical explosion, should inflate quickly to protect passengers.
However, these inflators were manufactured in a defective manner and were not properly sealed in production, so moisture can enter the propellant and cause it to misfire. This could result in two negative consequences: the airbag may open slowly, so it fails to protect the individual's integrity, or it may explode so hard that it ejects metal parts, causing injury or even death.
Death and Injury Numbers on the Rise
Globally, these airbags have been blamed for more than 30 fatalities and 450 injuries. 100 injuries and 19 fatalities have been confirmed in the United States alone.
The latest possible fatal accident was reported in Florida, last July. The 23-year-old victim was driving his 2006 Ford Ranger when he had a minor traffic collision. Apparently, the activation of the co-driver's airbag resulted in his death. Prior to this terrible event, the most recent death occurred in January 2021 while someone was driving a Honda in South Carolina.
According to estimates, a total of 1.7 million automobiles worldwide had Takata airbags. On the list of the 19 automakers affected are Ford, Honda, Toyota, General Motors, BMW, Mercedes-Benz, Tesla, and Ferrari, among many others.
The NHTSA website has a page for owners to verify if their vehicle needs to be repaired through the Vehicle Identification Number (VIN).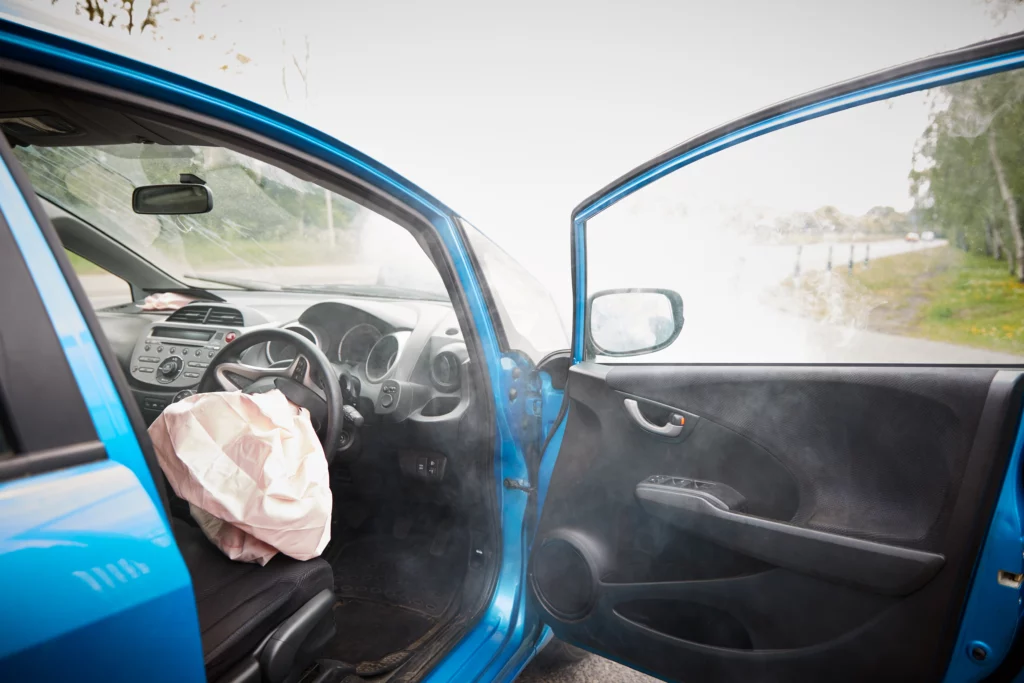 We Can Help!
If you or a loved one has suffered devastating injuries, or even death, because of a car malfunction, the Adamson Ahdoot team can help. The consequences caused by defective products from large corporations need to be brought to justice. Let our attorneys handle your case and allow you to have the financial compensation and peace of mind you deserve. Call us today at (800) 310-1606 to learn more about our services.
Client-First Approach
Above all else, our clients come first. We go above and beyond to obtain the highest level of compensation possible.
Meet Our Attorneys
Multi-Focus Law Firm
Adamson Ahdoot has successfully executed a plethora of personal injury cases.
Cases We Handle
Get in touch with our firm
Our team can better advise you on your legal options once we receive any available evidence about the incident.
Take Action Now