Secret Group Paints Los Angeles Crosswalks in Effort to Reduce Pedestrian Deaths
A secret group has taken it upon themselves to paint crosswalks at busy intersections throughout the City of Los Angeles. A group called "Crosswalk Collective LA" has painted numerous crosswalks the city says shouldn't be there.
One such crosswalk, painted at the intersection of Romaine Street and Serrano Avenue, was welcomed by the community. A concerned resident of East Hollywood said he "…was glad those white lines were there," reports NBC4 as pedestrian deaths have been on the rise.
On Twitter, the group says, "Until the city council acts, we paint crosswalks." After years of officially requesting more crosswalks and other pedestrian safety measures, the group says city council members were actively hostile (in regard to safer streets) to their requests and were met with delays. Crosswalk Collective LA states car accident-related deaths are the number one cause of death for children in the city.
According to the Los Angeles Department of Transportation (LADOT), more than half of the 200 people tragically killed in car accident-related deaths are pedestrians and cyclists. Sadly, many of the victims killed are young children, reports the LADOT.
More than 1,000 pedestrians are tragically killed every year in the state of California, reports the Governor's Highway Safety Association, which is the highest pedestrian fatality rate of any state in the nation.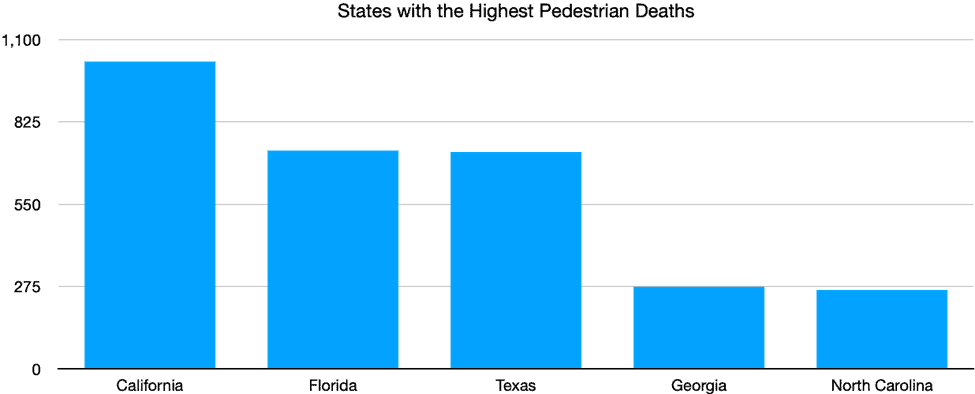 Why are so many pedestrian deaths occurring? Experts believe several factors have contributed to the uptick in preventable pedestrian deaths, such as:
High levels of stress, which affect driver behavior
Roads that aren't designed for pedestrians, but only vehicle traffic
Delays in implementing safety precautions
Lack of driver accountability
Speeding or excessive
Driving while under the influence of drugs or alcohol
Let Us Help You Navigate the Tragic Loss of a Loved One
We understand how emotionally devastating it can be to lose a loved one in an accident caused by the negligent actions of another person. Don't attempt to seek justice on your own. With a caring Los Angeles wrongful death attorney by your side, you can focus on putting the pieces of your life back together while we help you see justice served.
Adamson Ahdoot LLP will fight vigorously for our clients and won't back down until we have recovered compensation for the damages associated with the loss of your loved one. Call us today to schedule a private consultation with one of our skilled lawyers and get on the first step toward peace of mind.
Client-First Approach
Above all else, our clients come first. We go above and beyond to obtain the highest level of compensation possible.
Meet Our Attorneys
Multi-Focus Law Firm
Adamson Ahdoot has successfully executed a plethora of personal injury cases.
Cases We Handle
Get in touch with our firm
Our team can better advise you on your legal options once we receive any available evidence about the incident.
Take Action Now