Car accident deaths continue to rise in Los Angeles
The first two months of 2022 saw more people die and suffer serious injuries than during the same period last year.
Traffic deaths and injuries are up again in the first two months of this year in Los Angeles, a Los Angeles Police Department Traffic Division COMPSTAT data report confirms. It follows a harrowing trend, in which the current year's tally marks a 77% increase over the 35 people who died in the equivalent period in 2020.
It is also an increase over 2021, when 62 people died in vehicular collisions, compared with 53 during the same period from Jan. 1-March 5. Worse still, it continues to rise year after year.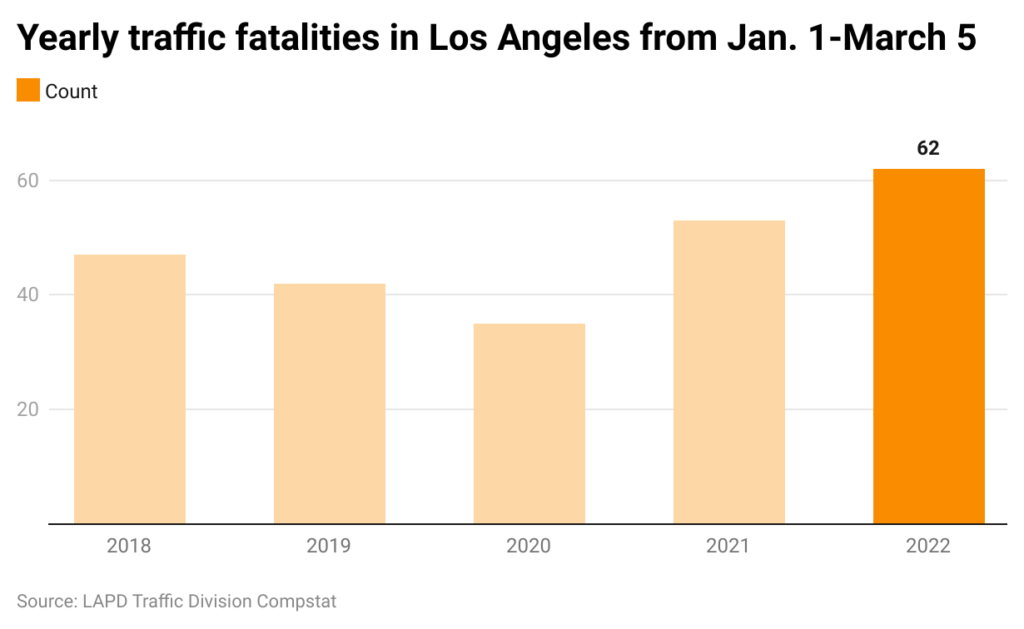 The rise in deaths comes despite city officials like Mayor Eric Garcetti implementing Vision Zero in 2015, a plan to achieve zero traffic deaths in the city by 2025. It has definitely not gone to plan as Los Angeles has seen an increase, not a reduction, in city traffic fatalities and injuries. In 2015, the year Vision Zero launched, 186 people died in automobile collisions. Last year, 294 people were killed.
Los Angeles Police Department Assistant Chief Beatrice Girmala said the increase is "sad but not surprising," during a Los Angeles Police Commission meeting on March 15, when informed the largest increase in deaths this year involved people struck by vehicles.
It has prompted Garcetti to redouble his efforts. The L.A. mayor signed an ordinance on March 7, which passed the City Council on Feb. 22, that will lower the speed limits on 177 miles of streets in the city. The ordinance claims twenty-eight of these street segments are on what is labeled the Vision Zero High Injury Network, where the highest concentrations of traffic deaths and severe injury crashes occur.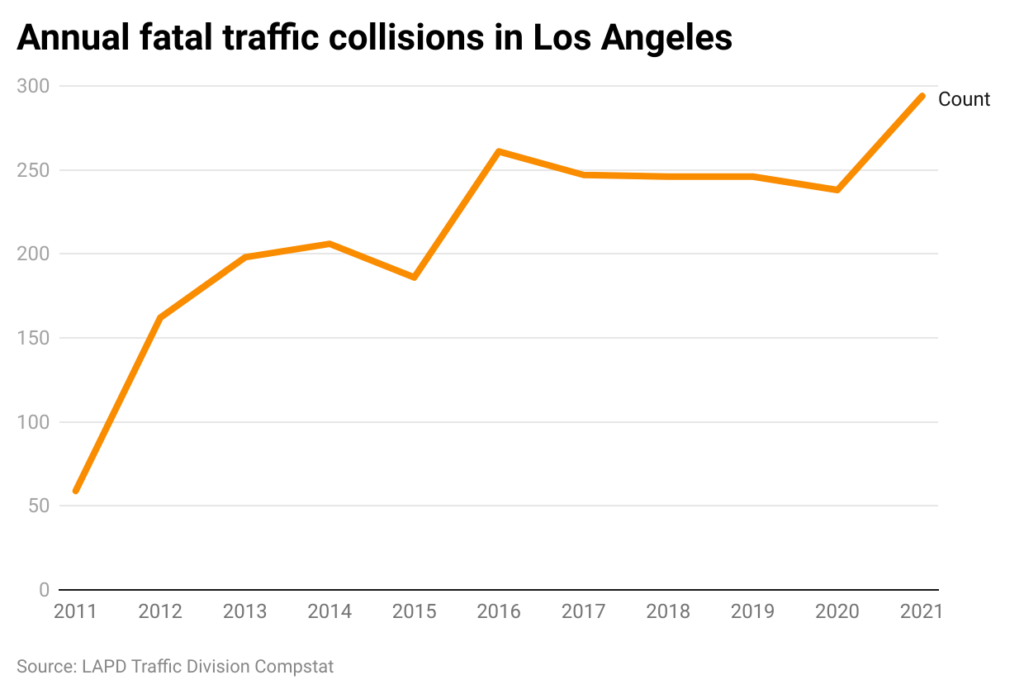 The increase in Los Angeles traffic deaths is not inconsistent with figures across the country. The National Highway Safety Administration reports that traffic deaths spiked across the United States during the pandemic, blaming factors such as an increase in reckless driving. The increased speeds come as a result of roads with fewer drivers, allowing them more space to achieve top speeds and putting more drivers on the road at risk of collision.
Last year, the LAPD recorded 1,137 serious injuries from car crashes in the city. That was the highest figure since 2016. That averages out to roughly four people injured each day, every day, last year. The first two months of 2022 have already indicated that Los Angeles is on pace to break its old record.
Crosstown LA reports "From Jan. 1-March 5, Downtown Los Angeles, home to hundreds of thousands of office workers and residents, many of whom drive solo, recorded 84 traffic collisions that resulted in a serious injury, the highest total of any neighborhood in the city. The next most-impacted communities were Van Nuys and Westlake (both with 48 reports of serious injuries)."
And as the problem gets worse, the citizens of L.A. are starting to mobilize. Executive Director of pedestrian advocacy organization Los Angeles Walks John Yi has implored the city to look at the problem of traffic fatalities as a health issue. "Things have become more dangerous as we see in the media, but there's been inaction by the city, and I think that goes to show that things are only going to get worse," Yi explained. "I think this state of pedestrians here in LA is not good. We're still losing, every 30 hours, an Angeleno, and our city's vision to go to zero traffic fatalities by 2025. Things have only gotten worse since that policy," Yi added.
If you or someone you care about has been in a car accident or, worse, lost someone to the negligent actions of others, reach out to Adamson Ahdoot LLP. Their compassionate, but determined attorneys can help guide you through your claim process and bring you peace of mind as you recover. Contact us for a free consultation.
Client-First Approach
Above all else, our clients come first. We go above and beyond to obtain the highest level of compensation possible.
Meet Our Attorneys
Multi-Focus Law Firm
Adamson Ahdoot has successfully executed a plethora of personal injury cases.
Cases We Handle
Get in touch with our firm
Our team can better advise you on your legal options once we receive any available evidence about the incident.
Take Action Now