Bike Fatalities Continue to Increase in California
The 2020 report stating bicycle deaths were at a 25-year-high may already be outdated
A report by Philip Reese for California Healthline in 2020 found that California bike fatalities were at a 25-year-high. Reese reported that more cyclists died in traffic accidents across the state during the three-year period between 2016 and 2018 than at any other point in the past 25 years.
During the same period, traffic accidents killed 455 cyclists in California, according to data from the National Highway Traffic Safety Administration (NHTSA). They also found that there were about 3.9 bike accident fatalities per million people, the highest rate over any three-year period since the mid-1990s, before many cities built extensive bike networks. The numbers make California the tenth-most dangerous state for bicyclists.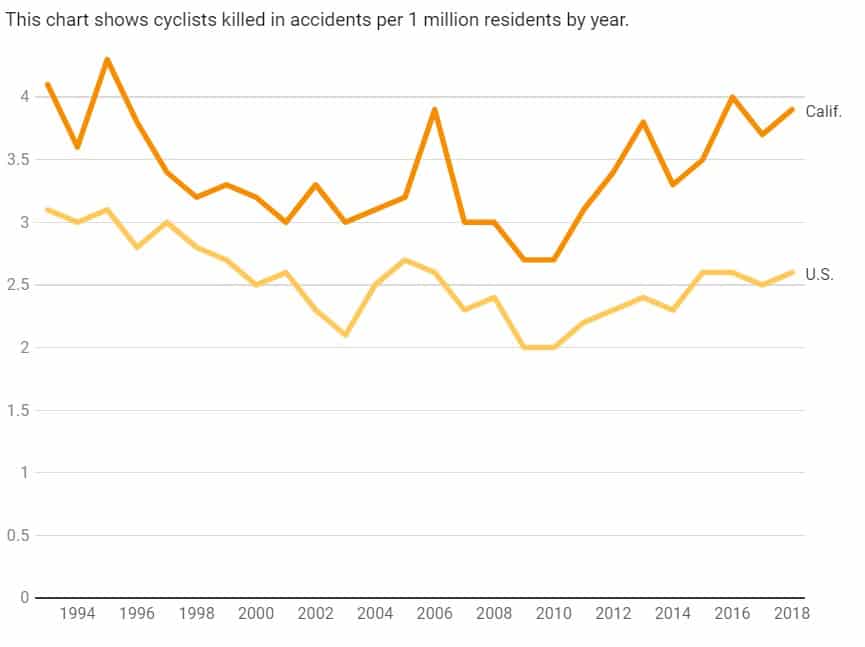 California Healthline reports that nationwide, the fatal accident rate was lower, but also on the rise. From 2016 through 2018, 2,516 cyclists died in traffic accidents, a rate of about 2.6 per million people. That was the highest three-year death rate since the mid-2000s.
Reese's report should've made things better, or at least slowed down fatalities a bit. Instead, The NHTSA released their latest count of US traffic deaths for the first nine months of last year, showing an estimated 31,720 people died in motor vehicle crashes through the end of September 2021. That's a 12% increase over the previous year, the most traffic deaths in 15 years, and the biggest one-year jump since they've been keeping score.
Things are even worse here in California, which saw a 17.2% increase in traffic deaths for the first nine months of 2021. And although the NHTSA doesn't take stats on bike fatalities, it's safe to assume that the increase in traffic deaths translates to an increase in bike deaths as well. In fact, a mid-February day, which saw a pedestrian and a bicyclist in Oxnard and Ventura hit and killed in separate crashes, is a chilling reminder that the problem is getting worse. Just a few days earlier before that, a Bay Area bicyclist was tragically killed in Livermore. Their death marked the twelfth traffic fatality in the bay of 2022.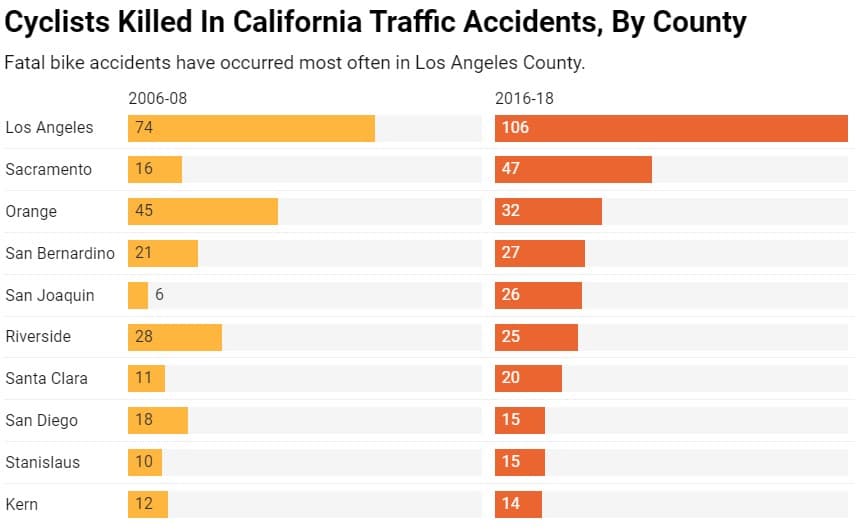 "This is a national crisis. We cannot and must not accept these deaths as an inevitable part of everyday life," said Transportation Secretary Pete Buttigieg in an NHTSA press release.
Julia Griswold, a researcher at the University of California-Berkeley's Safe Transportation Research and Education Center, believes there are several ways to cut the number of bike fatalities, but none more important than the relatively simple win: reducing speed limits. "Most people are going to survive a crash if they're hit at 20 miles an hour," Griswold said. "But the survival rate drops considerably with each increase in speed above that."
Despite the best efforts to curb bicycle and traffic injuries and deaths, bike fatalities have most likely continued to rise, so it's best to be prepared. If you or a loved one have been injured in a biking or pedestrian accident through no fault of your own, and you would like to know how to proceed, please visit Adamson Ahdoot LLP.
Client-First Approach
Above all else, our clients come first. We go above and beyond to obtain the highest level of compensation possible.
Meet Our Attorneys
Multi-Focus Law Firm
Adamson Ahdoot has successfully executed a plethora of personal injury cases.
Cases We Handle
Get in touch with our firm
Our team can better advise you on your legal options once we receive any available evidence about the incident.
Take Action Now