Ambulance Fire Leaves One Dead
A 91-year-old patient and a paramedic were passengers when the ambulance caught fire
An ambulance explosion outside a Hawaii hospital left one fatality and one person critically injured. Two paramedics and a patient were inside the ambulance when the fire broke out, hospital workers said.
The events occurred overnight last Aug. 24, in Kailua, when a 91-year-old patient was being transported to the hospital following a 911 call. An emergency medical technician was driving the ambulance along with a paramedic who was assisting the patient.
However, before arriving at the Adventist Castle Health hospital, the ambulance caught fire with the three individuals inside.
The ambulance driver, who escaped the fire unharmed, went to the aid of the nurse and patient in the back of the ambulance. Despite his attempt to save both, only the nurse made it out alive. The 36-year-old paramedic, who has more than 10 years of emergency response experience, was rushed to the hospital. He was placed in critical condition in the Straub Burn Unit.
According to Director of Emergency Services Dr. Jim Ireland, this is a "never before seen" incident. "We had an ambulance tonight, that for reasons we don't understand, caught fire, possibly exploded, prior to entering the hospital," he told the press.
The Reasons for the Explosion Are Unknown
After initial investigations, the cause of the ambulance fire has not yet been revealed. Dr. Ireland, who is devastated by this accident, hopes to receive clarification as soon as possible. "We want answers because we want to know what happened, and we want to make sure this never happens again. In 30 years here, none of us have seen anything like this," he said.
As Dr. Ireland confirmed during a press conference, the Honolulu Fire Department and federal officials have already begun investigating the accident. "This morning we were in contact with the National Highway Traffic Safety Administration, as well as the ATF, and we are making all records available to these agencies because I want answers," he said.
The name of the deceased victim and the injured paramedic have not been released to the press.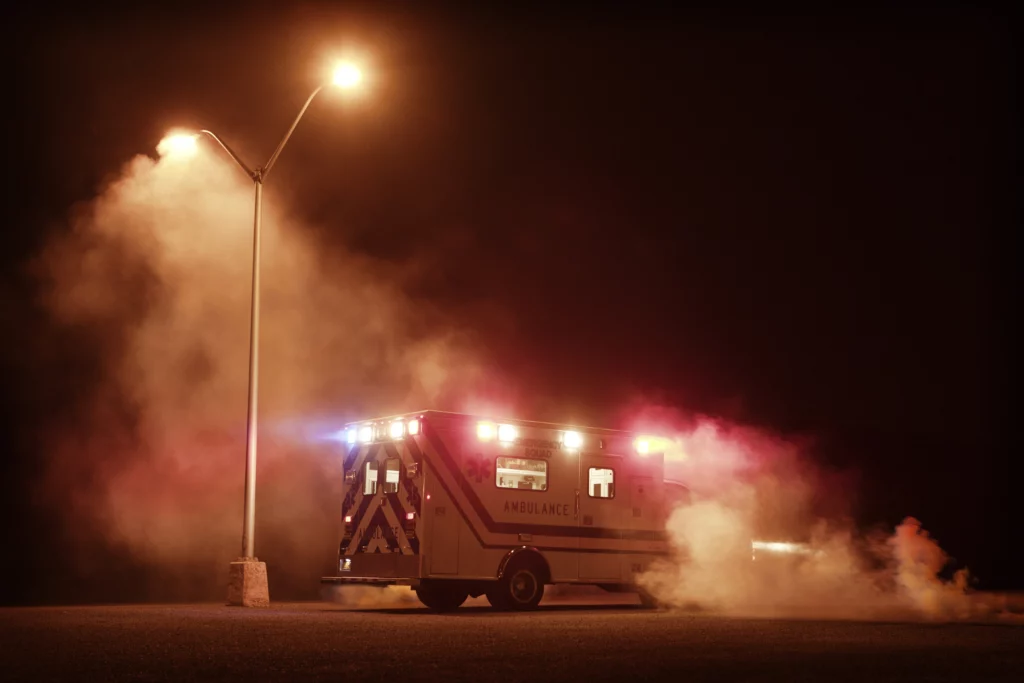 Injured by Fire? We Can Help!
Incidents involving fires frequently have tragic outcomes, including deaths. If you or someone you love has suffered injuries in a house, car, or ambulance fire accident, we can help. Our top personal injury attorneys in California can assist you to pursue justice in your case today.
With more than 100 years of combined legal experience, the Adamson Ahdoot team excels in diligence and effectiveness in resolving injustices. In recent years, we have achieved very beneficial settlements for our clients in Los Angeles. If you want to regain the financial and mental peace of mind you deserve, contact us today. Call us at (800) 310-1606 or send us a form with your case. The first evaluation is completely free.
Client-First Approach
Above all else, our clients come first. We go above and beyond to obtain the highest level of compensation possible.
Meet Our Attorneys
Multi-Focus Law Firm
Adamsom Ahdoot has successfully executed a plethora of personal injury cases.
Cases We Handle
Get in touch with our firm
Our team can better advise you on your legal options once we receive any available evidence about the incident.
Take Action Now