$250k Full Policy Settlement for Red-Light Accident
Our client was the driver of a vehicle traveling southbound on H Street at the intersection of 10th Street in Marysville, California. At that time, the defendant operating a vehicle was traveling eastbound on 10th Street. As our client was passing through the intersection, the defendant failed to stop at the red light and collided with our client's vehicle.
Upon impact, our client's vehicle struck two vehicles that were waiting on H Street and flipped on its left side. The police officer on the scene found the defendant at fault for the collision in violation of California Vehicle Code Section 21461 (a) for running the red light. As a result of this collision, Our Client's vehicle was TOTALED.
The paramedics of Bi-County Ambulance evaluated our client at the site of the collision. They had pain in their neck and left forearm as a result of this collision. After applying all the safety restraints, the paramedics transported our client to the emergency department without an incident and transferred their care to the waiting emergency department staff.
Our client went to the emergency department via ambulance for evaluation and treatment of the injuries sustained due to the motor vehicle collision that occurred just prior to arrival. They complained of burning pain in their neck and pain in their left forearm. Physical examination demonstrated tenderness to palpation to our client's left parietooccipital scalp.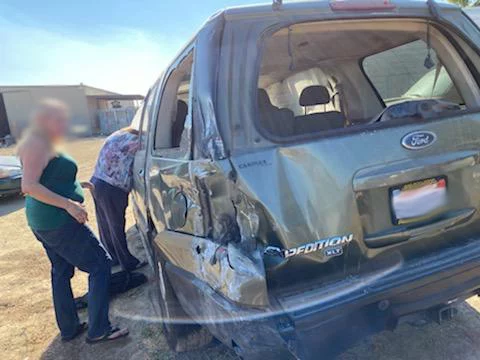 Turn to an experienced law firm equipped to handle cases throughout California.
Contact Us Form - English
"*" indicates required fields
By submitting this form, you agree to be contacted and recorded by Adamson Ahdoot LLP or a representative, affiliates, etc., calling or sending correspondence to your physical or electronic address, on our behalf, for any purpose arising out of or related to your case and or claim. Standard text and or usage rates may apply.