Nothin' But Sand Beach Cleanup 2022
California and Los Angeles, in particular, have some of the nicest beaches in the world. Unfortunately, they also have some of the dirtiest. And while humans sure do contribute to waste at the beach, a big reason that Los Angeles shorelines are filthy is the way the drainage system in L.A. is designed.
According to Santa Monica-based environmental advocacy group Heal The Bay, "The Los Angeles County storm drain system is a 5,000-mile network of open channels, gutters, and drain pipes which collects runoff from Los Angeles County streets." This runoff is collected and funneled into the ocean through 70 major outfalls.
While the intended result of this system is to reduce flooding in Los Angeles, the tradeoff is pollution moving toward our oceans. Heal The Bay reports that an average of 30 billion gallons of stormwater and urban runoff flow through the storm drain system and discharge into Santa Monica Bay each year.
This is why, although no one person or group is going to solve the problem themselves, one person or group, like our Adamson Ahdoot Outreach Team, can make a difference.
On Saturday, June 18, 2022, our do-gooders took on the trash at Manhattan State Beach. They took 2.5 pounds of waste off California's beaches and made sure others could enjoy the sand. Thanks to our Outreach team for representing us in the best way possible and making California beautiful.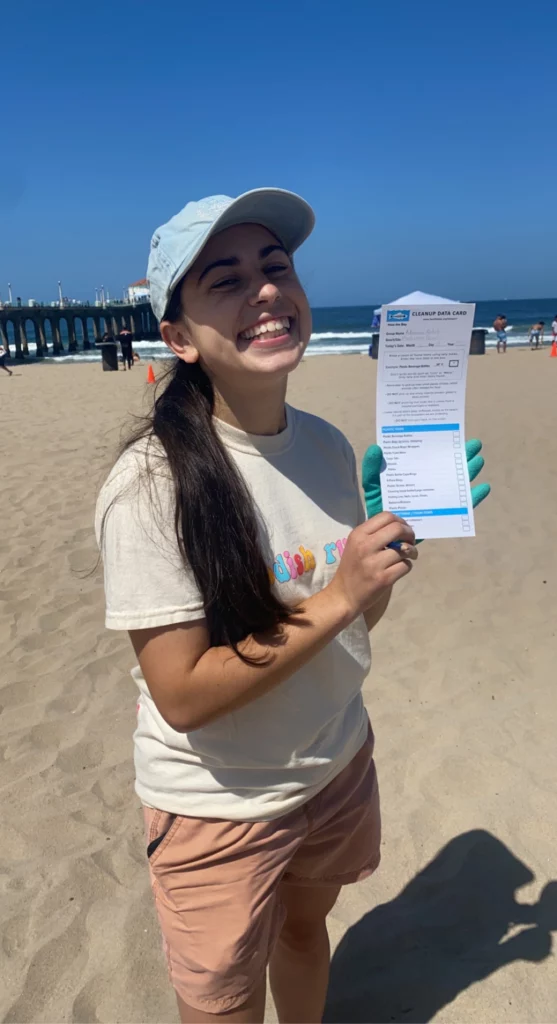 Remember – The best part of a beach cleanup is that anyone can do it.
Heal The Bay recommends these items before hitting your own beach cleanup:
Trash Bags
Recycle Bags
Gloves
Water
Snacks
Sunscreen
Closed Toe Shoes
Heal The Bay's reasons to keep the oceans clean (even if you don't go to the beach):
Animals mistake trash for food on the beach and in the ocean. Popped balloons look like sea jellies, Styrofoam bits look like fish eggs, etc.
As a part of the water cycle, the ocean generates the rain necessary to sustain life on earth. The rain nourishes our crops, and all Earth creatures, big and small, need water to survive.
The ocean provides over 70% of the oxygen we breathe. The phytoplankton and algae that live in the ocean produce oxygen.
The ocean is an essential source of food: fish, clams, lobster, sushi, seaweed, etc.
Seaweed is an important ingredient in many products, such as ice cream, toothpaste, beer, pudding, chocolate milk, shampoo etc.
A healthy ocean has plenty of biodiversity. The wide range of interesting marine creatures in the sea enriches our lives.
Scientists use marine organisms in their search for lifesaving medicines. Many of these organisms are becoming endangered due to pollution from runoff.
Many tourists come to visit our beaches, pumping money into our economy. According to the Los Angeles Convention & Visitors Bureau in 1998, direct spending by overnight visitors throughout Los Angeles County was $11.9 billion dollars.
Client-First Approach
Above all else, our clients come first. We go above and beyond to obtain the highest level of compensation possible.
Meet Our Attorneys
Multi-Focus Law Firm
Adamsom Ahdoot has successfully executed a plethora of personal injury cases.
Cases We Handle
Get in touch with our firm
Our team can better advise you on your legal options once we receive any available evidence about the incident.
Take Action Now