UCLA Study Reveals E-Scooters Cause as many Injuries as Motorcycles
A new study published in PLOS One reveals e-scooter injuries have been on the rise and are now even higher than those caused by motorcycles. According to the University of California, Los Angeles (UCLA) researchers, the growing popularity of electric scooters has contributed to a significant rise in injury rates among riders. The study, which was conducted over a six-year period, shows injury rates for e-scooter riders are approximately 115 injuries per 1 million trips. Motorcycle injury rates nationally are 104 per 1 million trips.
It's important to note that injury rates also included e-scooter accidents involving pedestrians either hit or tripped up by a scooter.
What's even more surprising is that e-scooter injury rates also surpass those for other means of transportation like cars, bicycles, and walking. According to the UCLA study's data, per 1 million trips, cars cause 8 injuries, bicycles cause 15 injuries, and walking causes 2 injuries.
Overall, more than 1,350 people were injured in e-scooter accidents over the course of the study, which pulled data from one section of Los Angeles. Riders suffered all different types of injuries but were most likely to sustain fractures or head trauma like the case of an L.A. man paralyzed by a Bird accident. Another California man sued Detroit for $10M after an accident on another Bird E-scooter.
Researchers revealed approximately 33% of patients required substantial medical treatment – more than just one care visit. Data also shows almost 25% of patients treated suffered multiple injuries to various parts of the body.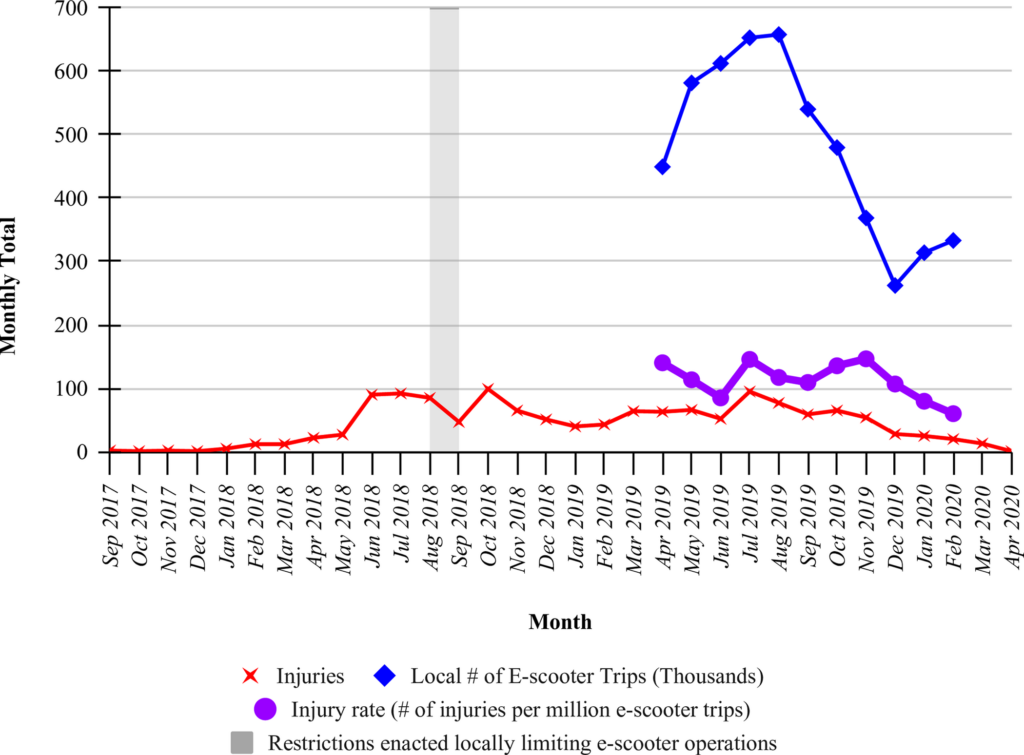 Collecting Compensation for an E-Scooter injury
As you can see, e-scooter accidents can result in severe injuries, requiring multiple doctor visits. The costs associated with a severe injury can grow quickly and cause distressing financial strain for victims.
Why should you suffer when the accident or injury wasn't your fault? If you were injured in an e-scooter accident caused by a defective scooter or a negligent car driver, it's important you learn what your legal rights are and if it's possible to collect compensation for medical bills, lost wages, and pain and suffering.
At Adamson Ahdoot LLP, we're on your side and will work diligently to get you help when you need it most. Our expert legal team has experience handling cases involving electric scooters and is prepared to prove you deserve the highest amount of compensation for an injury caused through no fault of your own. Schedule a free consultation today.
Client-First Approach
Above all else, our clients come first. We go above and beyond to obtain the highest level of compensation possible.
Meet Our Attorneys
Multi-Focus Law Firm
Adamson Ahdoot has successfully executed a plethora of personal injury cases.
Cases We Handle
Get in touch with our firm
Our team can better advise you on your legal options once we receive any available evidence about the incident.
Take Action Now