California's High Temperatures Cause Multiple Heat Strokes
Summer Heat Wave Raging Across State Leaves Dozens Injured by Dehydration and Several Dead
Since spring's end, a long heat wave has been affecting millions of people on the West Coast. With temperatures reaching 110 degrees in various parts of California, there seems to be no end in sight to the heat. Unfortunately, this has taken its toll on dozens of California residents. Although the number of heat-related deaths and illnesses in California is not properly counted, the Centers for Disease Control and Prevention estimates that the statewide death count hovers around 700 each summer.
This situation can affect anyone in any everyday situation. However, those who are active outdoors are more likely to get sick or even die.
If you are interested in learning all the ins and outs related to heat waves, keep reading this blog. We'll explain the symptoms of illnesses associated with extreme temperatures and why there are so many heat-related deaths in California.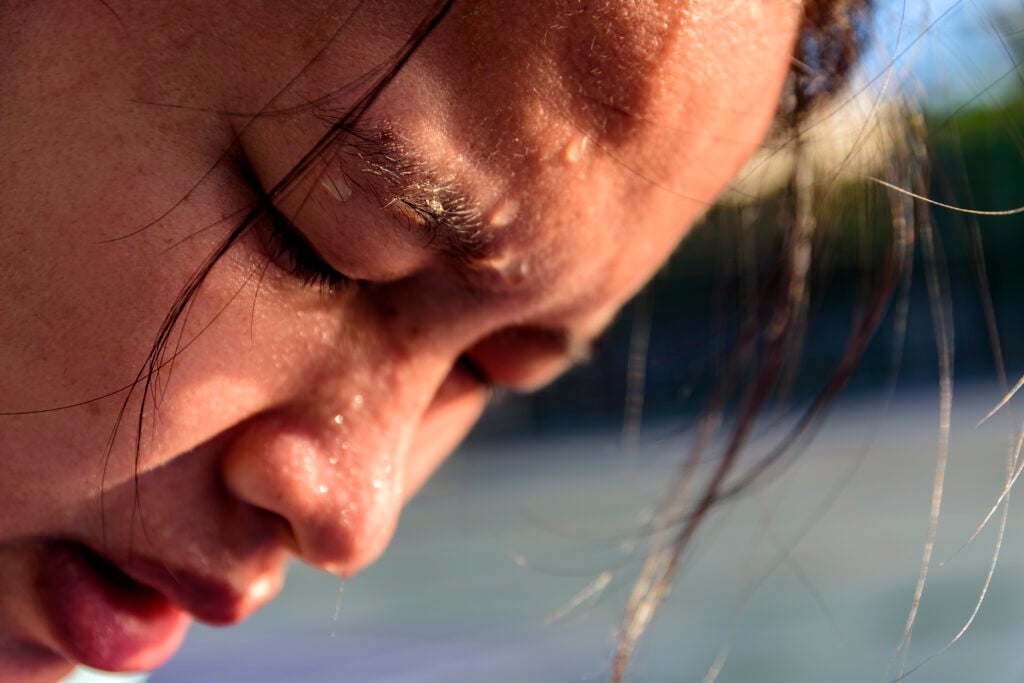 What is a Heat Stroke, and Why is it so Common in California?
Extreme heat is one of the most damaging effects of global warming. Its effects affect almost the entire planet, with the greatest negative impact in hot areas like California – especially during the hot weather season.
Summer brings temperatures that can be unbearable for many people. This can sometimes lead to adverse health conditions, even when extreme heat prevention measures and procedures are in place. But, what are heat exhaustion and heat stroke?
According to the Centers for Disease Control and Prevention, heat stroke is the most serious illness associated with high heat and occurs when the body loses control of its temperature. When control is lost, "the temperature rises rapidly, the sweating mechanism fails, and the body cannot cool itself." The difference between heat stroke and heat exhaustion is that the latter occurs after direct exposure to the sun and can lead to heat stroke. However, heat stroke can also occur in the shade or in a covered environment. For example, in a car.
One of the reasons why heat waves affect the West Coast population so much is because of the number of workers who work outdoors. This is the case of agricultural workers or athletes who, as we will see below, live with the serious threat of heat stroke on a daily basis in various parts of California.
Symptoms of Heat Stroke in California
As one of the leading causes of summer mortality in the United States, heat stroke puts millions of people at risk. High temperatures can lead to illnesses that cause permanent disability or even death. Children, the elderly, and the sick are particularly vulnerable. However, despite its dangerous impact on the lives of citizens, there are ways to prevent heat-related tragedies such as deaths or serious injuries in California.
Changes in body temperature: It is recommended to use a thermometer to check if the temperature exceeds 40º C or 104º F. If this is the case, the person is suffering from heat stroke.
Possible changes in mental status or behavior. This includes the victim being confused or agitated, strangely irritable, having slurred speech, or being delirious.
Loss of consciousness, vomiting, or convulsions.
Dizziness, fainting, disorientation, or lightheadedness.
Fast breathing and a racing heartbeat.
Red, hot, dry skin in extremely hot weather. Or very hot skin with excessive sweating during strenuous activity.
Throbbing headaches.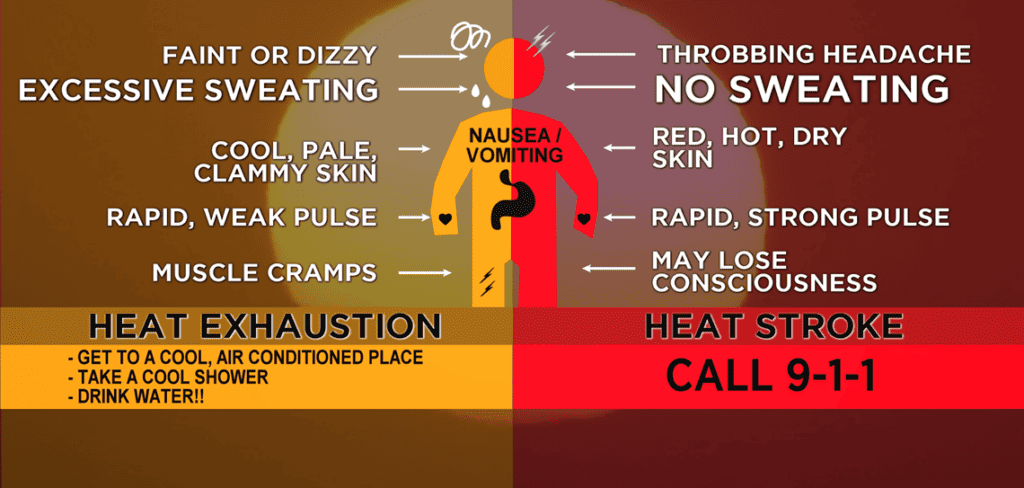 How to Avoid Heat Stroke?
The first step in detecting a potential heat stroke is to pay attention to the warnings issued by the National Weather Service and other public health agencies. If you are going outdoors, experts recommend limiting your exposure to the sun. This means staying out of the sun for no more than 15 minutes at a time. Avoiding prolonged exposure to the sun is due to the high likelihood that the body will reach the dangerous temperature of 106 °F or higher – which can happen quickly.
Drink fluids constantly.
Do not expose yourself to the sun for more than 15 minutes.
Stay in cool places or areas that block direct sunlight.
Use sunscreen.
Avoid tight, black clothing. Wear loose-fitting clothing.
Shower often with lukewarm or cold water.
What to Do in Case of Heat Stroke?
Although not one of the hottest states, California can get sweltering in the summer. Due to its geography and Mediterranean climate, the state can experience intense heat waves. As a result of climate change, these periods are becoming longer and more frequent.
In the event that you do not adequately prevent a possible heat stroke, whether due to exhaustion from working as a farmer or truck driver, it is important to know how to respond to keep the illness from becoming more severe.
The first thing to do if someone is suffering from heat stroke is to call 911 immediately. While the emergency services are on their way, it is advisable to follow a number of tips to prevent the victim's condition from worsening:
Cool the person as much as possible. Among the many possibilities, it is best to place the person in a bathtub of cold water. If outdoors, use a hose to cool the victim, apply a cold sponge or cloth to lower the body temperature, fan the victim while pouring cold water, or place ice on the neck, armpits, or groin.
Keep the victim conscious.
Try to get the victim to drink water or hydrating drinks.
Remove as much clothing as possible and seek shade.
Multiple Casualties Every Summer
Despite warnings from weather experts about the arrival of the first extreme heat wave on the West Coast of the country, several deaths and dozens of injuries have already occurred in just a few weeks. In many of these cases, dehydration and prolonged exposure to the sun were the main causes.
Looking at other years, official annual data show that between 2010 and 2019, the hottest decade on record, there were also numerous fatal accidents. Over a ten-year period, there were nearly 600 heat-related deaths in California. However, as we discussed at the beginning of this blog, authorities do not keep detailed records of those injured and killed by extreme heat. Thus, according to an analysis by the Los Angeles Times, the number of deaths could be as high as 3,900, six times higher than the official figures.
The deadliest year in the last 50 years, however, was 2006. In one summer alone, more than 650 heat-related deaths were recorded in California, with thousands of people hospitalized with obvious symptoms.
Outdoor Workers, Machine Operators, and Athletes Exposed to Excessive Heat Periods in California
Some workers are more susceptible to heat-related illnesses or deaths due to prolonged exposure to heat in California. Although those who work outdoors are often the primary victims of heat stress, employees of companies that work indoors can also be affected if proper preventive measures are not taken. Furthermore, the risk factor of heat stroke is present in every season of the year, not just the hottest season.
There are industries and sectors that are more exposed to solar radiation. According to official government data, agricultural workers are the most likely to suffer from heat stroke: they are up to 20% more vulnerable than other workers.
In addition to farmers, there are other workers who are exposed to extreme heat. On the one hand, those who work outdoors, such as construction workers, gardeners, or delivery and postal workers. On the other hand, people who work indoors with heavy machinery or heat generators. Examples include bakers, cooks, plumbers, firefighters, and metalworkers.
If Workers Suffer Heat Stroke at Work, Can They Be Compensated?
Yes. If an employee suffers a heat stroke at work that causes injury, they may be able to get workers' compensation. In order to receive these damages, the victim would first need to see a doctor to treat the injuries. At this point, it is highly advisable to contact an experienced personal injury attorney who can guide them through the process.
Then, it is necessary to inform the supervisor about what happened and file a report mentioning the negligence and lack of preventive measures.
We Will Help You Get Justice, Just as We Did for the Family of Cristian Navarro
Unfortunately, news of heat-related deaths or injuries is common in states like California. The need for prevention or knowing the symptoms to avoid a tragedy can save thousands of lives. If you have suffered a heat stroke due to someone else's negligence, you may be entitled to a lawsuit. Whether it's because your workplace failed to take the proper precautions or because someone else failed in their duty of care, you can exercise your right to sue today with Adamson Ahdoot.
With more than 100 years of combined legal experience, we are one of the most reputable choices in personal injury cases. In fact, Adamson Ahdoot was the legal representation for the family of Cristian Navarro in their wrongful death case. The incident, which occurred in 2020, was one of the most controversial cases involving heatstroke in California schools.
Cristian's coach negligently instructed a group of young men to perform an intense training session. Despite the high temperatures, he failed to keep them properly hydrated. Unfortunately, Cristian suffered a heat stroke, became delirious, and his condition rapidly deteriorated until he died.
Adamson Ahdoot obtained a $9 million wrongful death settlement for his family.
Call Us Today if You Want to Learn More About Your Case
If you have suffered a personal injury due to negligence, do not hesitate to contact our team today. Our team is available 24/7 to assist you with any questions you may have. Call (800) 310-1606 now to explore your legal options with one of our attorneys. With a bilingual team ready to assist you, at Adamson Ahdoot we care about our clients' quality of life. We do not receive payment until we have reached a satisfactory settlement for you and your family.
Client-First Approach
Above all else, our clients come first. We go above and beyond to obtain the highest level of compensation possible.
Meet Our Attorneys
Multi-Focus Law Firm
Adamsom Ahdoot has successfully executed a plethora of personal injury cases.
Cases We Handle
Get in touch with our firm
Our team can better advise you on your legal options once we receive any available evidence about the incident.
Take Action Now