Willie Brown and the Napkin Deal
In the continuing series on MICRA, we explore what a napkin, a powerful California politician, and personal injury law have in common
"Laws are like sausages, it is better not to see them being made."

— Otto von Bismarck (1815-1898)
No one can agree on what was being served that hot September night at Frank Fat's in 1987. Was it wings and snow peas? Pot Stickers and Roast Duck? Or perhaps Kung Pao Chicken and the widely recognized "house best" dish of New York steak smothered in onions. A favorite gathering place of the state's most influential players and just a short walk from the State Capitol building in Sacramento, the popular Chinese restaurant affectionately known as Fat's had for years been the site of many struck agreements that dictate laws and policy in California.
That sweltering evening was no different. A collection of the state's highest-paid lobbyists, politicians, and lawyers came together to strike a deal around tort reform and product liability that would accommodate the interests of all assembled. They had all spent plenty in attempts at swaying influence at the ballot box and were ready for a truce. And while no one remembers what the platters of flowing food contained, what everyone can certainly agree on is that Willie Brown was at the center of it all.
Brown steered the deal on perhaps one of the most important laws that governed personal injury practice over the line and negotiated a ceasefire in the ongoing tort reform war that was raging. He is uniquely responsible for a law that affected millions of dollars and Californians-an agreement written on a Fat's cloth napkin known as the "Napkin Deal."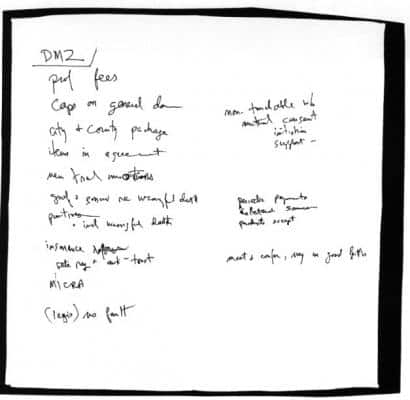 Brown the builder
Those familiar with California politics, already know the larger-than-life-figure Willie Brown. The former mayor of San Francisco also served over 30 years in the California State Assembly, served as speaker, and was known as a politician who knew how to "size up the situation and create… a winning strategy." Brown also had a reputation as a flamboyant personality-a politician who liked Italian suits, corvettes, nightclubs, and the spotlight.
It was during his time as an assemblyman, that Brown would become involved in the negotiations that would produce "The Napkin Deal." Brown helped facilitate a meeting at Fat's between four key industries and the "Napkin Deal" they agreed would eventually become known as Cal Civil Code §1714.45. Essentially a deal struck between big tobacco, insurance companies, trial lawyers, and the California Medical Association (CMA), it changed existing laws related to product liability, medical malpractice, and punitive damages in California. It also preserved the essential framework of MICRA.
"The powerful don't come to Fat's for the food, they come for each other."

— Anonymous
Simply put, this new piece of legislation released manufacturers (namely tobacco manufacturers) from liability. According to the code, a person is not allowed to follow suit if:
(1) The product is inherently unsafe, and the product is known to be unsafe by the ordinary consumer who consumes the product with the ordinary knowledge common to the community.
(2) The product is a common consumer product intended for personal consumption, such as sugar, castor oil, alcohol, and butter, as identified in comment I to Section 402A of the Restatement (Second) of Torts.
Although the tobacco industry benefited, all the key players got something out of the deal without having to spend years and money at the ballot box battling over initiatives. Insurance companies avoided regulation and were protected from lawsuits, trial lawyers would collect higher contingency fees because cases would be harder to win, doctors got to keep their liability protection, and the tobacco industry along with butter, castor oil, sugar, and alcohol manufacturers was protected from lawsuits based on the use of inherently "unsafe" products.
This led the "Napkin Deal" to become legendary in California politics and it would change tort law in the state for over 10 years. Once the legislation passed, pending lawsuits against tobacco companies and other manufacturers were immediately dismissed. It was also the last time personal injury and tort law were as close to being on the ballot as this year's election.
Visit Adamson Ahdoot LLP's website for more information about product liability and to learn if you're eligible to file a claim for compensation because of a dangerous or defective product.
Client-First Approach
Above all else, our clients come first. We go above and beyond to obtain the highest level of compensation possible.
Meet Our Attorneys
Multi-Focus Law Firm
Adamson Ahdoot has successfully executed a plethora of personal injury cases.
Cases We Handle
Get in touch with our firm
Our team can better advise you on your legal options once we receive any available evidence about the incident.
Take Action Now