Who is Responsible for Injuries in a Rideshare Accident?
Over the years, we've seen ridesharing applications make commuting much more convenient for anyone who doesn't own a car. With the push of a button on apps like Uber and Lyft, you get access to clean and affordable rides. But one downside to using these apps is that it rarely establishes liability if you're injured in an Uber accident. Typically, the at-fault driver is liable in a car crash. However, the responsible party in a rideshare accident can vary from case to case. These cases are complex and take time to be resolved.
If you want to ensure you're prepared for your next Uber or Lyft trip, we're here to help. This blog will discuss what happens after a rideshare accident and what you could do to protect your rights.
How Ridesharing Services Work
Before establishing liability for car accidents, we must first discuss how ridesharing services work.
Companies like Uber and Lyft hire drivers willing to give their users a ride in their cars. Typically, they require them to have auto insurance before they can start to use their app. And unlike other service providers, they hire drivers as independent contractors or freelancers.
If a person is a freelancer, the company that hired them can't be held liable for their mistakes. So, if they injure anyone, the companies must deal with the damage they've done.
Who Should Be Responsible For An Accident Caused By An Uber or Lyft Driver?
Since Uber and Lyft drivers are not technically employees, victims cannot hold the company responsible for their injuries in a rideshare accident. However, there are exceptions to this rule. Some companies have policies for whenever a driver gets into a car accident while using their ridesharing app. 
For example, Uber and Lyft have a $1 million insurance policy for incidents where drivers were actively using their apps. Suppose your Uber driver was dropping you off at your destination when they crashed into another vehicle. In that case, Uber could offer you one of its many insurance options.
But once the driver logs off their application, they're no longer liable. The driver's auto insurance provider will be the one to contact you instead.
What Kind of Compensation Can Passengers Expect If They Were Injured in An Uber Accident?
If the incident happened while the at-fault driver was logged on to their ridesharing app, you could expect the following to be compensated:
Medical expenses
Lost wages
Property damages
Emotional distress
However, if the driver was not on the clock, the coverage of your claim will depend on their auto insurance. Suppose their policy doesn't include lost wages. In that case, you may have to file a personal injury claim against them instead.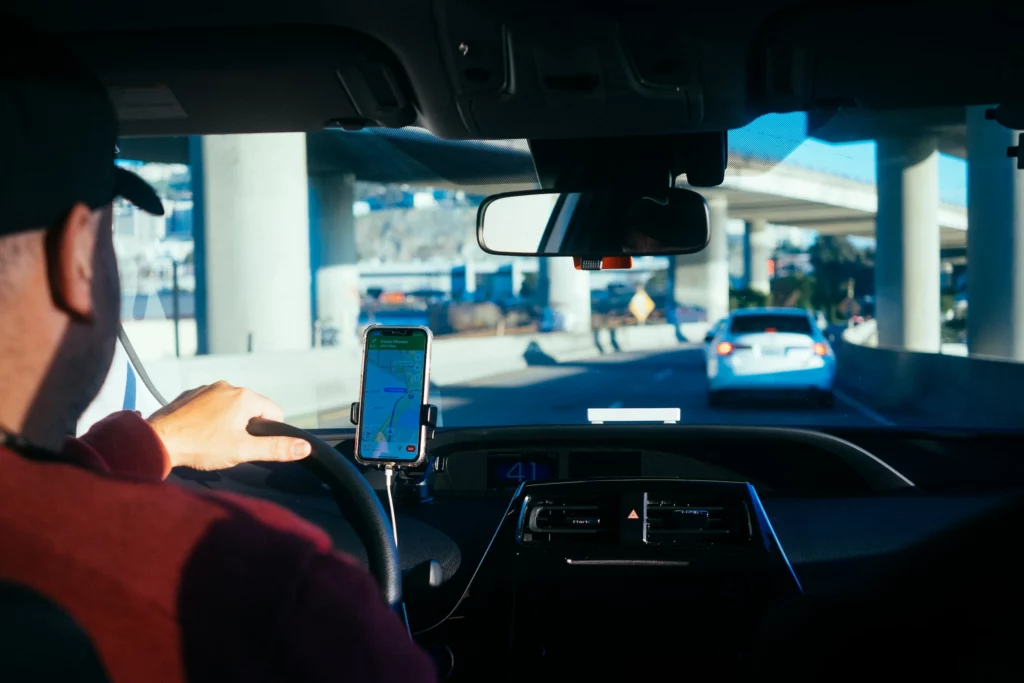 Can I Hold Ridesharing Service Providers Liable?
Yes, in certain cases, it's possible to hold companies like Uber liable. Service providers are expected to screen, train, or supervise their drivers. They need to conduct adequate background on their applicants to provide their users with a safe experience.
If they fail to do so, victims could file a case against them based on negligent training or supervision. Here are some of the offenses for which companies like Uber or Lyft may be found responsible during a rideshare accident:
Robbery
Assault and Battery
Sexual Assault
Kidnapping
Driving Under the Influence (DUI)
Why Do I Need A Ridesharing Lawyer?
Statistics have shown that both Uber and Lyft have contributed to 3% of all recorded traffic accidents nationwide since 2011. This number alone tells you that these companies deal with personal injury claims daily. And with such an experienced team behind them, winning a claim on your own is almost impossible.
If you want to increase your chances of securing compensation, we suggest you work with a rideshare accident lawyer.
Speeds Up The Claiming Process
Admittedly, the claims process could take months or even years. And if you were severely injured in an Uber accident, you probably don't have enough time to wait for your compensation.
Luckily, a rideshare accident lawyer can help expedite the process. Your legal representative will stay on top of your case and ensure that the other party compensates you for your injuries as soon as possible.
Allows You to Focus on Recovery
Another benefit of hiring a lawyer is that they allow you to focus on your recovery while they take care of all the paperwork. If you choose to represent yourself, you'll have to file your case, compile your documents and negotiate with the company alone.
But when you hire a rideshare accident lawyer, you can avoid the added stress of filing a claim and focus all your energy on your recovery. Your legal representative will handle everything, from completing paperwork to meeting the ridesharing company's insurance agents.
You can stay at home and rest while your attorney works on getting the compensation you deserve.
Offers Legal Representation in Court
When you and the at-fault party can't seem to agree on a settlement, your last option is to file a lawsuit against them. And if the stress of going to court after a traumatic incident is not enough, you also have to worry about the other party's representatives.
If you decided to sue the ridesharing company, they would do their best to outsource the best litigators available to represent them. These experienced lawyers will try to misrepresent and question your version of the events.
Having someone represent you is the only way to prevent the trial from adding unnecessary stress to your life. Your rideshare accident lawyer will ensure that the court upholds your rights to a fair trial. The responsible party in the rideshare accident will pay for negligence.
Build A Solid Case Today
There's no denying that recovering from a traumatic event could take a long time. So, instead of adding unnecessary stress to your life by going through the extensive process of filing a claim alone, we suggest you work with a trustworthy legal firm like Adamson Ahdoot.
Adamson Ahdoot is a full-service civil litigation firm with over 100 years of combined legal experience handling personal injury cases. With our help, you can trust that the best lawyers will handle your case with the intimacy and attention to detail of a boutique firm, with the expertise of a larger one.
Our firm is committed to putting our clients first. We proudly serve a diverse clientele with their car accident cases and offer free English and Spanish consultations. Call us at (800) 310-1606 today to schedule your free consultation.
Client-First Approach
Above all else, our clients come first. We go above and beyond to obtain the highest level of compensation possible.
Meet Our Attorneys
Multi-Focus Law Firm
Adamson Ahdoot has successfully executed a plethora of personal injury cases.
Cases We Handle
Get in touch with our firm
Our team can better advise you on your legal options once we receive any available evidence about the incident.
Take Action Now