What's The Average Settlement For School Bus Accidents?
School bus accidents are a tragedy that can happen anywhere, anytime. With over 20 million children riding school buses in the United States alone, it's alarming to think about the potential risks involved in every trip. The consequences of school bus accidents can be devastating. Some kids are lucky enough to go home with minor bruises and cuts. Meanwhile, some have more severe injuries, such as broken bones. At worst, these accidents lead to fatalities. That is why it is important to seek a settlement in cases involving school bus accidents, so you can recover the damages you have suffered.
Recovering damages from a school bus accident can be complicated, but families like yours don't have to go through this challenging time alone. There are school bus accident lawyers who can help.
In this blog post, we'll explore the average settlements for the amount of school bus accidents and how lawyers can help families navigate the legal process. We'll discuss the factors determining settlement amounts, the common causes of these incidents, and the parties victims can hold responsible for their injuries. 
How Many School Bus Accidents Happen in The US Per Year?
While school bus transportation is generally considered safe, they are involved in more accidents than most people think.
The National Highway Traffic Safety Administration (NHTSA) says that in 2021, school bus accidents killed over 108 people nationwide, four of whom were passengers.
These numbers show just how vulnerable our children are to these fatal accidents.
What Are The Common Causes of School Bus Accidents?
Three common causes of school bus accidents are driver error, school bus design, and poor weather conditions.
Driver Error
Driver error is one of the primary causes of school bus accidents in the US. Though drivers are required to have special training from the California Highway Patrol, several other factors could affect their performance.
For instance, they could get distracted or too tired to drive properly. There's also the chance of encountering reckless drivers who don't follow state laws.
Drivers are taught to stop whenever they see a school bus loading or unloading students. If not, it could lead to a dangerous collision.
School Bus Design
School buses are designed to be heavier than most vehicles, which makes maneuvering them extremely difficult. It's also worth noting that their high center of gravity makes them more susceptible to tipping during sharp turns or sudden stops.
Poor Weather Conditions
Rain, snow, and ice can reduce a driver's visibility and make it even more difficult for them to maintain control of the bus. If drivers don't adjust their driving to accommodate bad weather conditions, it may lead to a devastating accident.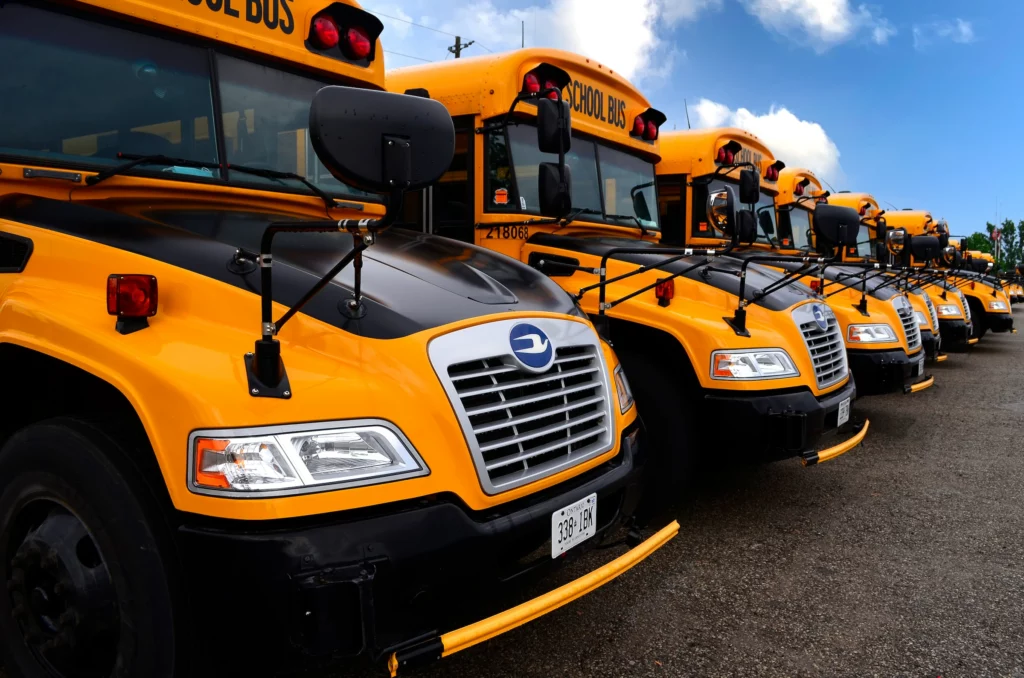 Who Should Be Liable For School Bus Accidents?
If your child has been injured in a school bus accident, you have every right to file a claim against the at-fault party.
But how do you determine liability in these incidents? Multiple parties can be held liable during a school bus accident, including the following:
Bus Driver
It's the driver's duty to ensure that every child on the bus is safe during a trip. If found guilty of negligence, they may be held liable for the damages the incident caused.
School District
You may also file claims against school districts. For example, should your child be involved in an accident due to their school's failure to cancel classes amidst hazardous weather conditions, you may hold them accountable for jeopardizing their safety.
Bus Manufacturers
Manufacturing defects typically cause hundreds of bus accidents yearly. If the evidence proves that a faulty bus part caused the accident, you may file a claim against the manufacturer.
School Bus Company
School bus companies are expected to keep their units in good condition. They're supposed to conduct maintenance checks to see if their fleets are safe for use. If companies fail to do this and it leads to an accident, they can be held responsible for all the damages.
Once you determine liability, you must file a claim before the statute of limitation ends. California's time limit for filing bus accident claims depends on the type of bus involved in the accident.
For instance, if your child was in a public bus accident, you only have six months to file a claim against the government. This is because the time limit for cases against government entities has a much shorter lifespan than other cases.
But, if they were injured inside a private-owned bus, you have at least two years from the day of the accident to file a claim.
What's The Average Settlement For School Bus Accidents?
Settlement amounts for school bus accidents vary depending on the severity of the incident.
In certain cases, settlements can cost upwards of a million dollars because of wrongful death. However, the value of these claims typically ranges between $100,000 to $250,000.
More importantly, there are plenty of factors that could affect your settlement. For instance, there's the severity of the injuries.
Insurance companies will estimate the nature and extent of the injuries before offering an initial amount. If the injuries are severe, they'll look into how they affect the quality of life.
The average school bus accident settlement should cover medical expenses, ongoing disability care, quality of life damages, and other related expenses.
It's possible to include lost wages in your claim, especially if you're your child's primary caregiver. You would have to take some time off of work to help them recover from the incident.
Comparative negligence is another factor that could affect your claim. California is a comparative negligence state, which means they'll assess any accident claim based on both parties' contribution to the incident.
If you filed a claim against another driver, and it was found that the bus driver is also 20% responsible for the accident, you can only receive 80% of the settlement.
Protect Your Child's Rights Today
Seeking legal help is one of the best ways to ensure you receive the compensation and justice your child is entitled to.
While it's true that the average settlement for school bus accidents varies widely, you can maximize your chances of winning a favorable outcome by working with experienced school bus accident lawyers.
Adamson Ahdoot is a full-service civil litigation firm with over 100 years of combined legal experience handling birth injury cases.
With our help, you can trust that the best lawyers will handle your case with the intimacy and attention to detail of a boutique firm with the expertise of a larger one.
Our team will help you file a school bus accident claim in California. We'll conduct our investigation to determine the true value of your case.
Adamson Ahdoot promises to guide you through this difficult time in your life. Our lawyers will support you every step of the way, from gathering evidence to negotiating your claim.
We proudly serve a diverse clientele with their car accident cases and offer free English and Spanish consultations. Call us at (800) 310-1606 and start building a robust claim today.
Client-First Approach
Above all else, our clients come first. We go above and beyond to obtain the highest level of compensation possible.
Meet Our Attorneys
Multi-Focus Law Firm
Adamsom Ahdoot has successfully executed a plethora of personal injury cases.
Cases We Handle
Get in touch with our firm
Our team can better advise you on your legal options once we receive any available evidence about the incident.
Take Action Now