What You Need to Do After An Amusement Park Accident
California is home to some of the world's most famous amusement parks. Thousands of families visit parks like Knott's Berry Farm, Six Flags Magic Mountain, and Disneyland each year, hoping to have a fun day. Sadly, a safe experience isn't always guaranteed. Studies show that around 30,000 amusement park accidents occur every year. Though most result in minor injuries, several recorded deaths have occurred due to accidents at amusement parks.
If you or anyone you know has been injured in an amusement park and is unsure what to do next, we're here to help. This blog will discuss what to do after an amusement accident and how to hold the people responsible accountable.
What to Do If You Were Involved in An Accident At An Amusement Park
Here's what you must do if you or a loved one has been injured while riding an amusement park ride.
Seek Medical Attention
First, you must look for an employee to help you get medical attention. Most amusement parks have medical staff present who can help injured visitors. They'll assess your injury to see whether you need to be rushed to the hospital.
If you want to file a claim against the park later on, it's important for you to accept immediate medical care. Failure to do so could weaken your claim. They could argue that your initial injury got worse because you refused to accept any help from their staff.
Obtain An Official Report
Once you get the emergency care you need, a park representative will create an official report on the incident. They'll ask you everything you know about how you were injured.
During this time, honesty matters. It would be best to be open about your experience and provide as much information as possible.
Contact A Personal Injury Lawyer
After you give your statement, avoid making deals with anyone from the amusement park. Contact a personal injury lawyer to guide you on the best path forward.
Up until this point, the value of your claim is still undetermined. A park representative could offer you a low deal, so they can put the incident behind them. If you accept their offers, they can use it against you if you file a lawsuit later.
Common Types of Injuries Caused By Amusement Park Accidents
Accidents at amusement parks could result in many different injuries, including the following:
Broken bones
Whiplash
Eye injuries
Drowning
Spinal cord injuries
Food poisoning
Strokes and heart attacks
These amusement park injuries may be caused by ride malfunctioning, poorly trained park operators, and unruly guests.
Determining Liability in Amusement Park Accidents
Under California law, accidents at amusement parks fall under premise liability. Amusement parks owe a legal duty of care to each visitor. This means they're legally required to make your day as safe as possible.
If you were injured because of a hazard they didn't remove or a broken ride they didn't fix, the park can be held financially responsible for your amusement park injuries.
Before filing your claim, remember that California is a comparative negligence state. This means that if you were somehow responsible for a portion of your amusement park injuries, the value of your claim would decrease.
This rule applies if park-goers are injured because they didn't follow a ride's height requirement or safety precautions.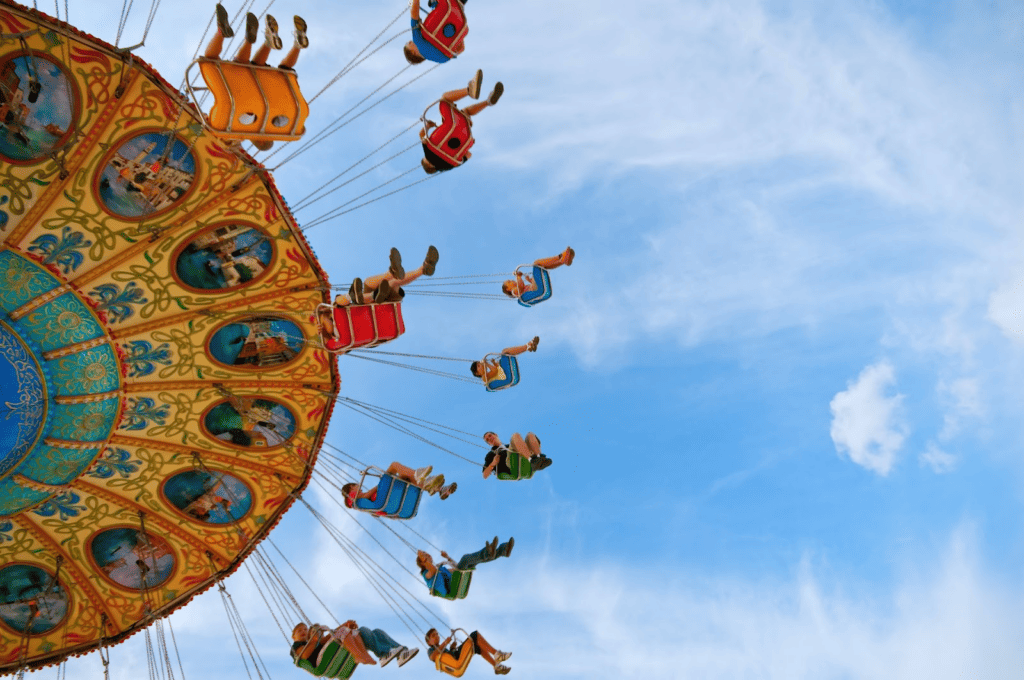 Factoring in Disclaimers & Assumption of Risks
Some amusement parks include a finely printed disclaimer in their tickets saying you can't file a lawsuit against the park owners if you had an injury on their premises. Park representatives may use this against you, but these disclaimers rarely hold up in court. Most judges understand how disclaimers can be too vague or all-inclusive to be useful in court.
Additionally, children and teenagers are legally unable to enter contracts that absolve legal liability. The amusement park can't use its disclaimer against you if you filed a claim on your injured child's behalf.
Another defense an amusement park could use against you is the assumption of risks.
Amusement parks typically place warning signs on rides that put people at higher risk of injury.
For instance, some rides use bright lights that are dangerous for riders with epilepsy. So as a safety precaution, they'll warn park-goers of the risks of getting on that specific ride. Visitors assume the risk when they voluntarily go on that ride despite knowing how dangerous it could be for their health.
How does this affect your claim? It depends on the state where you suffered the injury. Since California's assumed risks doctrine only applies to sports or activities that are inherently dangerous, like rock climbing and base jumping, amusement parks can't use it against you. 
How A Lawyer For Amusement Park Accidents Can Help
Whether or not your loved one's injuries are severe, recovering from amusement park accidents is no joke. It only makes sense that most families would rather have someone else deal with their claim while focusing on recuperating from the incident.
A reliable lawyer specializing in amusement park injuries will help you get the compensation you deserve. They'll work with accident investigators, medical professionals, and other experts to create a strong case on your behalf.
Hiring a lawyer also means skipping the stressful process of negotiating with an amusement park. These companies have thousands of legal representatives ready to help them. And in most cases, these lawyers will stop at nothing to secure a favorable result for their clients.
Luckily, Adamson Ahdoot's lawyers are here to help you recover from your amusement park accident. With our help, you can trust that the best lawyers will handle your case with the intimacy and attention to detail of a boutique firm, with the expertise of a larger one. Our team will help you negotiate with the amusement park owners. We'll conduct our investigation to determine the true value of your case.
Adamson Ahdoot promises to guide you through this difficult time in your life. Our lawyers will support you every step of the way, from gathering evidence to negotiating your claim.
We proudly serve a diverse clientele with their car accident cases. We offer free English and Spanish consultations. Call us at (800) 310-1606 and start building a robust claim today.
Client-First Approach
Above all else, our clients come first. We go above and beyond to obtain the highest level of compensation possible.
Meet Our Attorneys
Multi-Focus Law Firm
Adamson | Ahdoot has successfully executed a plethora of personal injury cases.
Cases We Handle
Get in touch with our firm
Our team can better advise you on your legal options once we receive any available evidence about the incident.
Take Action Now