The Dangers of E-Scooters: What to Know About Electric Scooter Accidents
Getting around the city is easier with an E-Scooter. Instead of walking or driving, many people rely on these electronic devices for a more convenient mode of transportation. And unlike cars that need parking space, riders may just rent and leave their E-Scooters anywhere. However, the growing popularity of the electric scooter has led to an increase in accidents in California. Recently there has been a spike in traffic incidents involving drivers, pedestrians, and motorists.
Read on to find out the common types of electric scooter accidents, injuries, and types of compensation available.
What are E-Scooters?
Also called electric low-powered PTWs, E-Scooters are transportation devices with two or three wheels, handlebars, and a floorboard. These are designed with a steering wheel without seats and pedals.
Scooters Vs. E-Scooters
Scooters are two-wheeled devices that people stand and kick on the ground to propel themselves forward. In contrast, E-Scooters are equipped with an electric motor, eliminating the need for manual propulsion.
Common Electric Scooter Accidents in California
In some situations, bikes and traditional scooters can be a lot safer than electronic scooters, since you have more control over them.
While E-Scooters are eco-friendly and hassle-free, riding one puts you at risk of crashes and falls because of how fast they can move and how easy it is to lose control.
Below are some examples of typical accidents that can occur while riding an E-scooter:
Slips and Falls
Slip and fall E-scooter accidents happen when riders lose their balance while passing through uneven or slippery surfaces. They may also lose their grip when attempting to ride the device for the first time.
Collisions
E-Scooter riders also often collide with pedestrians and other vehicles. Since there are no designated ramps for them, riders tend to pass on pavements meant for pedestrians or people in wheelchairs, leading to crashes with people on the sidewalk.
Furthermore, they may also collide with other vehicles if they're heading straight down the road and a car makes a sudden left turn in front of them.
Machine Malfunction
Popular electric scooter companies like Bird and Lime operate thousands of scooters in cities throughout the United States, often with limited clarity on rules and regulations. 
Malfunctions that frequently contribute to accidents include faulty brakes, damaged handlebars, flat tires, and issues with the electronic motor.
Negligence On The Road
Risky behavior while driving an E-scooter on the road results in serious accidents. One such action to avoid is lane splitting, where scooters weave through traffic. This can lead to collisions and injuries from open doors.
E-scooter drivers can also get injured by vehicles if they aren't aware of their blind spots, particularly when sharing the road with large vehicles like a semi-truck.
Types of Injuries for E-Scooter Accidents
Below are some of the common injuries that riders suffer from E-scooter accidents:
Sprains and Strains
When riders trip or fall, they may sprain or strain their ankles and knees. These falls may be the result of stumbling on or colliding with another object or person.
Head Injuries
Most riders who suffer from head injuries are not wearing helmets. They are more likely to sustain concussions and traumatic brain injuries (TBIs). 
Fractures
Broken bones and fractures cause serious E-scooter injuries that occur due to major collisions. In severe cases, the rider may require surgery and hospitalization to recover from their injuries.
Lacerations and Abrasions
A fall or collision may throw a rider to the ground from their scooter. When this happens, they may scrape their skin on the ground, leading to lacerations and abrasions.
E-Scooter Accident Statistics
Based on electric scooter accident statistics from the past decade in California, hospital admissions increased from one in 20 to one in eight cases. 
Over 10% of E-scooter accident patients suffered head injuries, including concussions and skull fractures. The majority of victims experienced broken arms (27%), minor abrasions (22%), and lacerations (17%).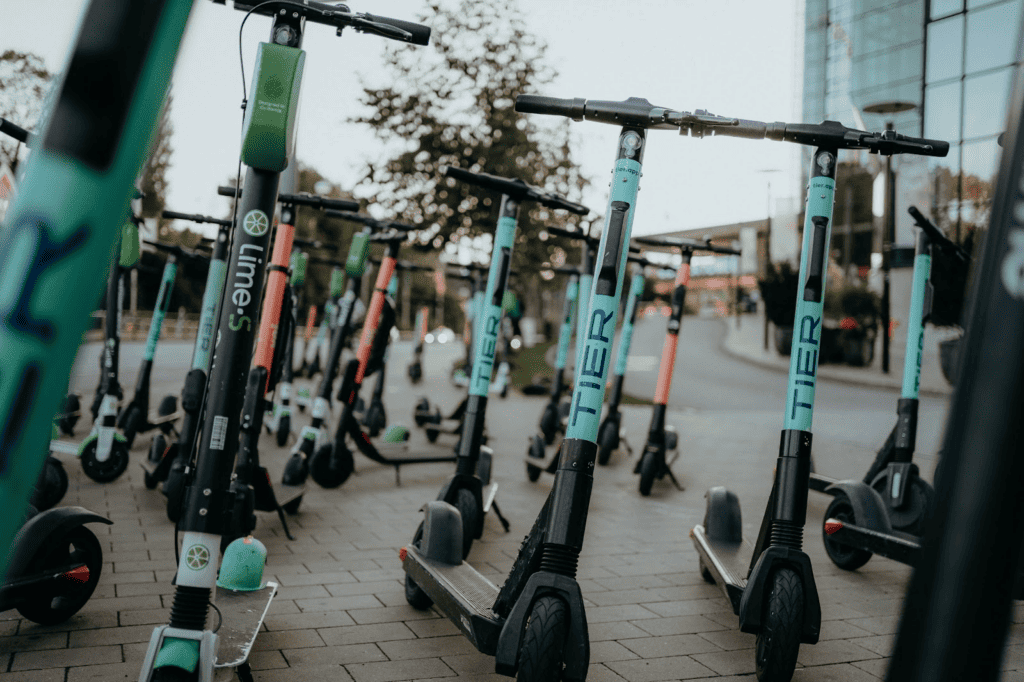 Who is Liable in An E-Scooter Accident?
Any of the following parties could be responsible for the accident:
Pedestrians
Cyclists
Drivers
E-Scooter rental company
Riders
Manufacturers
The determination of liability in collisions between cyclists, e-scooter riders, and pedestrians depends on the specific circumstances. However, in cases involving collisions between e-scooters and pedestrians, the e-scooter rider is typically held responsible.
California Laws for E-Scooters
Below are the rules and regulations you must adhere to when riding an E-scooter:
California Vehicle Code 21229
As per the State of California Department of Motor Vehicles, E-scooter riders are only allowed to drive on a bicycle path and not on a sidewalk. 
They must stay within the Class II Bike Lane inside the white borders for one-way riding.
However, there are some exceptions to this rule, such as:
Completing a right or left-hand turn
Passing another vehicle or pedestrian
Avoiding debris or other hazards
Parking on the side of the street
California Vehicle Code 22411
When riding an E-scooter, riders should not exceed the speed limit of 15 mph, or they'll be fined a $250 penalty.
California Vehicle Code 21235
Minors are required to wear protective gear that fits properly. The CVC 21235 also prohibits the following:
Riding in tandem
Driving without a learner's permit or driver's license
Driving on the sidewalk
Failure to comply with CVC 21235 is subject to a $200 fine.
California Vehicle Code 21228
To avoid accidents, riders must turn left by going down their E-Scooter, crossing the road on foot, or stopping at the intersection on the right curb.
California Vehicle Code 21221
Like motorists, E-Scooter riders are prohibited to drive under the influence. This offense incurs a fee similar to DUI charges, with a fee costing upwards of $350.
California Vehicle Code 275
Riders are prohibited to drive on crosswalks, as these are also considered sidewalks. Violating this rule results in a fine amounting to $200.
How Much Compensation Victims Can Receive?
The party at fault is responsible for property damages and injuries relating to an E-scooter accident.
While there is no set amount of compensation for E-Scooter accidents, victims can sue for up to millions of dollars depending on the severity of the injuries and damages.
Victims are entitled to get compensation for the following:
Medical expenses
Pain and suffering
Lost income
Emotional distress
How to Recover Damages
You can file a claim for damages with the help of an electric scooter lawyer for accidents that took place in California. Here are the steps you have to take:
Seek immediate medical attention and document your injuries.
Gather essential evidence, including photos, videos, CCTV footage, and witness statements.
Obtain a police report to strengthen your case.
Contact an electric scooter accident lawyer to assist you with your claim.
Seek Legal Help from The Reliable Lawyers at Adamson Ahdoot
Have you been involved in an E-Scooter accident? Call us at (800) 310-1606 today to schedule a free, no-obligation consultation with a premier injury attorney.
Client-First Approach
Above all else, our clients come first. We go above and beyond to obtain the highest level of compensation possible.
Meet Our Attorneys
Multi-Focus Law Firm
Adamsom Ahdoot has successfully executed a plethora of personal injury cases.
Cases We Handle
Get in touch with our firm
Our team can better advise you on your legal options once we receive any available evidence about the incident.
Take Action Now