Police Shot and Killed David Ordaz, Jr.
This post is regularly updated with news that covers the death of David Ordaz, Jr.
November 14, 2022
With the recent news that Los Angeles County District Attorney George Gascón has formally charged Sheriff's Deputy Remin Pineda, a slate of news outlets picked up the story. The LAist, and Head Topics are among them. Other mentions of this ruling that sees Pineda formally charged for Ordaz Jr.'s murder are:
November 10, 2022
LASD deputy charged with the on-duty unlawful fatal shooting of Adamson Ahdoot client David Ordaz Jr.
On Friday, November 11, 2022, Los Angeles County sheriff's deputy Remin Pineda, 38, was charged with one felony count of assault with a semi-automatic firearm and assault under color of authority in the 34-year-old's death, Los Angeles County District Attorney George Gascón announced.
September 27, 2022
Updates on David Ordaz Jr., the family of David Ordaz Jr., marched in solidarity with other families affected by CHP or LAPD violence.
June 18, 2022
The family of David Ordaz Jr. joined us on Tuesday. David's daughter, Emily, gave a powerful speech.

It's so important to impacted families. We must be bold and stand with them. Please listen: https://t.co/AWqkKlgOWf pic.twitter.com/HlCelT345b

— CheckTheSheriffLA (@CheckSheriff) June 19, 2022
April 1, 2022
The following news videos cover the rally for David Ordaz, Jr. at Belvedere Park in Los Angeles.
March 28, 2022
David Ordaz, Jr.'s mother speaks at a rally held in her son's honor at Belvedere Park in Los Angeles. The rally called attention to Ordaz, Jr.'s death and LAPD involvement, and the gathered group called out for justice.
David Ordaz Jr.'s mother speaks, describing how she called out to her son telling him to come to her. @LASDHQ deputies shot and killed him as he took the first step. pic.twitter.com/hFFhx00yMI

— Cerise Castle (@cerisecastle) March 26, 2022
Attendees of the rally David Ordaz Jr. have marched over to the East LA @LASDHQ station, and are chanting demanding prosecution of the deputies who killed Ordaz. pic.twitter.com/KcuCdOBqYv

— Cerise Castle (@cerisecastle) March 26, 2022
March 17, 2022
Updates on David Ordaz Jr., his sister speaks about police harassment after her brother's murder.
Feb 28, 2022
A rally for David Ordaz, Jr. will be held in his honor at Belvedere Park in Los Angeles.
Feb 25, 2022
David Ordaz, Jr's family confronts East LA Sheriff Station Captain Richard Mejia outside a community event in East Los Angeles.
Feb 9, 2022
Family members of those slain by LAPD, including Ordaz, Jr.'s, urged the Los Angeles Board of Supervisors to put a charter amendment allowing for the impeachment of L.A.'s Sheriff on the next ballot.
Coalition Seeks Charter Amendment to Impeach Sheriff Villanueva
Jan 9, 2022
Editorial: Deputies shot an autistic man, then the justice system terrorized him. There's a better way.
Oct 11, 2021:
Los Angeles: Family demands justice for Leo Chavez, killed by California Highway Patrol
Sept 27, 2021: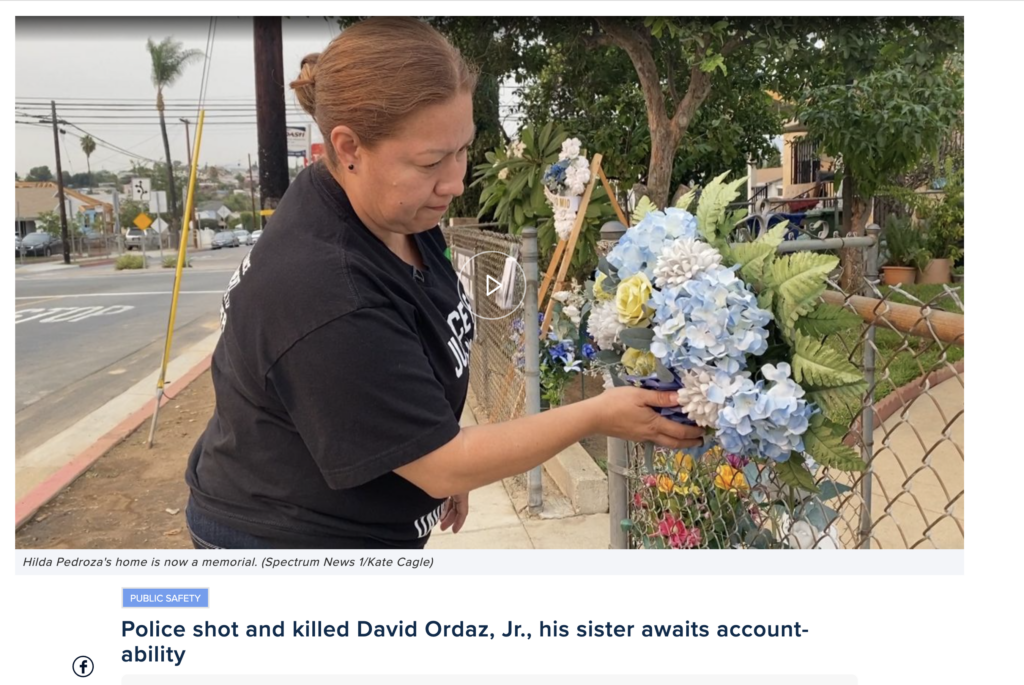 Police shot and killed David Ordaz, Jr., his sister awaits accountability
"He's also talked about suicide by cop, so I am afraid for that," Pedroza calmly told the dispatcher in a portion of the call released by the department in July, adding that her brother was armed with a kitchen knife but only threatening himself.

Pedroza hoped deputies would arrive and talk to her brother, who was under the influence of methamphetamine.
Eventually, a deputy first fired a stun bag, and as Ordaz lurched forward toward the ground, more deputies fired using live rounds.
Pedroza's family has filed a wrongful death lawsuit against the county. Like other families who've lost loved ones in East LA, the Ordaz family is now fighting for systemic change in the sheriff's department and justice for the one they've lost.
Sept 26, 2021:
Sept 21, 2021:
Family of David Ordaz, Jr., killed by East LA sheriffs, demands justice
Sept 17, 2021:
July 30, 2021:
July 29, 2021:
May 19, 2021: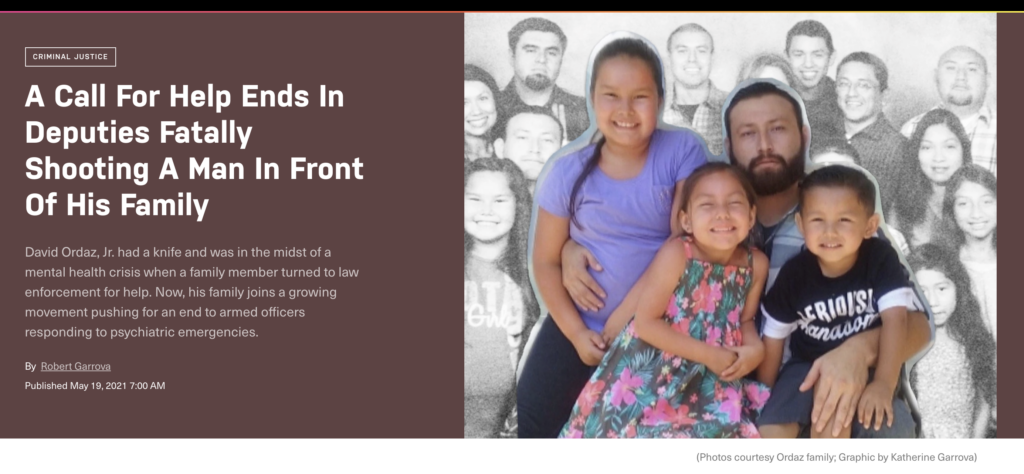 A Call For Help Ends In Deputies Fatally Shooting A Man In Front Of His Family
Pedroza tried to get help every way she knew how that day, including taking her brother to the hospital, but when they arrived he wouldn't get out of the car.
The day began at MET's dispatch center in South El Monte.
"If we don't want to continue to see these outcomes, where police are using lethal force against people who are calling for help, then we have to get the police out of the equation — period," said Commissioner Priscilla Ocen.
While Ocen said she believes MET is operating in good faith, she thinks the county should instead put more resources into unarmed responses like the Department of Mental Health's Psychiatric Mobile Response Teams.
Client-First Approach
Above all else, our clients come first. We go above and beyond to obtain the highest level of compensation possible.
Meet Our Attorneys
Multi-Focus Law Firm
Adamson | Ahdoot has successfully executed a plethora of personal injury cases.
Cases We Handle
Get in touch with our firm
Our team can better advise you on your legal options once we receive any available evidence about the incident.
Take Action Now