LAPD Faces Scrutiny After 17 Injured in South Los Angeles Fireworks Explosion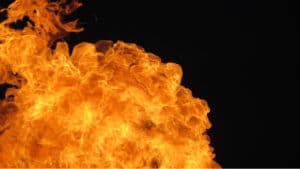 The Los Angles Police Department (LAPD) is facing scrutiny after a fireworks explosion in South Los Angeles injured 17 people, including 6 civilians. Of those injured, 16 were taken the hospital and three were treated for serious injuries. The victims, which also included 9 police officers, ranged in age from 42 to 85.
Although the LAPD is promising a full investigation of the blast, many questions are mounting against the agency's handling of the situation. According to LAPD Chief Michael Moore, police were called to the 700 block of East 27th Street on Wednesday morning in regards to fireworks being stored at a home. When police arrived, they found several thousand pounds of fireworks stacked on the front porch and approximately 240 "improvised explosive devices."
Officers moved a portion of the improvised devices into an LAPD semi-truck used to detonate explosives and fireworks. This special truck is designed to withstand a force greater than the amount of devices placed inside, but when police went to detonate the devices at approximately 7:30 p.m., the truck failed to contain the blast and what followed was described as "total catastrophic failure of that containment vehicle."
Before detonating the devices, LAPD evacuated north and south sides of 27th street and established a 300 foot perimeter around the vehicle. Questions still remain as to how thorough the evacuation and perimeter sealing was. Reports of homeowners coming out of homes after the blast, thought to be evacuated by police, were rampant. Eyewitnesses described people being directed away from the truck only minutes before the explosion occurred.
Investigators are still determining why the blast was not contained by the truck – were protocols not followed or is human error to blame? A suspect was arrested on suspicion of reckless possession of illegal fireworks.
Agencies like the LAPD have a duty to keep their employees and others safe. Failure to do so can result in liability for injuries caused by the agency or an employee of the agency. If you or a loved one were injured in an accident caused by the negligent actions of a government agency or any other type of agency, please do not hesitate to contact a Los Angeles catastrophic injury lawyer. You may be able to collect compensation for medical bills, lost wages, and pain and suffering. There is never any fee to speak to an Adamson Ahdoot LLP attorney and we work on a no win, no fee basis.
Client-First Approach
Above all else, our clients come first. We go above and beyond to obtain the highest level of compensation possible.
Meet Our Attorneys
Multi-Focus Law Firm
Adamson Ahdoot has successfully executed a plethora of personal injury cases.
Cases We Handle
Get in touch with our firm
Our team can better advise you on your legal options once we receive any available evidence about the incident.
Take Action Now