Elementary School Bus Hit by Semi-Truck
Seven children were injured on their way back from a field trip
Many parents were shocked in mid-October when they heard about the incident that occurred as their children were returning from a field trip to a pumpkin patch. The Fall River Elementary School's bus carrying Kindergarten and Transitional Kindergarten students was involved in a traffic accident. Apparently, the school bus was hit by a semi-truck on its way back to school.
According to official sources, the collision occurred when the bus turned left onto Highway 299, east of McArthur. The semi-truck struck the rear of the bus, creating comprehensive damage. However, the truck was able to slam onto its brakes in time to evade any more severe impairment.
Merrill Grant, the superintendent of Fall River unified school district, wanted to give his credit to the school staff. "My heart just dropped when I arrived and saw the debris on the road from the engine compartment, but as I got out of my vehicle and went to where the children and staff were, it was a very controlled environment. Our staff was unbelievable in getting the children calmed down."
Grant also mentioned how fortunate they were that the incident wasn't worse. "The CHP, firefighters, and paramedics were exceptional. We were lucky this accident wasn't more serious," he said.
Seven students were sent to Mayers Memorial Hospital for precautionary observation. Although some children were in pain, no students suffered notable injuries. The bus, on the other hand, was badly damaged.
While quite a few parents rushed to the scene to pick up their children, many kids were taken back to Fall River Elementary. As a result of the incident, all other field trips were canceled.
The CHP is still investigating the accident.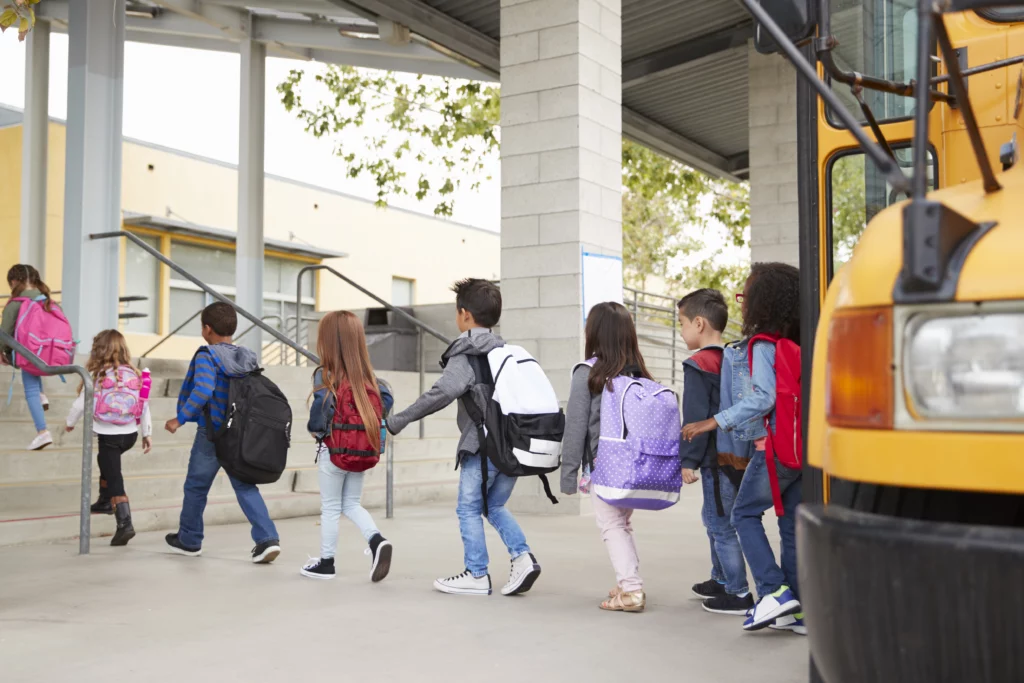 Was Your Child Injured at School Negligently? We Can Help!
The risk of our little ones suffering serious incidents in their daily lives is low, but not impossible. Although as parents we always make our children's health a primary task, it is hard to keep them out of harm's way. However, when one-time events result in injury to our children, such as what happened to the school bus hit by a semi-truck, legal action must be taken.
Seeing a family member in pain always fills us with sorrow. But to see our child hurting is heartbreaking. If you have experienced an unfortunate accident that has resulted in serious injuries to your children, contact us. Are you looking for compensation for damages? Do you want compensatory damages for your child's medical expenses and her/his loss of quality of life after the accident? We can help.
With over 100 years of combined legal experience, our attorneys have a track record of successful settlements involving personal injury cases for children. If you are unsure how to begin your lawsuit, you can arrange an appointment with one of our experts today. Call today at (800) 310-1606 to schedule a free, no-obligation appointment to evaluate your case.
Client-First Approach
Above all else, our clients come first. We go above and beyond to obtain the highest level of compensation possible.
Meet Our Attorneys
Multi-Focus Law Firm
Adamson Ahdoot has successfully executed a plethora of personal injury cases.
Cases We Handle
Get in touch with our firm
Our team can better advise you on your legal options once we receive any available evidence about the incident.
Take Action Now