DUI-Related Accidents & Dangers in California
Driving under the influence of alcohol or drugs is a serious crime nationwide. It is irresponsible behavior that has devastating consequences for thousands of citizens each year. Unfortunately, this conduct is common in states as densely populated as California, where approximately 30% of traffic fatalities are due to drunk driving. The odds of a DUI accident in California are significantly higher than in other states.
Unfortunately, the number of drunk drivers in the Golden State is high. According to an analysis conducted by Forbes, there are an average of 348.9 drivers per 100,000 who are involved in a DUI accident in California.
Although it is a deplorable act that claims many victims every year, citizens do not seem to learn. Official data shows that many alcohol-related crashes are caused by repeat offenders. It is estimated that approximately 80% of drunk drivers who cause fatal collisions in California are repeat offenders.
With a total of more than 9,200 fatalities from drunk driving crashes between 2009 and 2018, the average fatality rate does not appear to be decreasing. In 2022, 1069 people died in alcohol-related incidents. That is an average of three deaths per day in California. Nationally, it is estimated that nearly 30 people die every day for the same reason.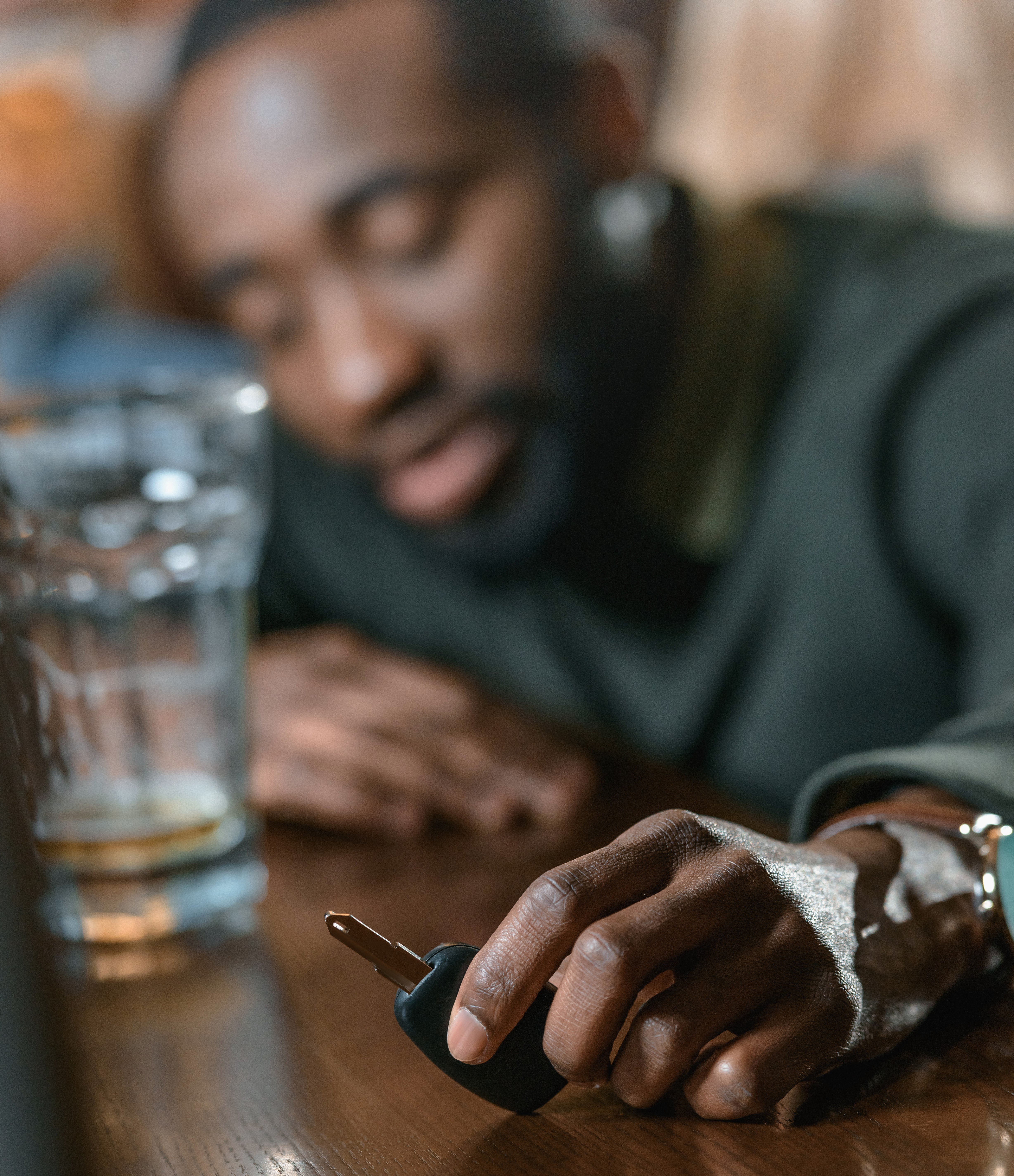 In this blog, we break down issues related to drunk driving and the threat it poses to citizens. Interested in learning about the types of DUI accidents in California, the dangers, and the repercussions it has under the law? Continue reading this page.
What Types of Accidents and Dangers Involve Drunk Driving?
Drinking and driving may be tempting, but it has devastating consequences that affect not only those responsible but all those around them. This common negligence can lead to different types of accidents and is caused by alcohol leads to distractions, drowsiness, or blurred vision, among many others. These are the most common collisions that occur when driving under the influence of alcohol:
Pedestrian strikes: People walking in the street or crossing intersections are the most likely to suffer serious injuries in a drunk driving accident. These types of incidents tend to occur at night, when drowsiness and lack of visibility are at their greatest.
Head-on collisions: The influence of drunk driving is very present in accidents where two cars collide head-on. Not having all five senses on the road, the driver tends to cross the center line and surprise the oncoming car.
Rear-end crashes: The ability to accurately judge distance is impaired when alcohol has been consumed. Many DUI-related accidents in California occur because the driver failed to react in time and rear-ended the vehicle in front of him or her.
Obviously, the main dangers posed by such unlawful behavior are serious injury and death. The consequences affect the quality of life of the victim and his or her family. These types of collisions mark a before and after in the lives of those involved.

Drunk Driving in California: Facts to Know
Driving under the influence of alcohol can lead to DUI accidents. As we will see in the following sections, these behaviors are highly criminalized in California. If you have been involved in a car crash with an intoxicated driver and want to know about the legal ins and outs of drinking, read on.
What is a DUI in California
When a driver is convicted of DUI, it basically means that he or she was driving a car under the influence of alcohol. The offender may have been stopped by the police during a routine traffic stop or for causing a collision.
However, consuming alcohol is not the only reason one can be convicted of DUI. Authorities can arrest anyone who has consumed any substance that impairs driving. This includes any substance, from drugs such as marijuana or cocaine to prescription or over-the-counter medications.
What Is the Legal Limit of Blood Alcohol Level When Driving?
California Vehicle Code (CVC) § 23152 classifies DUI types by blood alcohol concentration (BAC):
0.08% or more for adults 21 years of age or older with a regular driver's license.
0.04% or more for commercial drivers or those on probation for a prior DUI.
0.01% or more for persons under the age of 21.
Penalties for DUI Accidents in California
There are three types of potential charges that a person responsible for a DUI accident can face in California:
Misdemeanor DUI with injury
Felony DUI with injury
Vehicular Homicide
Therefore, depending on the seriousness and behavior of the responsible party, the legal system may impose one or another penalty:
Driver's license suspension
Financial penalties
Jail sentence or probation – if granted
Educational programs
Higher insurance costs
How Do Impaired Driving Laws Differ Within California?
As we have said above, the laws punish according to the magnitude of the offense and whether there is recidivism. In other words, if there are mild injuries, and the driver hasn't violated any traffic laws, the offense will be minor. In case of having a DUI accident with victims, and it is proven that negligence was committed, then it will be a felony. The conviction will basically be based on the number of people involved and the severity of their injuries.
The law changes significantly for repeat drunk drivers. For them, the penalties will be more severe. In addition, all DUI accidents caused in California will be recorded for ten years.
First DUI charge:
Suspension of driving license for at least four months.
Up to six months in jail.
Fine up to $3,600.
Up to three months in a DUI education program.
Second DUI charge:
Suspension of driving license for up to two years.
Up to one year in jail.
Fine up to $4,000.
18 to 30 months in a DUI education program.
Possible impairment of the car with a locking system.
Third and four charges of DUI:
Three years to permanent license revocation.
One year to 16 months in state prison.
Fines up to $18,600.
30 months in a DUI education program.
Ignition interlock on your car.
Disabling the car with an immobilizer system.
Can You Get a DUI Days After an Accident?
Yes, if there is evidence to support the accusation – even if the officer who made the report did not see it. The complaining party may provide witness testimony or video/photographic evidence days later to corroborate the allegation.
How Long After an Accident Can You Be Charged With DUI?
The statute of limitations varies depending on the type of accident: one year for misdemeanors and three years for felonies. The plaintiff has a certain amount of time to gather evidence to prove that the driver was driving while intoxicated at the time of the traffic accident.
Does Insurance Cover DUI Accidents in California?
Depending on the policy, car insurance may pay for damage caused by an accident. However, the average annual cost can shoot up to 80% after a crash.
Can You Drink Non Alcoholic Beer While Driving
Yes, as long as the alcohol-free beer has no trace of intoxication. Any person could consume it as if it were water or any other soft drink.
Injured in a California DUI Accident? Call Us Today
Drunk driving can have terrible consequences. Both for the victims and for those responsible. The consequences can leave a person with lifelong catastrophic injuries that affect their quality of life. In addition, the medical costs associated with this type of physical and psychological damage are significant.
To address all of these financial and physical challenges, it is best to hire a personal injury attorney experienced in the field of California DUI accidents. Adamson Ahdoot is proud to be recognized as one of the firms with the highest recovery rates for clients injured by drunk drivers.
If you or someone in your family needs quality legal help, contact our team today. With more than 100 years of combined experience, we know how to explore legal options to get clients the financial compensation they deserve. Call us today at (800) 310-1606 to schedule a free consultation. Our bilingual team is available 24/7.
Client-First Approach
Above all else, our clients come first. We go above and beyond to obtain the highest level of compensation possible.
Meet Our Attorneys
Multi-Focus Law Firm
Adamsom Ahdoot has successfully executed a plethora of personal injury cases.
Cases We Handle
Get in touch with our firm
Our team can better advise you on your legal options once we receive any available evidence about the incident.
Take Action Now