Distracted Driving Laws in California
It is estimated that more than 120 million people operate motor vehicles in the country every day. Of these, there is a daily average of 116 traffic fatalities in a total of 7,500 collisions. Approximately nine of these people die as a result of carelessness behind the wheel. And, despite recently enacted California distracted driving laws, the figures are still alarming.
Surely no one imagined that, with the rise and boom of cell phones, thousands of people would die each year. The increase in its use and the predisposition to be in contact with it all day long makes drivers use it while they are driving. The consequences, as we will see below, are disturbing. Although there are many government and state measures in place to reduce the incidence of this dangerous habit, we have not seen a change in the trend of drivers avoiding distracted driving.
If you want to learn more about California distracted driving laws, what types there are, or how to hold the guilty party accountable for negligence, keep reading this blog.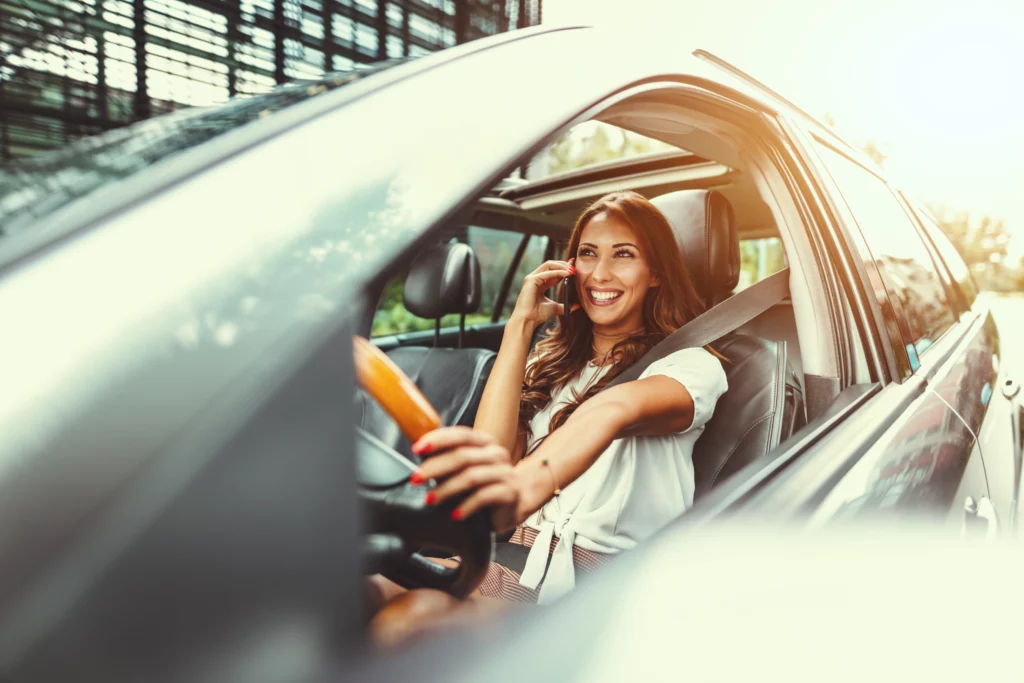 What is the Definition of Distracted Driving
As the National Highway Traffic Safety Administration explains, distracted driving "is any activity that diverts attention away from driving." While texting or talking on the phone is the main representative of distracted driving lately, many other forms of distraction also fall under this behavior. These are actions that many drivers take as everyday occurrences and, in the eyes of the law, are completely illegal to do behind the wheel. Who hasn't drunk coffee on the way to work or searched for the ideal radio station while driving down the freeway?
How Many Crashes a Year are due to Distracted Driving
Distracted driving is a very serious problem in the United States. Due to the need to control these behaviors, reports with updated data are frequent. Despite all the state and federal efforts to implement initiatives to raise awareness of this problem, the daily average is disturbing. The most current information reveals that an estimated average of nine distracted driving fatalities occur each day in the country. This means that, of all the fatal crashes that occur in a year, 8% are caused by distracted driving. In terms of injuries, 20% of all deaths have been caused by distractions. In total, there is an average of more than 400,000 accidents and around 3,000 injuries per year.
Since 2020, distracted driving has increased by 23% among the population. Seeing the impact of this irresponsible behavior after the dozens of existing prevention measures, what more is needed to curb this bloodcurdling level of accidents?
Distracted Driving Statistics in California
California's distracted driving laws categorically prohibit the use of cell phones while driving a vehicle. The Golden State goes to great lengths to make citizens aware of the dangers these activities pose to the population. In fact, authorities have revealed that California is one of the states with the highest number of distracted driving violations. Specifically, in the period between 2021 and 2022, almost 60,000 thousand drivers were fined for talking on the phone or sending text messages.
About 60% of Californians have stated that when they were in a crash or danger of a crash, the at-fault driver was talking on a cell phone or texting. In fact, in a public survey, half of California residents admitted to using their phones behind the wheel at some point. This high rate of reckless behavior is clearly seen in the number of fatalities per year: in 2021, there were 9,733 injuries and nearly 100 fatalities on California roadways due to distracted driving.
California Distracted Driving Laws
In total, 47 states prohibit certain distracted behaviors, especially cell phone use in the car. Due to the frenetic pace of some cities, several states have implemented measures to prevent unnecessary collisions. Because of the high rate of traffic accidents on the East Coast, California's distracted driving laws are a bit stricter than in other states.
NHTSA states that distracted driving covers a wide range of possibilities. Basically, it is anything that causes the driver to divert his or her attention and avoid focusing on the task of concentrating on the road. Distractions can be divided into the following categories:
Visual distractions: taking your eyes off the road.
Manual distractions: releasing your hand from the steering wheel.
Auditory distractions: listening to sounds that change the priority of attention.
Cognitive distractions: distracting the mind with thoughts unrelated to driving.
Stricter Measures Implemented in 2021
Although prevention measures were already in place, California passed AB47 in 2020. In July 2021, the new regulation became effective. It added additional penalties for drivers who drive while using their phones. Whereas before they only received a fine, with the new law they also get a point on their driving record for three years.
Currently, four rules in the statute prevent certain behaviors: California Vehicle Code Section 23123; California CV Section 23123.5; California CV Section 23124; and California CV Section 23125. In summary, California distracted driving laws do not allow the following:
Driving a motor vehicle while using a wireless phone – unless configured for hands-free use.
Holding and operating a wireless phone or electronic device – unless set up for hands-free use.
Use of any communication device, even hands-free, for all drivers under the age of 18.
The use of cell phones by bus drivers, both school and transit.
Basically, no California driver can operate their phone to read, call, or text while on the road. A cell phone can only be used if it is designed and configured for hands-free use.
What Other Behaviors Are Not Permitted Under California's Distracted Distraction Laws?
It is not uncommon to see drivers eating a donut, grooming themselves by looking in the rearview mirror, or drinking coffee while driving. While most people think of cell phone use when we talk about distracted driving, there are many other common everyday activities that are not allowed under California's distracted driving laws. While there is no specific law stating that you must not apply makeup, eat, or smoke while driving a car, all actions that jeopardize traffic safety can be ticketed.
Eating and drinking in the car is part of dangerous and reckless driving, according to California Vehicle CV 23103. Although it is a somewhat ambiguous and broad law, police officers assess the danger of drivers' actions to evaluate whether there is a distraction and, consequently, irresponsibility and recklessness on the road.
In addition to eating in the car, there are other clear examples that classify as reckless driving: reading a magazine or newspaper, grooming, adjusting the radio, talking to other passengers, taking objects from the bag or back seats, watching a video, smoking, etc.
How Much is a Distracted Driving Ticket in California
Penalties for violators of California's distracted driving laws are not extremely severe. Fines for driving and cell phone use range from $150 to $200, but could be as high as $1,000. Typically, it is a minimum of $20 for a first offense, increasing to $50 for repeat offenses.
However, violations will vary depending on the severity of the case. If there is a distracted driving accident involving victims, you could face jail time under the law.
Determine Liability Based on California Distracted Driving Laws
In order for the person at fault in a distracted driving accident to pay for their actions, it is recommended that you hire an attorney who is an expert in the field of negligent personal injury. The lawyer will study the case and assess the best way for you to get the financial compensation you deserve. An accident reconstruction specialist usually proves negligence. Multiple causes of action also apply against the defendant to recover damages.
On the one hand, you can sue under common law. In this, negligence appears as the origin of the accident and the cause of the injuries. Your attorney will marshal all available resources to prove that the defendant driver had a duty of care that he or she breached. And, as a result, caused damages to the plaintiff.
Moreover, your lawyer may also be able to use current law to try to prosecute the at-fault party in the accident. As we noted above, the California Vehicle Code has various distracted driving laws. Specifically, for cell phone use while driving. If a driver violates this law and the activity results in death or injury, there are options to recover damages. Your case can qualify for an appropriate settlement that covers all expenses.
Get Legal Help For Your Case Today
Unfortunately, distracted driving is becoming more frequent. The consequences of this terrible habit can have very adverse health repercussions, including death. If you or someone you know has been the victim of similar vehicular negligence, don't hesitate to report it today. Even though you might feel terrible at the moment, stay strong and strive for justice.
Eating, drinking, texting, or putting on makeup should not be reasons for a person to suffer devastating, life-altering injuries. When a violent collision occurs as a result of an automobile distraction, the victim and their family members bear many bills resulting from the accident.
At Adamson Ahdoot, we want to help you obtain the maximum possible compensation for your injuries. We want to bring the person responsible for the distracted driving accident to justice. With more than 100 years of combined legal experience, our attorneys are ready to help you 24/7. Call (800) 310-1606 today to schedule a free, no-obligation consultation. Our team is fluent in Spanish and English.
Client-First Approach
Above all else, our clients come first. We go above and beyond to obtain the highest level of compensation possible.
Meet Our Attorneys
Multi-Focus Law Firm
Adamsom Ahdoot has successfully executed a plethora of personal injury cases.
Cases We Handle
Get in touch with our firm
Our team can better advise you on your legal options once we receive any available evidence about the incident.
Take Action Now