Celebrating National Bike Month and Bicycle Safety Month, 2023
2% of Motor Vehicle Accident Fatalities Involve Bicyclists
Bicycling is a trending practice, mainly among the citizens of California. It is a positive habit that provides many health benefits and helps the environment. However, despite being a very positive discipline within society, many cyclists suffer negative consequences when riding. To raise awareness of the dangers of riding alongside vehicles on the road, there is an initiative launched every year. National Bike Month 2023 is celebrated throughout May.
Nationally, California has one of the highest bicycle-riding communities. According to the League of American Bicyclists' 2022 report, it is the fourth most bike-friendly state. Heavy traffic, the high price of cars, and the cost of gasoline are some of the reasons Californians bike to their destinations. However, having so many bicyclists coexisting with vehicles on the road also leads to many biking accidents.
In this blog post, we will honor National Bike Month 2023 by providing facts and shedding light on the dangers of bicycling around cars. Learn more about how to file a lawsuit in California here.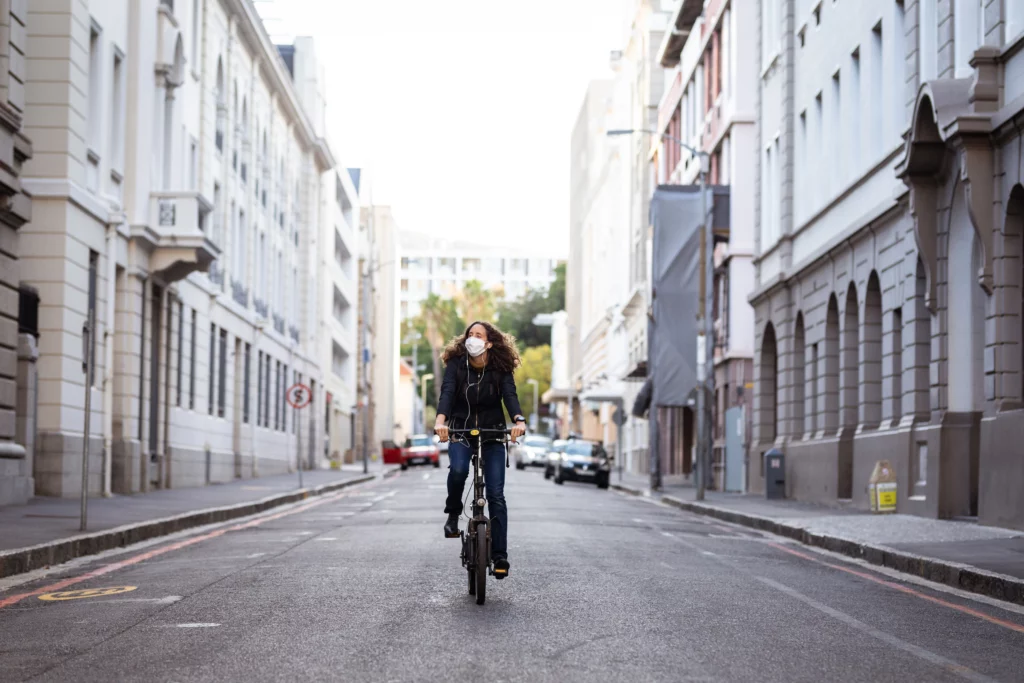 What is National Bike Month, 2023?
May is National Bike Safety Month of 2023. This annual initiative originated in 1956 and was created by the League of American Bicyclists with the goal of promoting the benefits of bicycling. However, over the years, this campaign has focused on boosting bicycle safety on the road. As we will see below, the data indicates that there are many risks and dangers for cyclists. That's why states with so many bicycle users like California are urging caution and adherence to the rules to avoid fatalities.
Bicycle Safety Statistics and Data
Raising awareness of the vulnerability of cyclists and the importance of cycling safety is paramount to keeping the community safe. Although more and more people are using this method of transportation, reducing the congestion of cars in urban areas, the number of fatalities continues to rise. In the past 10 years, there have been more than 8,600 bicyclist deaths from motor vehicle collisions, according to the National Highway Traffic Safety Administration. That is an average of nearly 900 fatalities annually; approximately 2% of all traffic fatalities.
The latest official recorded data on crashes involving bicyclists is from 2020. That year, 932 bicycle users were killed on the roads, almost 9% more than in 2019, when 856 died. However, the fatalities could have been higher. The Consumer Product Safety Commission says there were a total of 425,910 injured in 2020 who had to receive hospital care. Since 2010, the lowest year for bicyclist fatalities, the numbers have increased by 50%. 
The absence of helmets is one of the reasons many cyclists are killed or seriously injured. Among all riders who died in 2020, 57% were not wearing helmets. The use of head protection can reduce brain injuries in 60% of accidents.
Other important data:
The most affected group is men, with 89% of the deaths.
88% of the deceased were over 20 years of age.
August and July are the most lethal months.
The 6 p.m. and 9 p.m. time frame is the deadliest for bicycling.
Seventy-nine percent of fatalities occur in urban areas.
About 32% of fatal crashes occur at intersections.
Bicycle Accident and Fatality Statistics in Los Angeles and California
While national figures from recent years are still being collected, states like California do have recent official data related to bicycle crashes. The Golden State has three cities in the top ten of best cities for bicyclists nationwide: Stanford, ranked second, Davis, fifth, and Santa Monica, sixth. However, there are also three California cities among the worst nationally for biking: Los Angeles, in first place, San Bernardino, fifth, and Santa Ana, sixth.
Since 2017, Los Angeles County typically averages 3,400 bicycle crashes with injuries and 36 fatalities annually. 2019 was the deadliest year, with 42 fatalities. Orange County is second in the state for reported bike collisions, with 4,570 cases between 2015 and 2019.
Focusing on Los Angeles, research conducted by Tower Electric Bikes points out that the city is the least bike-friendly for several factors. The study states that the reason LA has a higher fatality rate is due to few bike lanes, poor pavement quality, busy streets, and hostile and reckless drivers.
In 2021, LA Times estimated that 18 people lost their lives in Los Angeles and a total of 1,700 were injured in crashes. This is 25% more than the previous year. For 2022, BikingInLA has kept a comprehensive record throughout the year, counting 15 fatalities.
Importance of Bicycle Safety: Tips for Riding in California
Bicyclists have the same rights and responsibilities as motor vehicles. To enact these obligations and commitments, many public agencies promote campaigns and initiatives such as National Bike Month 2023. The California DMV encourages bicyclists to follow a series of guidelines for safe travel on the road. To that end, the agency first encourages knowing and obeying the laws and regulations for sharing the road properly. By following the traffic signs and driving with caution, the number of collisions will be reduced.
Although the statistics shown are not the most encouraging, if the established laws are respected and certain safety measures are followed, numerous accidents will be avoided. Some tips to highlight are:
Protective equipment. Wearing a helmet can reduce the risk of injury. It is especially effective in preventing potentially fatal head injuries. It is also advisable to wear tight-fitting clothing and sports shoes.
Adjust the bicycle to your size to ride safely.
Check for any defects or malfunctions before each ride.
Wear bright, illuminated colors to increase visibility. At night, turn on your lights and wear a reflective vest.
Do not be distracted and be alert to any avoidable mishap on the road. From dangerous conditions to inattentive driving.
Ride on the right side of traffic, in the same direction as vehicles, or use the bike lane when available.
Indicate turns to rear vehicles at crossings and intersections.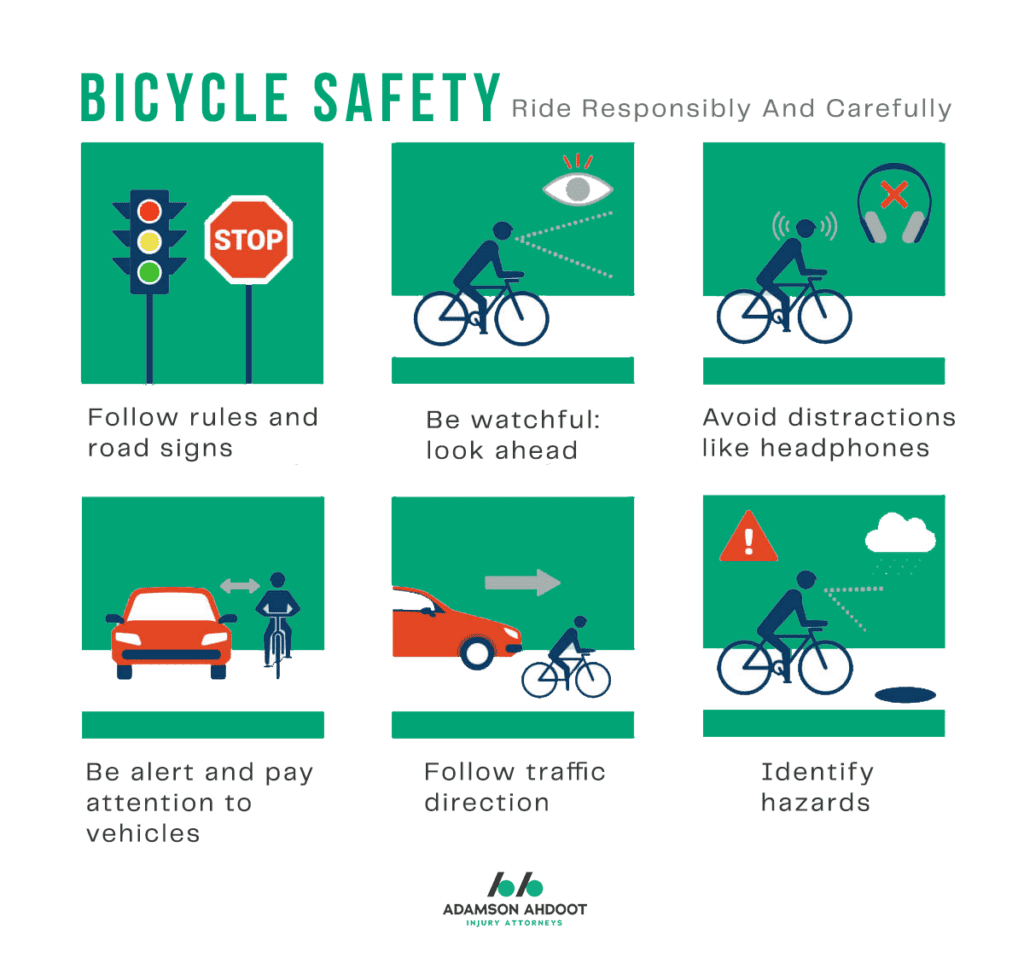 Types of Bicycle Accidents
If you live in busy cities like Los Angeles, you'll know how nerve-wracking it can be to ride a bike on its streets. Not only is it frustrating, but doing so exposes you to a number of risks and dangers. Also, in the case of Los Angeles, as we mentioned, it is the deadliest city in the country. Although there are established bike lanes in many areas, there are not enough of them and bicyclists tend to share the road with vehicles. This, coupled with the rush to get to the destination and possible distractions, causes both cars and cyclists to ride carelessly.
Among the most popular types of bicycle incidents in California are the following:
Vehicles or pedestrians riding illegally in the bike lane.
Cars opening side doors in front of bicyclists – also called dooring.
Private road exits such as alleys or residential parking lots leading to a roadway.
Drunk or distracted driving.
Drivers turning left or right when a bicyclist is approaching, either in the same or oncoming lane.
Poor road conditions.
Bicycle Crashes: What to Do After an Accident
When we suffer unfortunate incidents on the road, the first thing we feel is panic and fear. However, remaining calm is crucial. By staying calm, we can make sure that we gather as much evidence as possible to hold the at-fault driver responsible for the collision. First and foremost, the priority is always to ensure our health. It is important to call 911 to attend to any injuries. Otherwise, we could make the injuries worse. Call the police to obtain a report of the accident and do not talk to anyone about the impact. Only talk to the driver responsible to exchange personal information, car information, and vehicle insurance.
Try to gather as much information as possible from any witnesses present at the incident. This will make your case even stronger. At the same time, be sure to take photos and videos of the area where the impact occurred.
All of these steps will help you get the financial compensation you deserve for your injuries. However, to get the desired results, you will need to consult with a bicycle accident personal injury expert. Having the legal advice of attorneys like those at Adamson Ahdoot will allow you to have a successful settlement for your case.
Hitting a Bicyclist Can Lead to a Personal Injury Claim
Taking a bike ride should never be something to worry about. However, because of the evidence of the risk this activity can entail in California, it never hurts to know your rights in the event you are involved in a collision. As we have indicated, in the case of being the victim of an automobile collision, it is urgent that you contact a personal injury attorney. The impact of a vehicle on a bicyclist can have devastating consequences, changing your life permanently.
In the event that this happens, reporting the at-fault party can make the recovery process easier to handle. Many bicycle accident victims get compensation to pay for the costs of treating injuries, among other expenses. In fact, when we talk about the cost of these accidents nationally, the CDC estimates that they exceed $23 billion annually. These include medical expenses, lost wages, wrongful deaths, as well as other types of physical or mental injuries that affect the quality of life.
In California, bicycle strikes have a two-year statute of limitations from the time the incident occurred. While this may seem like a long time, it is recommended that you file a lawsuit as soon as possible. This way, you will also be able to receive the compensation you deserve to address all the damages and costs.
Call us if You Need A Personal Injury Lawyer For Bicycle Accidents
Being involved in a bicycle accident can result in very serious injuries. The consequences of being struck by a vehicle can be catastrophic, sometimes even resulting in death. During National Bike Month 2023, the Adamson Ahdoot team wants to help all victims fight for their rights. This means, holding the perpetrator accountable for their actions and obtaining the compensation the injured person deserves.
With over 100 years of combined legal experience, Adamson Ahdoot is one of the leading personal injury firms in California. Our attorneys excel at providing quality legal assistance in resolving disputes. They ensure effective and satisfying justice for clients.
Call us today at (800) 310-1606 for a free consultation about your case. Our bilingual team is ready to assist you 24/7.
Client-First Approach
Above all else, our clients come first. We go above and beyond to obtain the highest level of compensation possible.
Meet Our Attorneys
Multi-Focus Law Firm
Adamson | Ahdoot has successfully executed a plethora of personal injury cases.
Cases We Handle
Get in touch with our firm
Our team can better advise you on your legal options once we receive any available evidence about the incident.
Take Action Now