California Storm: Rain Causes Accidents And Injuries
The number of California rain injuries has risen due to recent bad weather, causing costly property damage and personal injuries
When winter arrives, weather conditions often negatively impact a large portion of the country. Since late last year, California has been one of the states hardest hit by bad weather. The Golden State is experiencing extreme situations that are disrupting the health of many of its citizens. 2023 has begun with many rain injuries in California. But, what is the recent natural catastrophe that has happened in the last few days? A series of powerful storms called atmospheric rivers is to blame.
With a population of nearly 40 million, as many as 34 million Californians found themselves under flood warnings since the beginning of January. During these violent events, many people had to be evacuated from their homes or flee the roads as their lives were put at risk. However, not everyone had enough time to react. The numbers of missing, injured, and dead increased as the recent storm intensified. As of today, around 20 people have been reported dead.
The images and videos of the events are heartbreaking.
Severe Weather Delivers Devastating Consequences in California
Since the end of December, California has been experiencing an ordeal. After living through a time when much of the state has been dealing with historic droughts, this time Californians experienced the complete opposite. However, it was a foretold event. The Natural Weather Service (NWS) warned about the storm days before. The agency reported that a series of "truly brutal" storms were powerfully approaching, causing a rainstorm that would bring devastation to nearly every territory.
And so it did. The cyclonic bomb that entered the Pacific Ocean ravaged the state with storm fronts and excessive rainfall in a short period of time. The consequences have been exorbitant: from floods to collapsed roads, landslides, fallen trees, or power outages.
Since the severe weather began, up to 90% of Californians have been under a flood warning due to the threat of storm surge. This caused many of them to stay indoors for days and not have access to food and medicine. And some of those who left suffered an unfortunate outcome. In total, the recorded deaths exceed 20.
The physical damage caused was also devastating across the state. According to Adam Smith, a disaster expert with the U.S. National Oceanic and Atmospheric Administration (NOAA), the estimated cost of losses is more than $1 billion. In fact, more than half of California's 58 counties have been declared disaster areas, according to Governor Gavin Newsom.
Damages Caused by The Storm
The losses are clear: property damage, personal injuries, and fatalities on a large scale.
According to official reports, the average hourly rainfall was 3 cm. This, coupled with wind gusts of over 100 miles per hour, caused chaos that will be difficult to repair. It is going to take time and money.
The excess rainfall caused terrible flooding in towns and cities. The amount of water was so large that the drains, as evidenced by videos of citizens, were unable to cope and swallowed cars. Highways became waterways and rivers rose disproportionately. They flooded homes with water and mud.
The number of rain injuries in California increased due to lightning and hail. The storm caused numerous rockslides and landslides.
The force of the storm severely damaged infrastructure and roads. Broken bridges, downed trees blocking roads and residences, stranded cars, or shattered roofs of businesses were also affected.
However, the real victims were the citizens.
For several days, more than 230 people were left without power in different parts of the state. This prevented many citizens from accessing basic personal necessities. Furthermore, because they were unable to leave their homes, many individuals were unable to receive medical attention, such as going to the emergency room or accessing certain medications.
California Soil Cannot Absorb More Rainfall
Police, firefighters, sheriff's deputies, and volunteers committed their lives to rescuing neighbors and animals. In many cases, they even sent boats, kayaks, golf carts, or helicopters to help victims. However, this effort did not seem to be of much help, as the soil could not drain the water quickly enough. There were not enough resources. Due to droughts and devastating wildfires in recent years, California's soil can only take so much. The land is not capable of absorbing so much rain in such a short period of time.
California received 400% to 600% above-average rainfall.
These storms, responsible for dozens of deaths and the reason for thousands of rain injuries in California, lashed violently with heavy downpours and vigorous winds. The biggest concern was the abundant rainfall, which hit hard: it rained 400% to 600% more than average for this time of year.
According to Governor Newsom, California experienced a "weather whiplash." In other words, when it goes from intense drought conditions to dealing with very powerful atmospheric rivers. "Just a few months ago we were talking about these heat domes and extreme heat," Newsom said. Before the latest wave of storms, most of the state received between 13 and 20 centimeters of rain, with future forecasts of 5 to 10 centimeters more on coasts, valleys, and even mountains.
The Most Shocking Cases of Rain Injuries in California
To give an idea of the severity of the situation, between 150 and 200 floods and landslides occurred in just 28 hours, according to Todd Hall of the National Weather Service.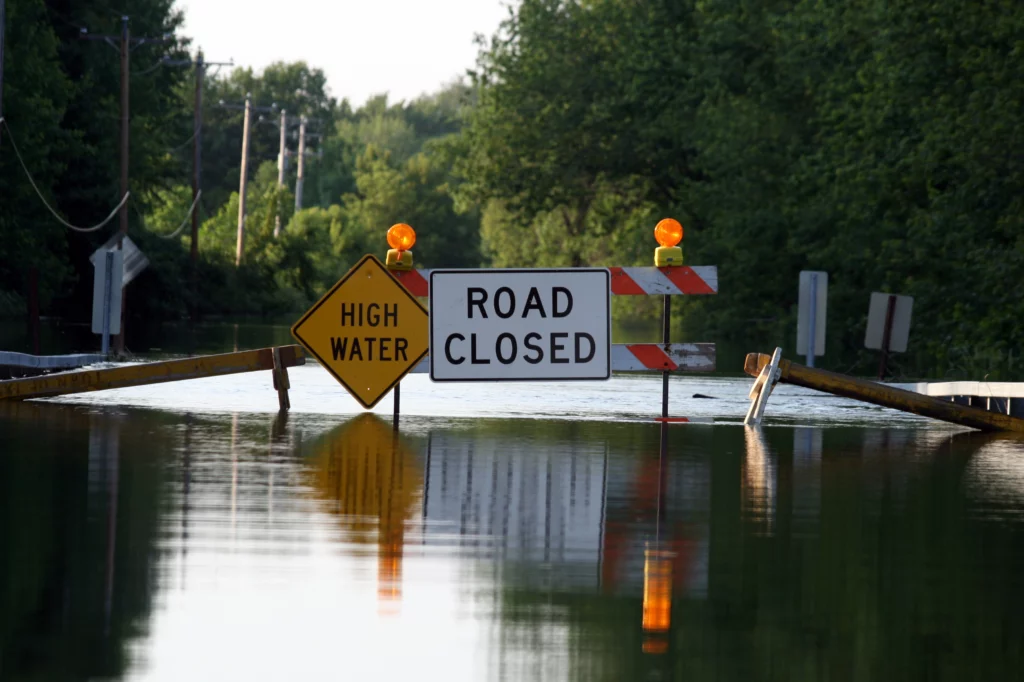 As we previously explained, the consequences have been overwhelming for the residents of California. Thanks to social media, we have been able to experience firsthand many of the harshest cases that this storm has brought.
Over 20 Deaths
According to official documents, the victims lived a real nightmare. One of the most heartbreaking losses was the death of 6-year-old Kyle Doan, from San Miguel. The little boy and his mother were trapped in a pickup truck in rising waters. While his mother managed to be rescued, Kyle was swept away by the water. A similar situation occurred with a woman and her son in Paso Robles. While trying to cross a creek bed, the young boy was swept away by the current.
Another child suffered a tragic death when a sequoia tree fell and violently crushed his home.
Two drivers were also killed in Tulare when a tree fell on them on the highway. Apparently, a lightning strike was the cause of the fatal accident. In Avila Beach, north of Los Angeles, one person died when his car flooded.
Those most affected by this storm were undoubtedly homeless citizens. California's homeless population found themselves in extremely precarious situations. Used to living in camps or on the streets, dozens of them had to be rescued. Despite the efforts, the heavy impact of the storm took the lives of two homeless people in Sacramento. According to a press release from the coroner, both were found "with trees on top of their tents."
Multiple Rain Injuries in California
The impetuousness of the storm has left images worthy of a Hollywood movie. One of them was a rescue team picking up people in golf carts in flooded areas of Union Station, in Los Angeles. Media reports said that bystanders were getting injured as they walked through water-filled areas.

Another of the most visually striking accidents was a road sinkhole in Chatsworth. Two cars plunged several feet deep, with a mother and daughter inside one of the cars. The victims were later rescued with no apparent serious injuries.
Tense moments were also experienced when a black sedan was covered in mud after a landslide on Mulholland Drive. The scene was filmed live by KCAL cameras.
Overall, flooding and landslides severely affected highways in Southern and Northern California. Among the long list where safety crews intervened: Mulholland Drive in Los Angeles was closed for five miles due to a high landslide hazard threatening Beverly Hills; Highway 101 between Carpinteria and Santa Barbara was shut down because of excessive water and mud; and a road crossing at Malibu Canyon Road had to be suspended due to the presence of a large boulder.
Montecito Lives a 'Déjà vu' Experience
One of the most damaged areas in the last days of the rainstorm was Montecito. Its population, full of wealthy families such as Prince Harry, Oprah, and Ellen DeGeneres, was evacuated due to landslide warnings.
Five years ago, Montecito already suffered a lethal incident that took the lives of 23 people, destroyed more than 100 homes, and caused dozens of injuries. The possibility of another natural disaster in the form of a mudslide prompted residents to flee the area immediately.
Rain Injury Statistics in California
Among the weather conditions that cause the most traffic accidents, one stands out above the rest. If the Golden State's roads and highways are already dangerous because of the density of cars and the reckless behavior of their drivers, the likelihood of collisions increases when precipitation is present. The numbers prove it: rain is the most dangerous weather condition to drive in.
According to the U.S. Department of Transportation (DOT), 21% of annual car accidents are caused by bad weather. Specifically, more than 1.2 million crashes per year. The vast majority of these mishaps end in rain-related injuries. However, there are also a high number of fatalities. Approximately 15% of fatal crashes occur because of rain or wet roads.
Wet pavement due to rain is the most frequent situation to have car accidents, accounting for 70%. As reported by DOT, in a 10-year period there were more than 850,000 accidents in California, resulting in nearly 4,000 fatalities.
Precipitation is to blame for 46% of weather-related accidents. The average number of accidents between 2007 and 2016 was more than half a million, causing nearly 2,500 fatalities.
Snow, at 18%, is also another major cause. Fog only occupies 3% of these incidents.
Wet pavement while raining, therefore, puts California citizens at high risk of injury and death.
Flooding, the Most Lethal Natural Disaster
The average number of flood deaths in the U.S. is approximately 200 people per year. According to Flood Safety, 50% of flood drownings are vehicle-related.
California, in particular, is a state highly vulnerable to flooding. As previously discussed, the droughts of recent years make it difficult for land to drain as easily. As shown by the Public Policy Institute of California, one in five Californians and more than $590 billion in structures are threatened by flooding.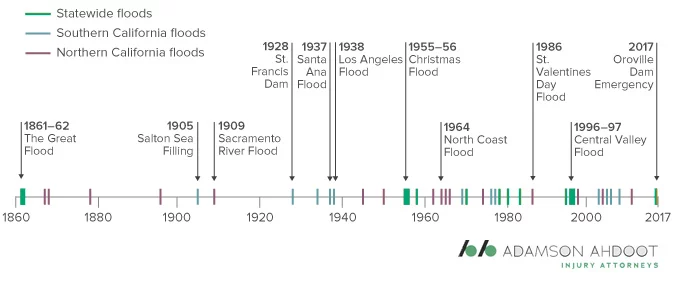 Causes of Rain-related Car Accidents
There are many ways a driver can sustain rain injuries in California. According to the report released by the Department of Transportation, precipitation negatively affects driving.
The following are some of the causes that reduce safety at the wheel, increasing the risk of traffic accidents:
Poor visibility;
Poor friction of the road surface with car tires;
Obstruction of lanes;
Excessive speed on narrow or curvy roads;
Abuse of confidence in crowded areas;
Irresponsible and reckless driving;
Drivers who are not familiar with driving in the rain.
Survival Tips To Avoid Rain Injuries in California
Following the recommendations of the authorities when driving in the rain can save lives. If you do not drive safely and follow traffic regulations, there is a high risk of sustaining personal injuries. This could involve having to compensate the victim for the losses suffered in the incident.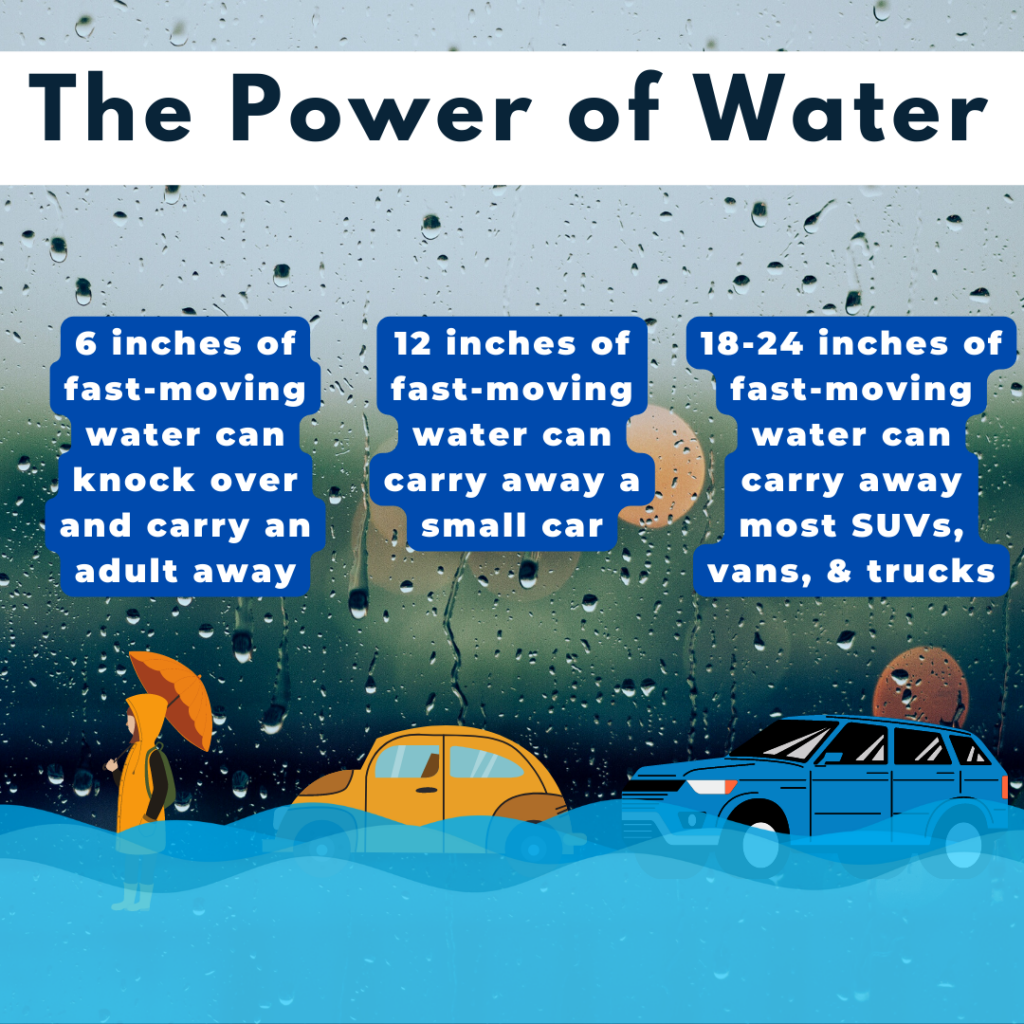 If you want to avoid a car accident, pay attention to the following tips:
Avoid standing water on the roads. In addition to hiding potholes or debris, these puddles can make the driver lose control of the car and collide.
Increase your distance from the car in front of you. Poor visibility and slippery roads can play tricks on you. Also, if the brakes are wet, it may take longer for the car to stop.
Slow down. Driving fast in the rain, especially on curves, slows your reaction time considerably.
Drive with both hands on the wheel and with a complete vision of the road. Distracted driving is very common throughout the country, and carries health risks for citizens. Not paying full attention to the road when there is precipitation increases the risks of rain injuries in California.
Use car lights properly for better visibility.
Do not turn on cruise control.
Drive following the wheel tracks of the car in front of you.
Have windshield wipers on and in good working order.
Check weather conditions before heading out. Sometimes, it is better to avoid taking the car if there is extreme weather that can put your health at risk.
Plan your trip ahead of time. Be cautious and leave home early enough to avoid rushed driving.
In the event of aquaplaning, do not brake or turn the steering wheel or the car will skid uncontrollably.
I Got Into a Car Accident in the Rain: What Should I Do?
Although most drivers don't think about having a car accident when raining, the truth is that car accidents are very frequent when bad weather is present.
If you have been injured on a rainy day in California, there are a number of steps to take in order to qualify for the financial compensation you deserve.
First, if possible, move your vehicle off the road to avoid obstructing road traffic and potentially causing other accidents. Next, turn on your emergency lights.
Make sure you are all right and check if the other passengers have any serious injuries. Then, call the emergency services and the police to report the accident.
If road visibility permits, and you have them, get out and put up emergency triangles.
Calmly exchange information with the other driver involved. Make sure to get her/his personal and insurance information. This will be essential for a future legal claim. Also, it is important that you do not talk more than necessary about your condition or the incident. However, note any comments the other driver makes about the accident.
Photograph the scene of the accident and, if there are witnesses, get their contact information.
When the officers arrive, don't forget to ask them for a copy of the police report.
Ultimately, call an experienced California personal injury attorney to discuss your case.
Personal Injury Claims Involving An Auto Accident While Raining
As stated above, when it rains, you must be very vigilant on the road. Otherwise, the chances of an accident increase. If someone acts negligently by not taking special care in an automobile collision, you can file a personal injury lawsuit for a car accident.
When there are rain injuries that stem from an accident, it is highly advisable to put the case in the hands of professionals. Experienced attorneys will be able to guide you and assist you with your options. As well as estimate possible compensation to help pay for lost earnings, medical bills, as well as pain and suffering.
In the case that your car or you have been injured by natural disasters, recovering damages will depend on the insurance coverage you have, along with the type of incident.

Call Us if You Were Involved in a Rainy Day Accident in California
If you have experienced a negligent situation that has resulted in personal injury, do not hesitate to call us. When deaths and rain injuries occur in California, many citizens are unaware of their rights. Speaking with an attorney about your accident can help you understand the potential of your case and possibly financial compensation.
With over 100 years of combined legal experience, our team is known for bringing justice to our clients. We strive to understand our clients in order to provide them with the best settlements. As one of the top-rated personal injury firms in California, we guarantee success.
If you are interested in learning more about your case, feel free to schedule a free consultation with us at any time. Available 24/7, our attorneys can assist you in English or Spanish. Call us at (800) 310-1606, or contact us online.
Client-First Approach
Above all else, our clients come first. We go above and beyond to obtain the highest level of compensation possible.
Meet Our Attorneys
Multi-Focus Law Firm
Adamson | Ahdoot has successfully executed a plethora of personal injury cases.
Cases We Handle
Get in touch with our firm
Our team can better advise you on your legal options once we receive any available evidence about the incident.
Take Action Now