Are Metal Straws Dangerous?
4-year-old boy survives accident with a metal straw that punctured throat and brain artery
In recent years, environmental awareness has become increasingly present in society. The trend to replace plastic with other less harmful materials is rising by leaps and bounds. Many products, such as straws, are also experiencing this change. This concern has led to a trend toward the use of metal straws not only in the restaurant industry but also in private residences.
Although the demand for plastic straws has fallen, they are still the most popular products on the market. This, however, is about to change, as more and more countries are banning their use.
The prohibition of plastic straws has made metal straws a solid reusable option. However, despite being environmentally friendly, they are also being problematic for many people's health. Since they began to gain popularity around 2012, there have been several reported accidents involving serious injuries. Some even resulted in death.
Metal Straw Pierces Throat and Brain Artery of 4-Year-Old Boy
Charlie DeFraia's story is one that will not soon be forgotten. Last June 20, the 4-year-old had to face a violent accident that almost took his life.
A metal straw punctured the artery in his neck and throat while he was drinking his liquid yogurt in the backyard. According to the family's testimony, Charlie was sitting on the porch ledge when he lost his balance and fell forward.
The forceful fall caused the straw to pierce through his tongue and throat, perforating his right carotid artery. This is one of the four main arteries responsible for supplying blood and oxygen to the brain.
Despite the amount of blood lost, the doctors managed to stop the bleeding. Nevertheless, Charlie had to spend a week in an induced coma. After several months of recovery, the toddler was able to recover almost completely.
Accidental Death in 2018
British woman Elena Struthers-Gardner, 60, did not have the same fate as little Charlie. One of the few fatal accidents reported to date took place in November 2018, in the United Kingdom. The woman was in her kitchen holding a 'Mason Jar' style metal straw jug when she lost consciousness and fell.
Bad luck caused Struthers-Gardner to collapse forward and fall on top of the lidded jug holding the metal straw in the center. The 35-centimeter straw stuck into her eye, piercing her brain.
Despite rushing to the emergency room, the woman died in the hospital the next day due to the severity of her injuries.
Starbucks Recalled Millions of Metal Straws
One company that had to deal with some injury claims was Starbucks. The coffee shop chain had to recall 2.5 million metal straws in 2016. The reason? Three reports from families who said their young children had mouth lacerations from drinking through the straws.
The company shared a statement warning parents of the potential danger to little ones. "It could be a danger to a child if not used in the right way," the spokesperson said.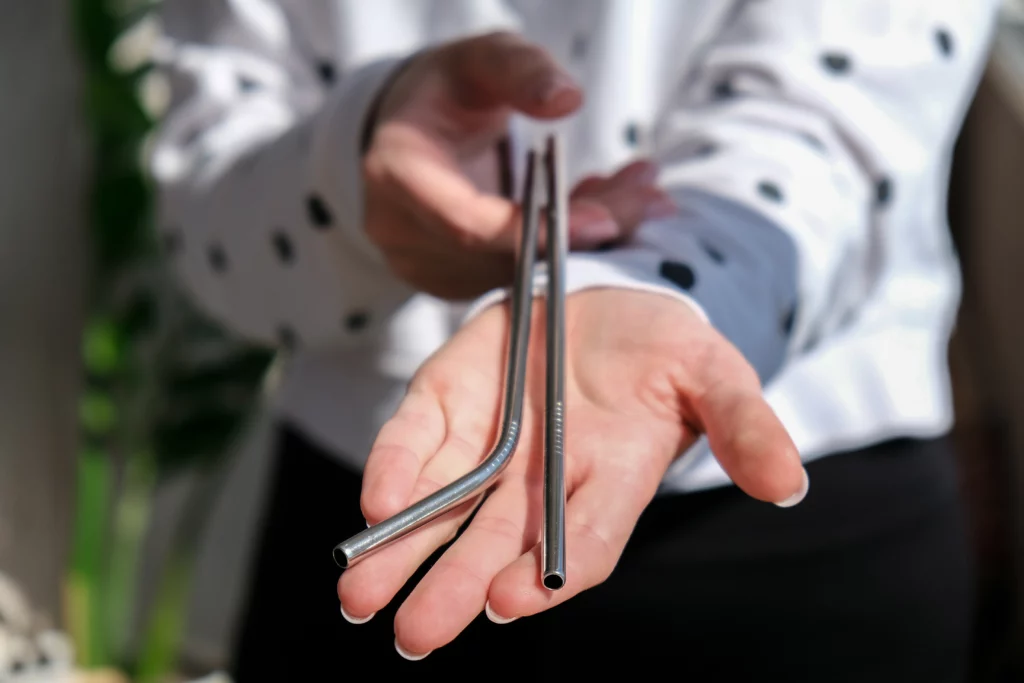 Injured by a Metal Straw? We Can Help
As we have seen, an accident involving metal straws can be devastating to your health. Despite being a beneficial product for preserving the environment, if not used with caution, it could cause serious injury or even death. Adamson Ahdoot recommends you be cautious with its use and avoid using it in the following situations:
You are walking or running
Driving a vehicle
Exercising
In the hands of children
If you have unfortunately already suffered a mishap with a metal straw, we can help you today. Losing a child to a dangerous product is a difficult situation for any family to deal with. Likewise, the injuries this type of accident can cause can be devastating.
Our team, with more than 100 years of combined experience, is capable of assisting you properly during such a tough legal process. You may not feel like filing a claim might be worth it, but the reality is that it can be very beneficial to your family. Not only will it be a source of income to pay for the accident and hospital expenses, but it will also bring you the peace of mind you desire.
Want a no-obligation consultation on your case? Not sure if you can claim damages? Need more information about the legal process? Call now at (800) 310-1606 or submit a form with your case through our website. A member of our team will be available to you 24/7.
Client-First Approach
Above all else, our clients come first. We go above and beyond to obtain the highest level of compensation possible.
Meet Our Attorneys
Multi-Focus Law Firm
Adamson Ahdoot has successfully executed a plethora of personal injury cases.
Cases We Handle
Get in touch with our firm
Our team can better advise you on your legal options once we receive any available evidence about the incident.
Take Action Now