According to the Governor's Highway Safety Association (GHSA), California has one of the highest pedestrian accident rates in the country. In 2019, almost a thousand people were tragically killed in pedestrian accidents and thousands more were seriously injured while walking, running, or skateboarding throughout the state.
Despite recent efforts to make streets safer for pedestrians, Los Angeles remains one of the most dangerous cities in the state for pedestrians. Recently, the L.A. Times conducted a study examining almost every pedestrian accident within a 12-year period.
The L.A. Times study revealed:
The most dangerous intersection in the city is Slauson Ave. and Western Ave. Within 12 years, more than 40 pedestrian accidents have occurred in this intersection.
More than 38 pedestrian accidents occurred at Hollywood Blvd. and Highland Ave., making it the second most dangerous intersection in L.A.
The third most dangerous intersection in Los Angeles is MLK Jr. Blvd. and Crenshaw Blvd. Within the study period (12 years), 34 pedestrians were struck by vehicles at this intersection.
Statistics show that roughly every single day in Los Angeles County, 13 pedestrian accidents happen. Many of these accidents inflict serious injury or worse, death.
If you were seriously injured in a pedestrian accident while walking or jogging in the city of L.A., you have legal rights that may allow you to pursue damages from the person who caused the accident. Due to time constraints the state places on filing a lawsuit, we highly recommend you contact Adamson Ahdoot LLP immediately to discuss your rights and determine if filing a lawsuit is possible.
Common Causes of Pedestrian Accidents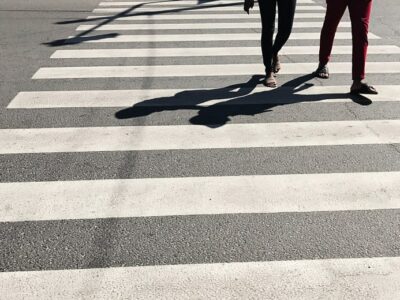 Pedestrian accidents happen for a number of reasons, but are most commonly attributed to:
Reckless drivers
Distracted drivers
Drunk drivers
Speeding drivers
Poorly maintained streets or sidewalks
Lack of street signage
Poorly maintained landscaping
Faulty or broken crosswalk light
Poorly lit roads
Hit-and-run accidents are a huge problem for pedestrians throughout the city. Statistics show almost 60 percent of all hit-and-run accidents in L.A. involved a pedestrian. It's important to note: if you were a pedestrian injured in an accident where the driver of the vehicle fled the scene, it may still be possible for you to seek compensation for injury damages. Our pedestrian accident attorneys have experience handling cases involving hit-and-run drivers and can quickly determine if it's possible to collect compensation from your insurance. Call our office today to arrange a free case review.
What Types of Injuries Can be Sustained in a Pedestrian Accident?
Pedestrians have nothing to protect them from an impact with a car or object, which makes them susceptible to serious injury when hit. Serious injuries have serious consequences. Many pedestrians injured in an accident with a vehicle face weeks, months, and even years of recovery (if a full recovery is possible). Oftentimes, victims not only suffer physically, but financially and emotionally as well.
The different types of injuries that can be sustained in a pedestrian accident include:
Complete or incomplete paralysis
Broken and crushed bones
Road rash injuries
Soft tissue injuries
Eye injuries
Lacerations and contusions
Concussions and whiplash
Internal organ injuries
After suffering an injury in a pedestrian accident, please consult a pedestrian accident lawyer at Adamson Ahdoot LLP. Our caring attorneys will carefully consider the extent of your injuries and how your injury will affect your life in the months and years to come. We will also consult some of the best in medicine to determine what you'll need financially to ensure a proper recovery. Our main goal when representing you is to get you the highest amount of compensation possible for:
Hospital bills and medical care costs
Medicine and medical devices
Surgery and rehabilitation
Lost income
Diminished earning capacity
Loss of quality of life
Disability
Physical pain
Mental anguish
Get Answers to Your Pressing Pedestrian Accident Questions
After losing a loved one or suffering an injury in a pedestrian accident, you may not know who to turn to for help. You may also have a lot of questions surrounding your accident and injury. At Adamson Ahdoot LLP, our pedestrian accident lawyers understand how difficult this time can be for you and your loved ones, and are here to help. We can offer you expert legal guidance and support at a time when you shouldn't have to worry about legal matters.
For more information about our law firm and how we can assist you during what is likely the most difficult time of your life, call (800) 310-1606 or chat live with a friendly member of our team. If we can't help you directly, we'll let you know where you can get assistance. Every case is taken on a no-win, no-fee basis, so there's no need to worry about the costs of hiring a qualified personal injury lawyer.