Uber and Lyft Accident Statistics 2022
One in Four Accidents in Medium and Large Cities Are Related to Uber and Lyft
Using an Uber or Lyft ridesharing service is part of our daily lives – who hasn't taken one to the airport or to a meeting with friends in the city? Such is the frequency with which people use these services that the number of incidents has increased considerably over the years. In fact, Uber and Lyft accident statistics today are alarming, to say the least.
If you have suffered minor or serious injuries while on a ridesharing service, do not hesitate to seek professional help. In this article, we will show you what you need to know about these accidents and what to do in case of personal injury.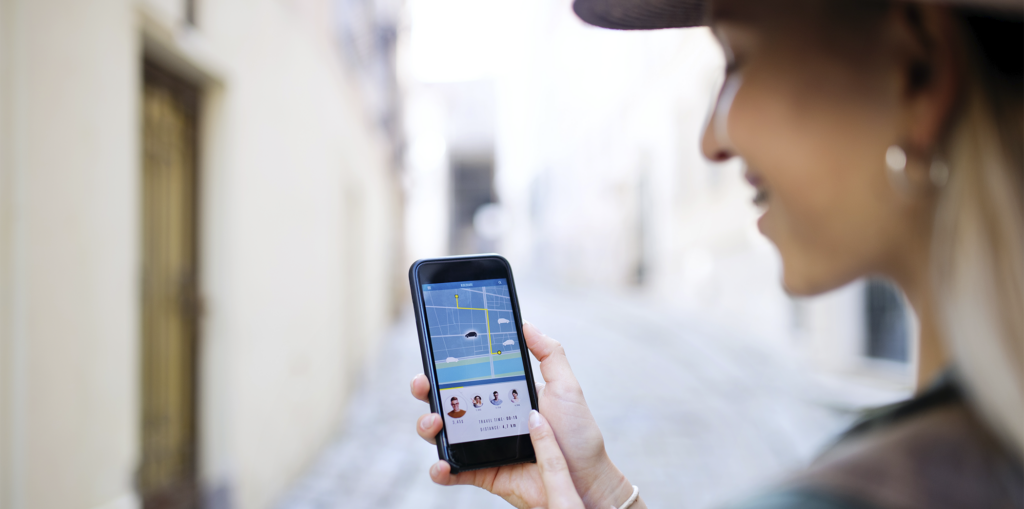 What is a Ridesharing Company, and Why Are They So Popular?
The most well-known ridesharing companies, Uber and Lyft, were founded in 2009 and 2012 to change the transportation business. Since then, the trend of traveling short and medium distances changed radically. Before, to get to our destination, we had to wait on the street for a cab to show up. With the advent of Uber and Lyft, now all it takes is the push of a button for a vehicle to come to our location.
It's a fact: the convenience of Uber and Lyft has revolutionized the way we get around. The popularity gained has relegated the more traditional transportation services, cabs, to second place. Indeed, according to official figures, taxis today have only a 1% share of the U.S. transportation market. The growth of Uber and Lyft has resulted in one of the highest duopolies of any industry nationwide.
But, which company has more customers? Research conducted by Zippia shows that, of the two companies, Uber has the greater number of clients. As of 2022, Uber has 71% of sales, while Lyft gets 29%. These percentages, in numbers, are impressive.
Uber and Lyft Have 93 and 19 Million Monthly Active Users
By the end of 2020, Uber's official figures amounted to 93 million monthly active users. Lyft, on the other hand, reached almost 20 million. However, Uber's latest data shows a monthly increase of 120 million users by the last quarter of 2022.
However, how many drivers are there today driving for the different mobile app services? As there is an increase in customers, the demand is also reflected in the number of drivers. The Center For Economic Forecasting & Development published an analysis of the total number of drivers using apps requiring transportation in California. The figure amounted to 1.37 million among the various apps.
When it comes to Uber drivers, in particular, the national total is between three and four million. Lyft's drivers, meanwhile, hover at around two million. California is one of the states with the most Uber drivers, with more than 200,000.
As a result of the increasing mobility trend of American citizens, the number of incidents on the road is also on the rise. The question is, how many ridesharing companies' customers and drivers are involved in traffic accidents per day?
Uber and Lyft Accident Statistics
While Uber and Lyft brag by all accounts about the quality and safety of their services, data shows that there are real risks when a user takes a ride with them. Yes, ridesharing is key to reducing the number of drunk and reckless drivers. In fact, the number of users who rely on Uber and Lyft to go out to dinner or party accounts for 43% of users. This has led to a 15% to 62% reduction in drunk driving accidents.
However, the reality is that as there are more and more trips, there are also more accidents. Statistics show that one in four accidents in medium and large cities in the United States are related to ridesharing services.
In fact, 25% of the country's population uses Uber or Lyft at least once a month. The rapid growth in recent years can be seen in the percentage of VMT (vehicle miles traveled). In 2016, these ridesharing vehicles were responsible for 1% of VMT in the country. Today, VMT from Uber and Lyft cars passes more than 14% in many states. Nationally, the average is at 6%.
The University of Chicago Booth School of Business corroborated the theory related to the increase in incidents and deaths on the road. Specifically, the arrival of Uber and Lyft has led to a 3% increase in car accident fatalities overall. This means that, as a result of the rise of these vehicles, about 1,000 people are killed in car accidents every day.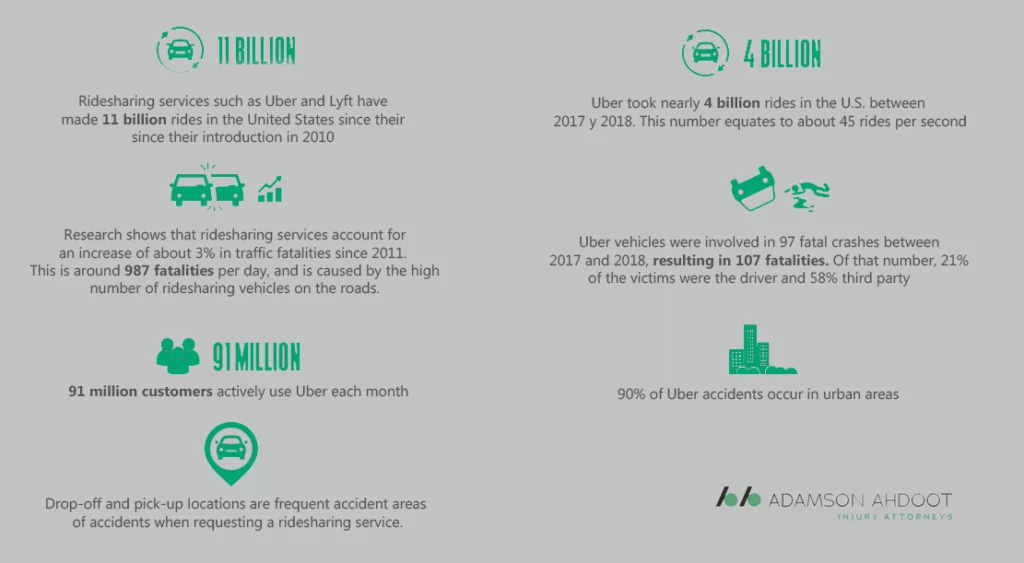 Overview of Uber and Lyft Accident Statistics:
21% of fatalities in fatal crashes were drivers.
21% of deaths in traffic incidents were motorcyclists.
The remaining 58% of fatalities were third-party passengers or other drivers.
With the spike in the use of mobile ride service apps in 2016, the number of traffic fatalities increased sharply to 37,400.
The lowest number of deaths in car incidents was in 2010, with 32,885 fatalities.
Collisions while picking up or dropping off at a destination are on the rise.
The growth in accidents is blamed on drivers spending a longer time on the roads, in part, due to demand from users requesting rides.
90% of Uber accidents occur in urban areas.
In total, Uber and Lyft have taken 11 billion rides in the United States since 2010.
Between 2017 and 2018, Uber took nearly four billion trips nationally, which equates to 45 trips per second.
Uber and Lyft Average About 100 Fatalities Annually
The first official Uber and Lyft accident statistics are from 2017 and 2018. During that year, 97 Uber vehicles were involved in accidents that resulted in 107 fatalities.
Later, the Californian company shared a safety report for 2019 and 2020. The figures showed, again, more than a hundred fatalities per year. Specifically, 101 fatalities in 91 fatal accidents. In that document, Uber also indicated what were the reasons that caused these collisions. The main causes are:
Speeding, with 32%.
Drivers under the influence of alcohol, 23%.
In addition, the ridesharing company also showed the victims most affected by these accidents. Pedestrians, with 64%, were the most affected group, followed by vulnerable road users, with 42%, motorcyclists, with 29%, and cyclists, with 7%.
Lyft's first safety report was on 2017 and 2019 data. The announcement of this information, however, came two years late, giving rise to concerns and worries. As with Uber, Lyft also counted more than a hundred fatalities during those years, with 106 fatalities in accidents. Nevertheless, Lyft does not have as many services per day as Uber.
Possible Causes of Uber and Lyft Collisions in California
Before Uber and Lyft came along, it seemed impossible to take a cab in California. Their arrival in the Golden State has provided many benefits to its citizens.
Although Uber and Lyft accident statistics are not often disclosed by the companies, as they prefer to keep such information from the public, it is known that California is one of the most crash-prone states in the country. As we have previously mentioned, California is the state with the most ridesharing service app drivers.
Since it is one of the places with the most ridesharing vehicles, there is also a higher chance of getting into an accident. California Uber and Lyft drivers spend more time on the road than other drivers, making them more likely to be involved in an incident. Driving for too many hours causes drivers to have more ground or drive unsafely. Similarly, there is also a greater number of nighttime trips, which increases the risk of a mishap.
Types of Uber and Lyft Accidents and Common Injuries
Depending on the reason that caused the accident, the crash can result in many different types of collisions. Determining the cause of the incident will help decide who is at fault and, therefore, the compensation may be higher.
Chain reaction crashes.
T-Bone accident.
Side collisions.
Hit-and-run accidents.
Rear-end and head-on collisions.
Slamming into objects.
In Southern California alone, more than two thousand traffic accidents occur each year. Considering that the number of ridesharing vehicles continues to grow, many of these cars are involved in incidents that result in serious injuries to passengers or third parties.
In the event that you have suffered any type of mishap while riding in an Uber or Lyft, it is urgent that you go for medical help. Although you may think you may have had minor injuries or are not in pain at all, in many cases, the injuries appear within days, weeks, or even months. To make sure you have the situation under control, we advise you to speak with an Uber and Lyft accident personal injury expert. These professionals will explore your case and guide you through the legal process.
Uber or Lyft accident personal injury lawsuits may include, but are not limited to, the following:
Broken bone lawsuit.
Brain injury lawsuit.
Spinal cord injury lawsuit.
Head and neck injury lawsuit.
Internal injuries claim.
Wrongful death claim.
What Should You Do in Case of a Collision During a Rideshare?
With all the numbers and figures available, it is normal to ask many questions about this service: Is it safe? Should I file a complaint if I have an accident? Can I claim damages? Well, the answer to these three questions is clear: yes.
Although the statistics may be scary, Uber and Lyft are safe services and ideal transportation alternatives. However, as in life itself, incidents can happen at any time. And, for this reason, it is always advisable to know a few steps to follow in case of a traffic accident. Having a clear understanding of how to proceed in the event of a collision can be the key to receiving adequate compensation.
If you have an accident during a ridesharing service or crash into one of these vehicles, it is important to be aware of the following points:
Call 911 and make sure that all involved are okay.
Call the police to come to the scene of the incident and make a police report.
Collect evidence from the accident scene and check for witnesses.
Exchange primary information with the other driver
Call an experienced Uber and Lyft car accident personal injury lawyer to handle a potential lawsuit
Once you feel calmer, contact Uber or Lyft to notify them of the accident.
Adamson Ahdoot's Settlements on Uber and Lyft Accidents
Uber and Lyft's accident statistics are only getting worse. As we've said before, the more demand, the more ridesharing. In other words, the more likely you are to have a mishap on the road. At Adamson Ahdoot, we have extensive experience handling Uber and Lyft collision cases.
Many California citizens put their cases in our hands so that we can help them get the compensation they deserve. With our efforts and help, you will get the right settlement to alleviate any possible financial expenses you may have invested in the personal injury accident. Not only that, but we will also fight for a larger compensation award to cover loss of income, pain and suffering, emotional distress, or loss of quality of life.
Among the recent cases Adamson Ahdoot has won are:
$1.49M settlement for a rideshare car accident when he ran a red light.
$197K compensation for a side collision after his Uber driver drove recklessly.
$102K awarded after an Uber driver switched lanes unsafely.
Know Your Rights: Seek Legal Help at Adamson Ahdoot
Being involved in a car accident due to someone else's negligence is an overwhelming experience. Not only do you have to deal with insurance companies, but your health is also affected. Even more so if the collision has resulted in serious injury or death.
After looking at Uber and Lyft accident statistics, it's important to be extra cautious. While you never know when or how a collision will occur, you can be aware of the steps to take to avoid a negative impact on your physical and mental well-being.
With more than 100 years of combined legal experience, our California personal injury law firm is a guaranteed choice for success. Our team excels at securing the most beneficial settlements for our clients. With determination, empathy, and knowledge, we will handle your case so that all you have to worry about is your health. Leave everything in our hands.
If you need legal help or want to know more about your case, do not hesitate to contact us. Available 24 hours a day, 7 days a week, we can assist you in both English and Spanish. Call us today at (800) 310-1606 to schedule your free initial consultation, or contact us online.
Client-First Approach
Above all else, our clients come first. We go above and beyond to obtain the highest level of compensation possible.
Meet Our Attorneys
Multi-Focus Law Firm
Adamson Ahdoot has successfully executed a plethora of personal injury cases.
Cases We Handle
Get in touch with our firm
Our team can better advise you on your legal options once we receive any available evidence about the incident.
Take Action Now