What to Do After a Car Accident?
During and after car accidents, emotions can run very high. As a result, involved people often forget what they need to do.
This article will inform you of the 12 things you must remember in the unfortunate circumstance of being involved in an accident.
What to Do After a Car Accident?
Follow these steps to avoid further problems after a car crash.
Don't Leave the Scene
Understandably, you'd feel anxious or fearful after a car accident, but you'll need to keep your emotions in check. It's best to not leave the scene because you may face hit-and-run charges. Aside from a penalty of up to $5,000, the court may also subject you to jail time.
Although you cannot leave the scene, you can definitely move to a safer place. It will allow you to avoid further injuries. If you stay in the same spot, you may sustain harm from debris or oncoming traffic.
The law only punishes the driver or senior passenger who wrongfully leaves the scene. Staying in the area also allows you to survey the situation and better understand what happened.
Check for Injuries
Another purpose for moving to a safer place is to let you check for injuries. Most drivers and passengers receive facial wounds, cuts, scrapes, and burns due to car crashes. In severe cases, persons involved may also suffer from a concussion, sprain, neck pain, shoulder pain, and blurred vision.
If it's safe to do so, you can also check the condition of other drivers and passengers. Make sure also to take note of how people are feeling. If anyone feels dizzy or light-headed, you'll have to report this to the appropriate authorities, so they can treat those individuals first.
Even though cuts and scrapes are common in this situation, you should still call for emergency personnel to assist you. There are so-called delayed car accident symptoms that present as ordinary injuries. But in reality, they may be signs of more severe issues.
However, only trained personnel knows such symptoms. So if you are unsure whether to call 911, call the emergency number anyway.
Move Your Car Out of the Way
If you've gotten involved in a minor accident with no severe injuries, it's best to move vehicles out of the way of oncoming traffic, but only if it's safe. Doing so will prevent traffic jams from forming, allowing first responders and police easy access to the scene.
Call the Police
When asked, "What to do after a car accident," most people would suggest calling the police, which is the advisable thing to do.
Once you call 911, the operator will likely dispatch police officers and emergency services to the scene. You'll need to provide the dispatcher with the following information:
Where the accident happened
Who you are
How to contact you
What happened
Be as descriptive and accurate with your information as possible. Make sure to stay on the line until the dispatcher says it's all right to hang up.
If it appears that no one was injured, you must still contact the police if the property damage exceeds $1,000. However, the required amount varies per state. For example, in New Jersey, there must be police at the scene if the property damage exceeds $500. Also, you must contact the police in Illinois if the damage is more than $1,500.
Since it's difficult to calculate the total damage due to the crash, your best option is to call the police. Also, their presence is crucial when the other driver is driving under the influence or without car insurance.
Police officers will talk to everyone involved, including all drivers, passengers, and witnesses. This process will allow them to prepare a police report, which you can use later.
Be Careful With Your Words
But what to do after a car accident that is not your fault? Regardless of whether you have contributed to the unfortunate event, you should always be careful of your words.
You may have strong emotions, especially after the accident, but impulsively talking can hurt your case. For instance, when you say, "I'm sorry this happened," the other driver or the police officer may conclude that you were the one at fault.
Your assertions can also be misunderstood during court proceedings. For example, when you say, "I didn't see the other vehicle," the other party may successfully convince the jury that the accident was due to your negligence.
Get Necessary Information From Involved Drivers or Owners
Since you do not know the other drivers personally, you should get their personal information, including:
Full name
Contact details
Driver's license number
License plate number
Car insurance details, including the company and policy number
However, if the driver of the car and its owner are different persons, you should also get the latter's information. This step allows you or your attorney to contact them, especially if they refuse to cooperate with the investigations.
Obtain Information From Witnesses
Your legal counsel can build a strong case for compensation if you can present credible witness testimony. Hence, aside from collecting other drivers' information, you should also get the following from eyewitnesses:
Full name
Home address
Mobile or telephone number
You may be in an unfamiliar place when an accident happens, which means you wouldn't know anyone in that area. But it's important to reach out and obtain witness information, so you can contact them later to substantiate your personal injury claim.
Their statements may strengthen your case, allowing you to get compensation for the injuries and property damage.
Take Pictures of the Scene
You can also gather evidence by taking photos of the scene. Take note of the vehicle's details, such as the make, model, year, and plate number. You should also document the car's color, dents, and bumper stickers.
Take photos of the auto's condition, including any damage to the surroundings and skid marks on the road. It will allow you to counter false claims if there are any.
Once you capture photographs of the scene, you may notice surveillance cameras, which can help your future case. You can request access to the footage, so your lawyer can present an objective report of the incident.
Organize Your Evidence
Typically, after a car accident that is not your fault, you will decide whether to file a case and an insurance claim. But before you can file such cases, you must strengthen your arguments.
Note the specifics of the accident, such as the location, time, and date. You should also remember the direction you were driving and what the other driver was doing at the time of the incident.
You should also compile the other drivers' and witnesses' information and the pictures you took. This way, you won't miss any vital evidence, which can hurt your case. You would want to prepare everything you need for trial or settlement in advance.
Communicate With Your Insurance Company
Notify the insurance company immediately to prevent jeopardizing your coverage. Insurance companies usually have a dedicated hotline number for their clients. You can also call your insurance agent, who will act as a messenger and inform the insurer regarding the incident.
Take note that reporting the accident does not equate to filing a claim. You may need a lawyer to ensure the best possible outcome regarding your claim.
After submitting the required documents, the insurer should approve or deny your claim within 15 days. The company may extend it up to 45 days, provided there is a valid reason.
In the event that the insurance company is not responsive, you can contact the Federal Insurance Office (FIO) for assistance.
Inform the Department of Motor Vehicles (DMV)
Each state has varying criteria regarding what they expect from your DMV report. For example, in Oregon, you must report within 30 days if the damage to the person and property is more than $2,500 or if anyone is injured or killed.
On the other hand, California has a lower requirement of $1,000 worth of damage to persons and property. The DMV in California requires involved persons to file the report within ten days. Hence, it would help if you took note of your state's requirements to file a DMV report properly.
Talk to a Lawyer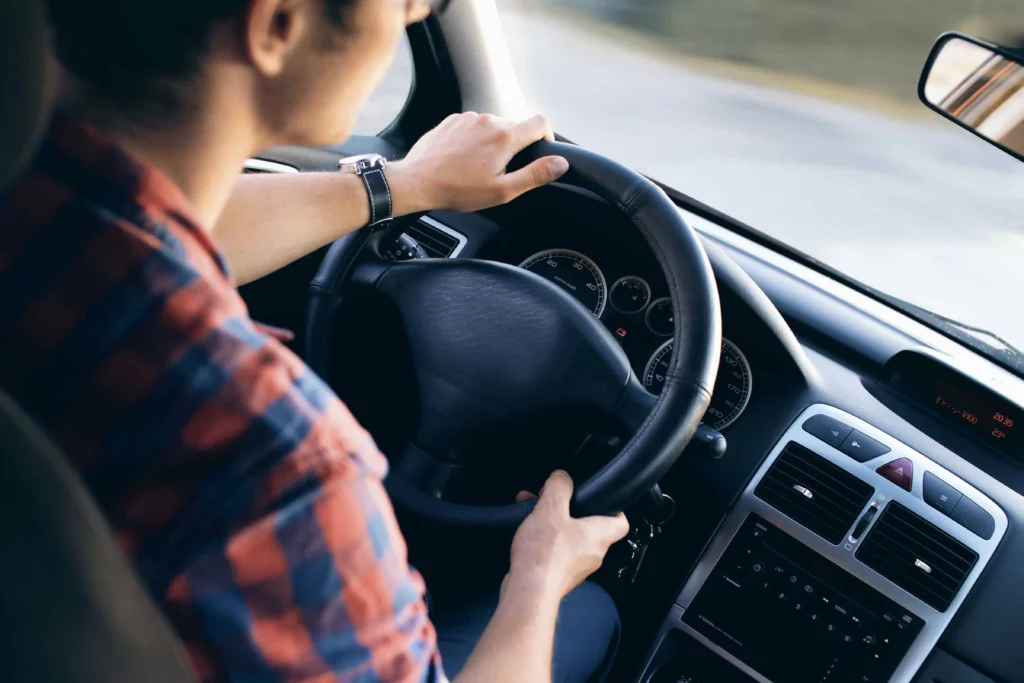 Book a consultation with a lawyer if you were involved in a vehicle crash resulting in serious injuries or property damage.
The other driver's attorney or insurance company may ask you to sign documents. Make sure not to sign anything from them without speaking with an attorney first to protect your rights.
If you have specific questions related to being hit by a car or vehicle that weren't covered here, it's always best to consult with an experienced attorney that can guide you in the best next steps to take. Call (800) 310-1606!
We Can Help!
At Adamson Ahdoot, you can trust that the best motor vehicle accident lawyers handle your case. Our law firm offers the intimacy and attention to detail of a smaller firm with the resources and expertise of a larger one.
Our team is committed to putting people first. Hence, we are proud to serve a diverse clientele with their car accident cases, and we offer free consultations available in both English and Spanish.
As the period following an accident is a difficult time for you, we promise that the lawyer you meet during your free consultation will be compassionate to your situation. We'll listen and aim to be approachable in all our dealings, so please feel free to ask questions at any time.
At Adamson Ahdoot, we walk the line between aggressive advocacy and unwavering support for all of our clients. We're a full-service civil litigation firm with over 100 years of combined legal experience handling personal injury cases.
Call us at (800) 310-1606 today to schedule your free consultation with a premier injury attorney.
Client-First Approach
Above all else, our clients come first. We go above and beyond to obtain the highest level of compensation possible.
Meet Our Attorneys
Multi-Focus Law Firm
Adamson Ahdoot has successfully executed a plethora of personal injury cases.
Cases We Handle
Get in touch with our firm
Our team can better advise you on your legal options once we receive any available evidence about the incident.
Take Action Now