Six people rescued after shopping mall roof collapses
A mall storefront collapsed violently in Temple City in May. Due to the quick action of firefighters, no one was hurt.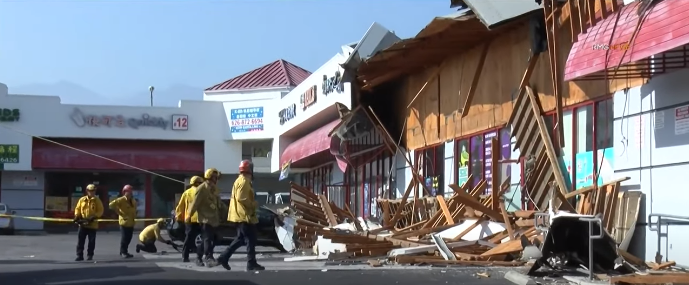 Emergency services were able to access the two affected businesses and safely extricate the six individuals who were inside behind a wall of debris. Both businesses lacked a back door.
Theressa Nguyen, the owner of Beauty of Color Salon, is still in shock after the incident. "The noise was very loud," she said nervously after explaining the tense moments inside.
Sparkle Cleaners Owner Annie Sakulvisit shared through tears how she was trapped in her business. "It felt like an earthquake. I couldn't get out," Sakulvisit cried in anguish.
However, the incident could have been much more tragic.
In the video obtained from the recording of a nearby business, one person was walking near the façade before the brutal collapse.
Witnesses present at the time of the accident corroborated the violent rumbling. "It felt like an earthquake, I started hearing squeaky noises, and all of a sudden the roof collapsed," explained Justin Han, who was inside the business for a haircut. "We were walking inside to find a place to hide. Luckily, everyone was safe."
The powerful collapse of the façade also damaged two vehicles parked in front of the building.
The exact reasons for the collapse, however, have not yet been clarified. Expert construction engineers will be on-site in the next few days to investigate the incident and begin repairs.
City inspectors on the scene confirmed that the structure is now red-tagged, which means the building is not safe for the public to enter.
6 trapped after façade of #TempleCity strip mall collapses: #LACoFD

A collapsed façade at a commercial building in Temple City trapped six people inside two businesses, according to the #LosAngeles County Fire Department.#US pic.twitter.com/xXDrw12jwK

— BroidNewsTV (@BroidNewsTV) May 26, 2022
These kinds of accidents can cause personal injury or financial loss that can impact negatively on our lives. The attorneys at Adamson Ahdoot have handled all types of premises liability and negligence claims, getting millions for our clients in the process.
Do not let those responsible for your injuries get off scot-free.
If you have also been involved in a similar accident or have been the victim of negligent behavior, contact our team at Adamson Ahdoot today for a free consultation. Our successful attorneys with offices in California have distinguished themselves with their legal expertise and will help you regain the peace of mind and maximum compensation you deserve.
Let us help you! Call (800) 310-1606 today!
Client-First Approach
Above all else, our clients come first. We go above and beyond to obtain the highest level of compensation possible.
Meet Our Attorneys
Multi-Focus Law Firm
Adamson Ahdoot has successfully executed a plethora of personal injury cases.
Cases We Handle
Get in touch with our firm
Our team can better advise you on your legal options once we receive any available evidence about the incident.
Take Action Now