How to Keep Your Pet Safe While Traveling by Car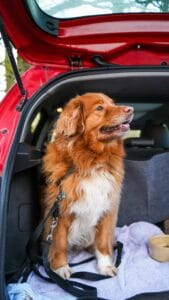 When you travel with your pet by car, it's important to keep you and your furry friend safe. Statistics from the Automobile Club of Southern California (AAA) reveal approximately 55% of Americans transport their pet in the car more than once a month. What may surprise you, however, is less than 16% of drivers secure or restrain their pets while traveling in the car. 
Keeping your pet restrained or secured in the car is not only the safest way for your pet to travel, it also reduces the likelihood of you being distracted while driving. According to the AAA, approximately 30% of drivers admitted to being distracted by their pets while driving. It's no secret that distracted driving is one of the most common causes of automobile accidents in the nation. 
Experts agree the safest way to transport your pet is in a crate. Pet crates not only provide a barrier between your pet and the car, they keep your furry friend contained in one place. Some crates are designed with added impact protection, but no matter what type of crate you choose, make sure your pet has enough room to move around comfortably. It's also important to select a crate with proper ventilation. 
Other restraint options for your pet include a dog harness, seat-belt tether or leash zip line. Many pet owners are also using dog booster seats and dog barriers while traveling with their dog, cat or animal. Barriers are ideal for keeping larger dogs confined to the back seat and doggie booster seats are better for smaller animals like chihuahuas or cats. 
Regardless of whether you choose to restrain your pet or not, it's important to remember:
Keep your pet's heads and paws inside the vehicle while it's moving
Make sure your pet is wearing a collar with a current ID tag

 

Use the child lock feature on your car doors and keep your windows locked to prevent your pet from accidentally opening a door or window

 

Don't let your pet ride in the bed of a truck

 

Don't let your pet ride in the front seat (airbags can kill a dog or cat)
Never leave your pet unattended in a vehicle, especially during the warm summer months

 
As animal lovers ourselves, we can't bear to think of you or your furry friend getting hurt while traveling by car! When the unexpected happens, however, secure quality legal representation immediately following the accident. At Adamson Ahdoot LLP, our Los Angeles personal injury attorneys have more than 30 years combined legal experience. To learn how we can help after being injured in an accident, submit a contact form right now. 
Client-First Approach
Above all else, our clients come first. We go above and beyond to obtain the highest level of compensation possible.
Meet Our Attorneys
Multi-Focus Law Firm
Adamsom Ahdoot has successfully executed a plethora of personal injury cases.
Cases We Handle
Get in touch with our firm
Our team can better advise you on your legal options once we receive any available evidence about the incident.
Take Action Now