How Dangerous Are Los Angeles Highways and Roads?
States with a high population and a hectic pace of life tend to have an elevated rate of motor vehicle collisions. Dozens of studies and research conducted every year confirm this. And, typically, the more crashes, the more deaths. But, what makes states like California have the highest percentage of traffic fatalities in the country? Why are there so many dangerous highways in Los Angeles? Is it safe to drive on the roads?
There are many factors that make the Golden State the deadliest in the nation. However, the density of cars on the roads and poor driving make its roads among the most hazardous. According to a recent analysis, California drivers are the second worst in the country.
Of the 50 most dangerous places to drive, California has eight cities on the list: Bakersfield, Sacramento, Fresno, Oakland, Los Angeles, Long Beach, San Diego, and San Jose. However, when it comes to the worst cities to drive in, Los Angeles takes the top spot. Not only do its citizens have to endure long hours of traffic jams due to the concentration of cars, but they are also at a higher risk of getting into an accident. Nationally, Los Angeles is the sixth most likely city to be involved in an automobile collision. LA also has the highest rate of motor vehicle incidents resulting in injuries and fatalities.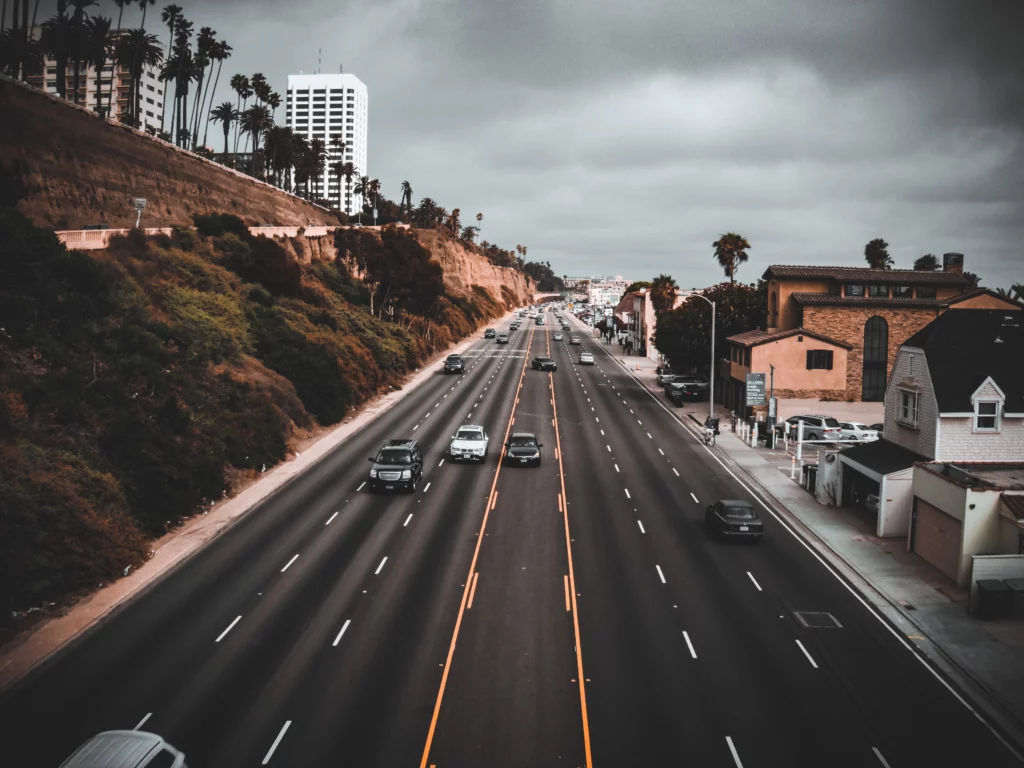 Why are There so Many Car Crashes in Los Angeles?
In 2022, California had an estimated 216,366 traffic crashes resulting in 3,854 fatalities and more than 165,000 injuries. Of these, Los Angeles had the highest number of incidents, with 36,566 resulting in 312 fatalities and nearly 20,000 injuries. This is a 20-year high and a 29% increase compared to 2020.
Los Angeles, unlike other urban centers in the country, was built in a large area spanning many miles. Because it is so inaccessible by foot, motor vehicles are the most common way to travel long distances. When you combine the vast expanse of LA with the number of people who live in it, you have one busy city. The fastest way to shorten the time on the road is on the freeways where, logically, many crashes occur.
The accident records on high-speed roads scare citizens considerably. In fact, speeding is one of the reasons why highways are so dangerous in Los Angeles. In 2022, driving too fast was to blame for 17% of all accidents. This, coupled with rush hour traffic jams as well as distracted and irresponsible driving by many drivers, results in an excessively high fatality and injury rate that affects many residents.
In addition, we cannot forget that drunk driving also negatively influences the number of crashes. Although alcohol-impaired collisions account for only 4% of all accidents, their consequences are devastating: 25% of all crashes result in fatalities.
The Most Dangerous Highways in Los Angeles
A study published by Crosstown Neighborhood revealed the most dangerous highways in Los Angeles to drive on.
I-110. The northern section, which runs through San Pedro and US Highway 101, is considered the riskiest for drivers. It has an average of 162.8 accidents per mile. Known as Harbor Freeway, it is the first freeway on the West Coast and one of the city's major roadways. It connects to many major tourist destinations, such as the Walt Disney Concert Hall or the Los Angeles Convention Center. I-110S averages 122.2 accidents per mile.
I-405. The route from the 110 Freeway to the 10 Freeway has a distance of 16 miles and a disturbing average: 154.5 accidents per mile. Despite being a small road, with a total of 73 miles, it is traveled by some 380,000 vehicles daily. According to the U.S. Department of Transportation, it is the busiest interstate in the country.
I-5. As the third most dangerous highway in the country, I-5 connects the counties of Los Angeles, Sacramento, and San Diego. It is a wide highway ideal for trucks, which have to coexist with smaller cars. There are 138.6 accidents per mile on I-5S and 125.6 accidents on I-5N. Overall, it sees an average of 180 fatalities each year.
I-10. The route from Santa Monica to downtown Los Angeles, totaling 17 miles, is the fourth most dangerous in the city. Its numerous short-distance exits force drivers to quickly change lanes at high speeds.
Other Freeways with Potential Accident Risk
Interstate 15 (I-15) is an important route because it connects several states and runs for nearly 1,500 miles. Because of its size and accident history, it is the sixth most dangerous highway in the United States. There are an estimated 11.02 fatalities per 100 miles.
Interstate 80 (I-80) is the ninth deadliest of all highways. In 2019 alone, 209 people were killed. With a total length of nearly 2,900 miles, it is estimated that there are 7.21 fatalities per 100 miles.
LA's Most Unsafe Intersections and Roadways
Beyond Los Angeles freeways, the city also has another problem regarding its crowded streets and intersections. Filled with vehicles, bicycles, and pedestrians, the chances of getting hit by a car are high. The most recent 2017 data points out that the most dangerous roads in Los Angeles are:
Sierra Highway. With 11 fatalities, it has a length of 3.51 miles, with an average of 2.84 fatal impacts per mile.
Route 118. This deteriorated infrastructure carries a high volume of traffic. With 10 fatalities during 2017, it has a length of 10 miles and an average of 9.87 deaths/mile.
State Route 1. This short 7.16-mile roadway represents a fatal rate per hit of 0.83 per mile. Despite its short distance, many crashes occur because it parallels the Pacific coast, increasing driver distraction.
Route 101. It is the main freeway leading from south LA to the north of the country. As it passes through different cities, drivers do not pay attention to traffic laws and continue driving, ignoring speed and potential bicyclists.
When it comes to intersections, there are several high-risk spots that have claimed thousands of lives in recent years. According to Crosstown LA, investigators point to distracted driving as a determining factor in these incidents. LAPD collision data shows the following intersections as the highest risk:
Highland Avenue and Hollywood Boulevard, Hollywood
San Pedro Street and Washington Boulevard, South Los Angeles
Florence Avenue and Vermont Avenue, South Los Angeles
Oxnard Street and Van Nuys Boulevard, Van Nuys
Sherman Way and Sepulveda Boulevard, Van Nuys
What is the Most Common Type of Car Accident on Los Angeles Roads and Highways?
You never know when you will have a collision or how severe it will be. However, you can avoid certain behaviors on the road to avoid them from happening. Although prevention saves lives, our compilation of automobile incidents in recent years indicates that there are three types of accidents that occur most often:
Rear-end collisions. Generally caused by drowsy, drunk, or distracted driving. Drivers fail to leave enough space between the vehicle in front and, when they react, they do not have sufficient time to brake. In some cases, they do not even have time to react, resulting in a very violent impact that can cause serious back injuries.
Head-on collisions. Although they are less frequent, they are the most serious accidents of all. There are many factors that can cause two cars to collide head-on, with distraction or the influence of alcohol being the most common ones. In a head-on collision between two vehicles traveling forward, the force of the impact is multiplied. And, consequently, there is a higher risk of a fatal accident.
Side impact or T-bone accidents. This happens when one vehicle hits another on the side or side, forming a T-bone. This is especially prevalent in cities like Los Angeles, where drivers drive impatiently and sometimes tend to run a red light, hitting the other car as it passes through the intersection.
Primary Causes of Accidents on the Most Dangerous Highways in Los Angeles
According to official data, there are several triggers causing collisions on dangerous residential roads and freeways in Los Angeles. Streets Are for Everyone (SAFE) has shared a report showing records for 2021. One of the most curious facts is the alarming increase in pedestrian and cyclist fatalities: they are up by as much as 20% and 18% over the previous year.
The official list of determinant causes of crashes in Los Angeles is as follows:
Unsafe speed
Improper and illegal turns
Driving under the influence of alcohol or drugs
Failure to yield the right-of-way
Ignoring traffic signs and signals
Changing lanes in a reckless and unsafe manner
Pedestrians violation
Pedestrians right-of-way
All of the above causes can be affected by other secondary reasons that contribute to crashes. For example, rush hour traffic congestion can make driving distracted or more reckless. Another reason may be poor pavement conditions. Roads such as California's freeways are in need of maintenance to avoid putting the health of citizens at risk. Also, adverse weather conditions and fatigued or drowsy driving can also be triggers for an accident.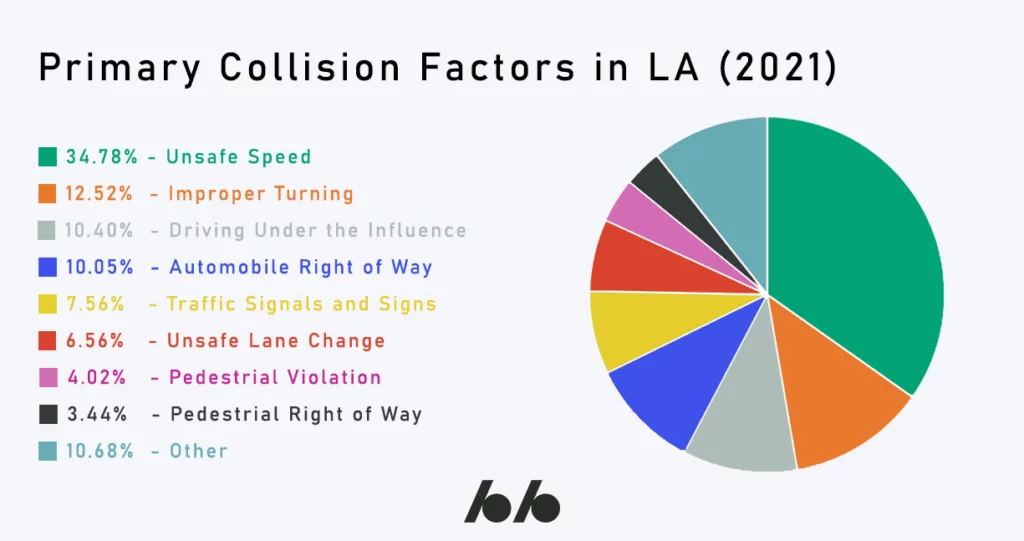 Tips for Crashes on Dangerous Highways and Freeways in Los Angeles
When you experience an accident firsthand, it's normal to feel nervous and stressed. Especially if it's the first time you've been hit on a freeway or multi-lane road. Crashing on a residential street is a much smoother process than colliding on the freeway. In addition, the risks of serious injury are greater when traveling at higher speeds.
If you ever find yourself in such a situation, Adamson Ahdoot recommends that you stay calm. The first thing to do is to check for injuries. Whether they are minor or life-threatening, we suggest you call 911. Even if nothing hurts. If you later develop delayed pain, you will be able to prove in your claim that you have an injury report from the accident.
Once you have contacted medical services, you should call the police. The officers will assess the situation and provide you with a police report that will be useful for your future claim against the person responsible for the accident.
If you are in good condition, exchange personal and insurance documents with the other driver. But, remember, don't over speak or assume responsibility. Doing so could work against you if you want to file a lawsuit.
Once you have all the documentation, try to take photos and talk to witnesses. Basically, you should gather as much evidence as possible to make a strong case for injury.
Finally, and most importantly, call an experienced car accident attorney to make sure you receive compensation commensurate with your injuries.
We Have Experience Helping Car Accident Victims
For more than a decade, Adamson Ahdoot and their attorneys have helped thousands of clients win car accident personal injury cases. Due to the high number of collisions that occur in California, our team of specialists today brings together a wealth of knowledge and skills. With more than 100 years of combined legal experience, we are one of the most prestigious law firms in the state.
If you or a family member has been struck or injured in an automobile collision, do not hesitate to contact us. Our attorneys will guide you along the way to obtaining fair and satisfactory compensation. We will help you gather everything you need to bring the responsible party to justice.
Want to tell us about your case? Call (800) 310-1606 for a free consultation and to discuss your potential legal options.
Client-First Approach
Above all else, our clients come first. We go above and beyond to obtain the highest level of compensation possible.
Meet Our Attorneys
Multi-Focus Law Firm
Adamsom Ahdoot has successfully executed a plethora of personal injury cases.
Cases We Handle
Get in touch with our firm
Our team can better advise you on your legal options once we receive any available evidence about the incident.
Take Action Now