CHP Asks for Help in Identifying a Hit-and-Run Driver Who Struck a Child
Police hope the community will help find the SUV driver that hit a 6-year-old boy while he was on his way to karate class
In a tragic hit-and-run accident, a 6-year-old boy was struck by an unknown vehicle in late October. Incredibly, the suspect is still at large. The California Highway Patrol is hoping the public can assist in identifying the hit-and-run driver that hurt the child.
According to police, the vehicle hit the child at around 5:30 p.m. on October 25. Witnesses present explained the driver of a white pickup truck failed to stop and turned onto Castro Valley Boulevard onto Nunes Avenue.
"The kid was left in the street injured. The driver didn't seem to care to stop and check on his welfare," said Daniel Jacowitz, CHP public information officer.
Jacowitz stated that the boy was with his mom and brother as they were going to a karate class. Parents right outside the studio immediately hurried to help him after the accident.
Concerns About Driver's Innocence
A surveillance camera from a Jack in the Box across the street was able to record the moment of the accident. According to the images, after the SUV impacted the child, it slowed down for a few seconds before leaving the scene. Despite the visual evidence, Jacowitz said the video was too blurry.
"It indicates to us that the driver may have been aware that they struck something. They either felt something hit their car, or they had that moment of curiosity. That doesn't necessarily prove intent, but it shows that there was some type of thought behind actions," stated Jacowitz.
Parents were rightfully stunned to see a child hit right in front of T-Kane Karate. "I can't imagine it. And we live just on the next corner, so they went right by my house. That's even scarier," declared parent Jim Macintire.
The boy recovered well and was eventually released after being rushed to the hospital with severe injuries. He was downgraded to moderate condition before leaving the hospital.
CHP is urging the driver to come forward. "If you are involved in a crash, it makes things so much easier if you just stop, take responsibility for your actions, and come forward and work with the police. If you leave the scene of a crash, whether it's a minor injury or a major injury, it constitutes a felony," noted Jacowitz.
Police reported the vehicle surely has front-end damage on the right-hand side. Investigators believe it is a white mid-size SUV, likely a Ford or Nissan. If you think you may have details that will help in identifying the hit-and-run driver who struck the 6-year-old boy, contact the police today.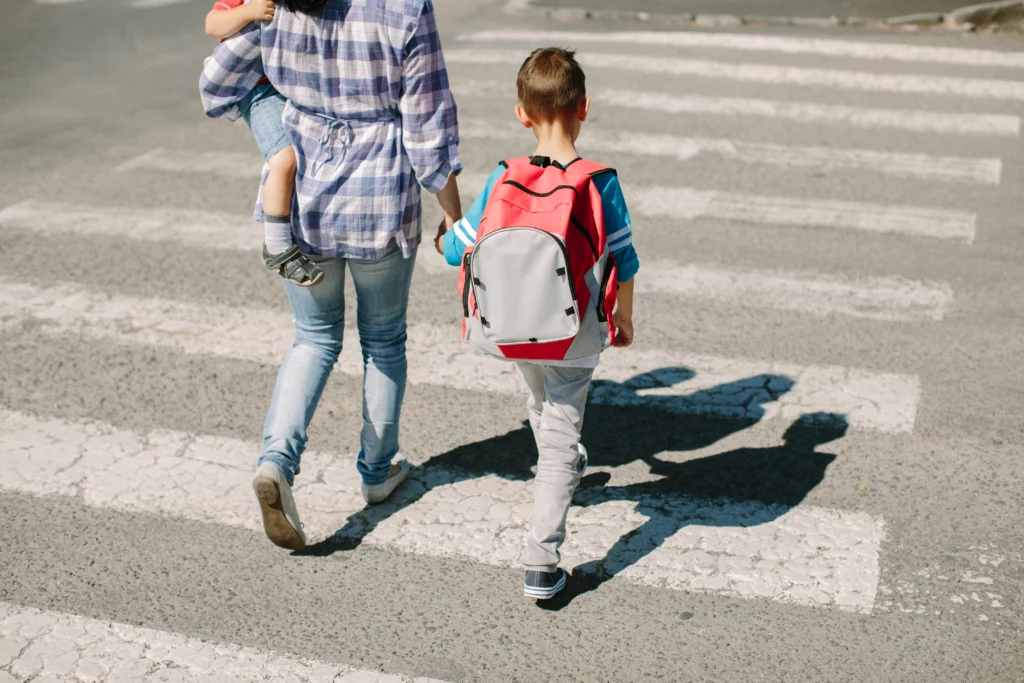 Was Your Child Hit By a Car? Let Us Help
Seeing our child suffer a car accident is certainly one of the hardest moments as a parent. This is even worse if the person responsible cannot be identified. Not only do you have to deal with your child's suffering and pain, but you have to pay for all the medical expenses that the accident entails. Help from the police, friends, and family is vital in these cases – such as the case where police asked the community for help in identifying a hit-and-run driver.
Our team of attorneys, in addition to being litigation experts, also have children, so they understand the pain that many clients go through. Putting you first is our goal: we want you to get the financial reward and peace of mind you deserve. To that end, we will put every resource we have at our disposal to win your case.
With over 100 years of combined legal experience, Adamson Ahdoot is one of the top-rated law firms in California. Based in Los Angeles, our award-winning personal injury law firm has offices throughout the state.
Interested in our services? Want to learn more about your case? Call (800) 310-1606 to schedule a consultation in either English or Spanish. The first appointment is completely free and without obligation.
Client-First Approach
Above all else, our clients come first. We go above and beyond to obtain the highest level of compensation possible.
Meet Our Attorneys
Multi-Focus Law Firm
Adamson Ahdoot has successfully executed a plethora of personal injury cases.
Cases We Handle
Get in touch with our firm
Our team can better advise you on your legal options once we receive any available evidence about the incident.
Take Action Now