Can I File a Personal Injury Claim Against a State or Federal Employee?
Being the victim of a personal injury accident can be a tragic experience. However, it could be even worse if the culprit was a government or state employee. This would be because of the difficulties of the criminal procedure in prosecuting public charges. Still, with proper legal representation, it should be a simpler process. Due to the high number of government workers, suffering negligence that causes us to file a personal injury claim against a state or federal employee does not seem like a rare event.
Currently, there are about 20 million people working in the public sector in the United States. In other words, approximately 15% of the country's workforce is in federal, state, or local jobs. Local governments, with 14 million employees, and state governments, with more than 5.5 million, hold the majority of jobs.
Among the services with the most public workers, education is the sector with the most employees, with more than 11 million. This is followed by health services and public safety.
Considering the number of people working in the public sector, it is normal that some situations of personal injury may occur. Hospitals, schools, and police officers, among others, coexist with citizens on a daily basis. How many of them can commit negligent acts or misconduct that can physically or psychologically injure the people with whom they interact?
Read on in this post if you want more information on how to sue a municipality, the state of California, or the federal government.

Can I sue the State or Federal Government?
The answer is clear, yes. Generally, a personal injury claim can be brought against the government. This includes any negligence or misconduct caused by either a federal agency or a public employee. Because there are different limitations and procedures for bringing a state or federal lawsuit, it is advisable to have some basic knowledge. In addition, you should have the assistance of a legal representative throughout the process.
What is the Federal Tort Claims Act (FTCA)?
The first thing to do when considering reporting a public employee is to understand the Federal Tort Claims Act. Although it is not necessary to learn all the details, it is important to know what it means. Interestingly, until Congress enacted the law around the middle of the twenty century, no citizen could sue the government, no matter how right they were. At that time, the federal government was considered infallible: it always won.
Passed in 1946, this law is the legal basis that allows citizens to sue a public employee or entity. This includes any individual employed in federal, state, or local government, to public agencies.
While this law can be filed by any individual, legal counsel is advised. With the help of an experienced attorney, the chances of winning the case and, consequently, obtaining a high financial award are greatly increased.
However, it is not only necessary to know what the FTCA is. It is recommended to be aware of the notice requirements, time limitations, and other legal procedures involved in the process. Having the services of an experienced lawyer in a personal injury involving public workers would allow you to resolve these questions quickly.
How Long Do I Have To File A Personal Injury Claim In California?
Before pursuing a personal injury claim against a state agent or federal entity, a notice or administrative claim is required to be submitted. Although it is advised that the notice needs to be filed as soon as possible, the time frame is quite extensive. However, this varies depending on where you reside. In California, as in most states, the time frame for sending this notice is two years from the date of the negligence.
What is the purpose of this notice of claim? Its objective is to announce to government officials about injuries caused by a public office or agency. The notice of claim relies on Standard Form 95 (SF95), which is normally completed by an attorney. It must specifically detail what you wish to sue for and the damages suffered. It also states the compensation you are seeking, as well as other information related to the accident. These specifics will help the government investigate the incident further.
From the time the claim is filed, the government has six months to review it and provide a response. During this time, the administration may offer a financial settlement to the claimant. If no settlement is reached or no response has been obtained, a lawsuit can be filed in federal court. Normally, there is another six months to file the formal complaint. This, however, depends on the state where you live.
Cases Where You Can Sue for Personal Injury to a State or Federal Employee
In cases of accidents in the workplace, the employer or company is usually liable. In the case of incidents within a public work environment, the state is responsible.
However, if an individual holding a public job leaves his or her workspace, or is not performing his or her duties within his or her schedule, the state would not be liable. The charge would be for a private individual. For example, if a public employee has a car accident while going to lunch, the state could not be accused, but rather the individual. Nevertheless, each case is different and has to be reviewed in detail.
Most Recent Economic Settlements Following Complaints to Public Employees in California
Last November, several large settlements were issued for allegations of negligence by public workers. Los Angeles County paid $47 million for five cases of misconduct by sheriff's deputies.
Timothy Neal, $16.5M. A police officer shot him in the back, leaving him paralyzed. Neal was suffering from a bout of schizophrenia.
Eric Briceño, $16.25M. The family alleges misconduct by a group of police officers, who beat and shot Briceño with a Taser, causing his death. The victim was in the midst of a mental breakdown.
Andres Guardado, $8M. A sheriff's deputy shot an 18-year-old in the back. Guardado was on his knees, hands on the ground when the accident occurred.
Pedro Lopez, $5M. A group of police officers opened fire on a burglar in a Norwalk neighborhood. One of the shots hit Pedro Lopez, who was in his front yard.
Rufino Paredes, $1.9M. Paredes committed suicide while in custody at the police station. The police officers arrested him while he was suffering a mental breakdown.
Although the most famous lawsuit cases usually have a police officer as the protagonist, there are many other imputable situations. Below are some of the most common cases in which a state or federal employee or government entity can be sued for personal injury.
Car Accidents due to Negligence
Suffering a car accident often results in negative health consequences. While most car collisions occur between citizens, many are also caused by government workers. The aftermath in the form of personal injuries can be moderate, and severe, but can also lead to death.
Among all possible incidents, car accidents caused by a government employee are one of the easiest cases to win. Especially crashes caused by emergency vehicles. Emergency vehicles, driving in a hurry to get to their destination through intersections or on busy roads, are more prone to crashes. However, you must prove that the person responsible for such a vehicle was clearly negligent. For example, failing to have sirens on or driving without lights.
The government vehicles most often involved in accidents are:
Fire trucks
Ambulances
Police patrols
Military or agency vehicles such as the FBI or DEA
U.S. Postal Service mail transport trucks
City bus
Misconduct
Misconduct is one of the most frequent cases when reporting a state or federal worker for personal injury. Within misconduct, there are many types of negligence involved. This can include discrimination, racism, verbal abuse, abuse of power, or physical aggression, among many others.
According to data provided by the government, the number of federal employees who are sued for misconduct is low. Approximately less than 1% of the total workforce engages in misconduct. That implies almost 17,000 employees. Based on the most recent 2016 report, that year federal agencies conducted 10,249 suspensions, 7,411 removals, and 114 demotions for misconduct.
Depending on the nature of the misconduct, a federal, local, or state agency may apply a range of disciplinary measures. Normally, a notice is given before disciplinary procedures are applied. Fines or penalties can range from letters of reprimand, 14-day suspensions, withholding of pay, or outright removal.
There are many examples of public employees in California who commit misconduct offenses that are brought to justice. In the last few years, we have seen a prison officer sending nude photos to a fellow officer, officers lying about police reports, complaints to a San Jose police officer or code of conduct inspector for misconduct, abuse of power by an AUSA prosecutor, etc.
Sexual Harassment/ Sexual Abuse
Within misconduct, sexual harassment is one of the most prevalent behaviors. Litigation by individuals alleging some form of sexual misconduct tends to occur more in certain types of public jobs. One of the most notorious cases involved Leslie Tucker, an employee of the United States Postal Service (USPS). At the beginning of the century, Tucker was arrested for multiple allegations of sexual misconduct while on his route as a postal worker.
Pain and Suffering
This type of damage usually comes as a result of serious injury or death. The anguish and grief that some accidents can cause may affect the victim or family for life.
However, these types of claims are a little more complicated to file. These are injuries that cannot be measured, as there are no medical reports to prove the psychological pain caused. But, based on different supporting documents that justify the emotional anxiety, a lawyer can calculate approximately future compensation.
Some examples of personal injury claims against a public employee for pain and suffering are physical pain due to the rehabilitation process, psychological trauma or crisis resulting from the accident, emotional deterioration due to the injuries resulting in a decrease in quality of life, negative impact of the accident on personal relationships, etc.
Property Damage
In addition to being able to sue for personal injuries, it is also possible to sue for property damage. If a public official, during his/her workday, performs a negligent act that destroys or damages any property, the victim has the right to make a claim.
According to the State of California, legal action may be brought against anyone working for the government who destroys or damages another person's assets, diminishing their economic value.
Depending on the conduct employed, the severity of the damage caused and the location, settlement may vary. The higher the damage, the higher the compensation.
But, in which cases can you sue? In all those where the action or inaction of a public employee or entity has caused negligence that adversely affects your property or assets. Ranging from an ambulance colliding with a citizen vehicle, to vehicular impacts of postal workers to a house, possible fires caused in a negligent manner, invasions and deterioration of property, or even if an employee spoils electric or telephone supply lines.
Poor Condition of the Public Environment
The state is also liable for any personal injuries that occur in public places. This is also known as Premises Liability. These cases cover situations where the state has failed to take proper and/or reasonable care of the conditions of the space. Therefore, as a result of an unsafe environment, a negligent accident with injuries has occurred. 
Some public places where individuals may suffer personal injuries include:
Post offices
Museums
Public transportation
Courthouses
Public schools
Police station
Hospitals
Parks
Sidewalks
This means that, for example, if you drink water from a public fountain in a park and become ill, you may be able to obtain compensation. Likewise, you can also complain if you trip on the sidewalk because of the poor condition of the pavement.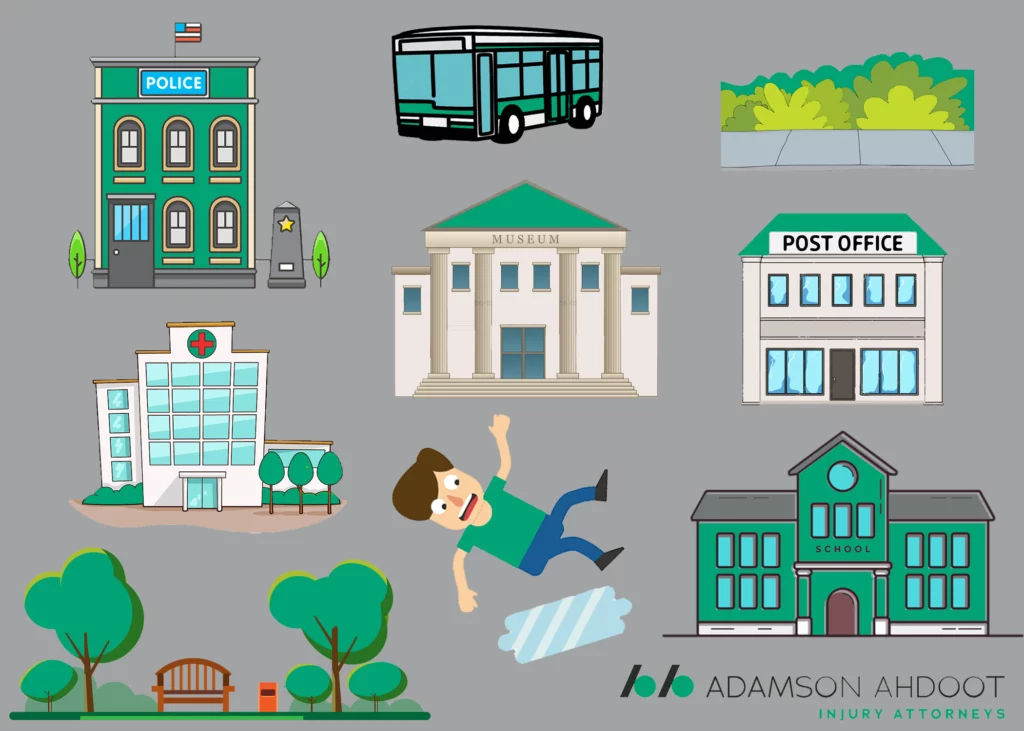 David Ordaz Jr, One of California's Most Notorious Cases in Recent Years
At Adamson Ahdoot, we are very knowledgeable about personal injury claims for state and federal employees. In the wake of the wrongful death of David Ordaz in 2021, our team of attorneys initiated legal action against several Los Angeles Sheriff's deputies. Specifically, for the misconduct of Officer Remin Pineda.
Pineda, along with other officers, responded to an emergency call from the family of Ordaz Jr. The father of three was in the midst of a mental breakdown, and they feared he would take his own life. Despite being aware of the situation, and despite having a psychological team on its way, the sheriff's deputies acted on their own. Police negligence by Pineda and the other deputies led to the death of Ordaz Jr. According to the accusation filed by Adamson Ahdoot, the deputy who killed David Ordaz Jr. acted with excessive force, brutality, and abuse of authority.
In early November, Deputy Pineda was charged with a felony for shooting Ordaz Jr. as many as 12 times when he was already on the ground defenseless, suffering from a mental breakdown. Los Angeles County District Attorney George Gascón charged Pineda with assault with a semi-automatic firearm and assault under the pretense of authority.
In addition, Gascón exposed the abuse of police power by many Los Angeles Sheriff's Department deputies. "Excessive and illegal force at the hands of police erodes public trust. It also creates further divisions between law enforcement and the communities they serve," he stated at a press conference.
How Can Adamson Ahdoot Help Me File a Personal Injury Case Involving a State or Federal Employee?
Generally, government worker claims tend to have the same theories of negligence as other cases. As we learned, the only difficulty with these lawsuits is the legal process. Although it is a slightly more complicated process, if you have the help of experts, you stand a good chance of winning your case. To do so, it is imperative that you seek legal advice from Adams Ahdoot's team of lawyers.
With our legal team on your side, you can make sure you meet all the requirements. Both in terms of notification and deadlines. As well as implementing key strategies to win your case.
But, what do you need to do to get compensation for personal injury due to the negligence of an individual or government entity? Basically, you must prove that the responsible person or agency breached its duty of care. To do this, you will work with your attorney to gather evidence. You will need proof that the negligence took place on state property, or that the negligence occurred during the public employee's working hours. Furthermore, it is necessary to prove that such a breach resulted in the personal injuries claimed.
Essentially, in order to demonstrate that you have been the victim of an accident at the hands of a public official or entity and thus qualify for compensation, you must rely on the 4 elements of negligence.
We, the Adamson Ahdoot team, can ensure that your case will succeed. As we have done for dozens of clients who have sued public employees, the State of California, or the government, we can also help you get the justice and financial compensation you deserve.
Do You Need Legal Help Filing a Lawsuit Against a State Worker? Call Us Today
Filing a personal injury lawsuit against a state or federal employee can seem like a difficult process. Not only in legal terms, but also because of the physical and mental exhaustion that an injury accident can cause. All of this, however, could be much simpler. With the right legal representation, the entire legal process and any needs you might have will be covered.
When seeking the legal services of Adamson Ahdoot, our goal is to provide the client with total satisfaction. We don't just want to bring the guilty party to justice. We want to obtain the largest settlement possible for you. With our attorneys, you won't have to worry about a thing. We will take care of any paperwork and fight for your interests. With over 100 years of combined legal experience, we have extensive experience winning state and federal employee misconduct cases.
If you would like to file a claim against a government official for negligence that resulted in injury, call us today at (800) 310-1606. Contact a member of our team if you would like to learn more about your case. Your first consultation is completely free and with no obligation. Don't speak English? We also have experienced personal injury attorneys who are fluent in Spanish. 
Client-First Approach
Above all else, our clients come first. We go above and beyond to obtain the highest level of compensation possible.
Meet Our Attorneys
Multi-Focus Law Firm
Adamson | Ahdoot has successfully executed a plethora of personal injury cases.
Cases We Handle
Get in touch with our firm
Our team can better advise you on your legal options once we receive any available evidence about the incident.
Take Action Now