Baby Shot by 3-year-old Brother
Police arrest mother for child neglect after a 5-month-old infant was accidentally shot in the hip by brother
Another gun accident took place in early September, this time involving a three-year-old boy and an infant. A baby was shot and wounded after another toddler, her brother, found a gun and accidentally shot her.
The events occurred in Florida, while a 25-year-old mother was watching her three young children. Police confirmed the arrest of the young woman, Paula Marie Concepción Santos, for child neglect with bodily injury.
According to the information provided by the police, the child fired after finding a gun inside the house. The five-month-old infant was rushed to the emergency room for her injuries. The infant underwent surgery last weekend to remove the bullet from her hip. Despite the severity of her injuries, her life is not in danger.
Santos' brother, Pablo Concepción, told the press that his sister does not know how the gun got into the boy's hands.
Police Chief Mary O'Conor reminds people to properly store their weapons, especially if they are taking care of young kids. "Children should not be able to access firearms, and moreover, guns should always be stored in a locked safe with the ammo stored separately," she told reporters.
O'Conor hopes this mishap will serve as a lesson in the future, "While we're incredibly thankful the infant was not fatally injured, this should serve as a reminder to every parent or guardian to immediately go and check that their guns are properly secured."
Guns and Children: The Numbers Are Devastating
According to data shared by Everytown for Gun Safety, there were 126 cases of unintentional shootings by children in the United States in the first half of 2022. Of these, 55 resulted in fatal accidents. The number of children and babies shot and wounded is 78.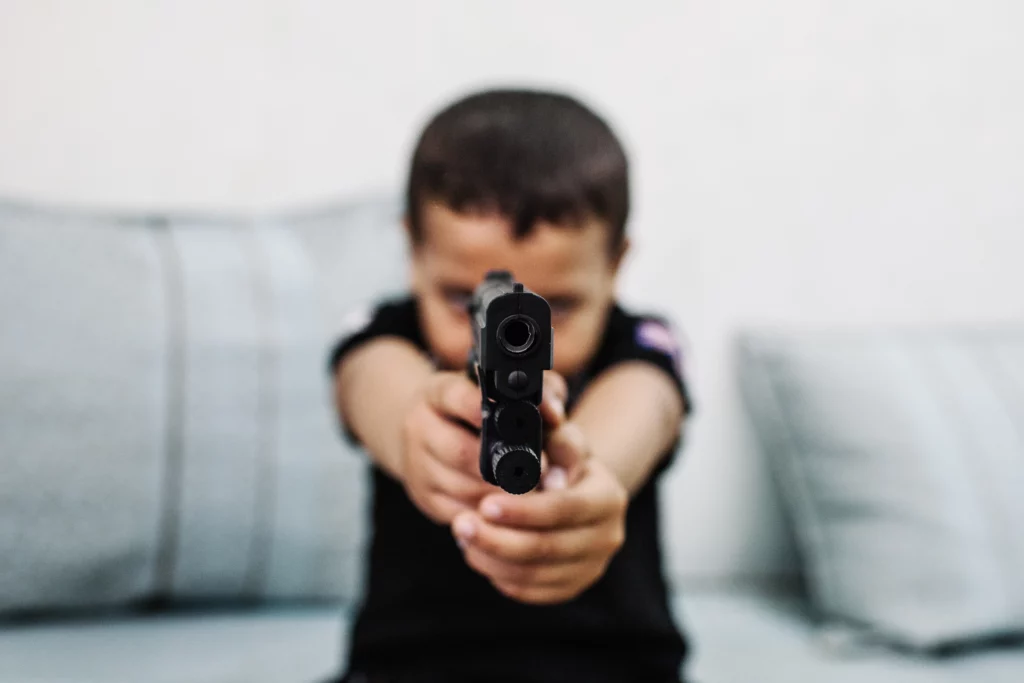 Since then, new cases have continued. An incident that caused a stir was one involving an eight-year-old boy at the end of June. The toddler killed a 3-month-old infant and left another baby wounded while playing with his father's gun. The boy's father had previously left his holstered gun in the closet of the motel where they were staying.
The cause of these tragic deaths, according to the police, seems quite clear: The presence of guns in the company of young children and their easy access.
Injured? We Can Help
If a shooting in California has harmed you or someone in your family, you have the right to report it and get justice. The consequences of gunshot injuries can be devastating, even resulting in death. This is emotionally harder to bear if the incident involves your children.
Do you need experienced legal representation for your case? Count on us. The professionals at Adamson Ahdoot stand out for being the best personal injury lawyers in Los Angeles. Our team has won many gun-related cases. Most recently, a $300k settlement for an accidental gunshot.
Call us at (800) 310-1606 or contact us through our website to schedule an appointment. The first evaluation is completely free.
Client-First Approach
Above all else, our clients come first. We go above and beyond to obtain the highest level of compensation possible.
Meet Our Attorneys
Multi-Focus Law Firm
Adamson Ahdoot has successfully executed a plethora of personal injury cases.
Cases We Handle
Get in touch with our firm
Our team can better advise you on your legal options once we receive any available evidence about the incident.
Take Action Now