Although barefoot driving is legal, in California you could be charged as the responsible party in a negligent accident
During the hottest months of the year, it is common to drive without shoes. However, the same question always comes to mind: Can I drive barefoot without breaking traffic laws? The answer for all U.S. citizens is clear: yes. Although the myth has been forged over time, there is no federal or state law that prohibits you from driving your vehicle shoeless.
However, there are states that do have explicit policies or regulations regarding barefoot driving. In the case of Tennessee, local rules can prohibit such driving. Likewise, Arizona, Arkansas, California, and Nevada indicate that, in the event of an accident, you could be charged with reckless driving.
Although this is a very topical issue, there is not much research on the subject. One of the studies carried out by the European Commissioner for the Automobile Foundation (CEA) on European citizens showed that only 5% of the participants confessed to driving without shoes, proving that most still believe that this is an illegal practice.
However, Jason Heimbaugh was the first person in the United States to have the idea to carry out a study on this topic. He personally got in touch with the motor vehicle departments of each state to receive a definitive response. Although it took some time, he eventually received a response confirming that driving barefoot was permitted.
Since then, many associations and groups have been formed in favor of barefoot living. Society for Barefoot Living and Barefoot Is Legal are among the most important. These associations advocate the right to go barefoot as a more authentic and environmentally sensitive way of life.
You Could be Accused of Accidental Liability in California
Although it has been debunked that barefoot driving is illegal, the truth is that this concept is not entirely wrong. As previously mentioned, getting into an accident without your shoes on in California can be a major inconvenience. Despite being legal, in the event of a collision, a police officer could determine that this was the primary cause that led to the accident.
Specifically, California Vehicle Code section 23103 states that the responsible party shall be any "person who drives a vehicle upon a highway in willful or wanton disregard for the safety of persons or property is guilty of reckless driving."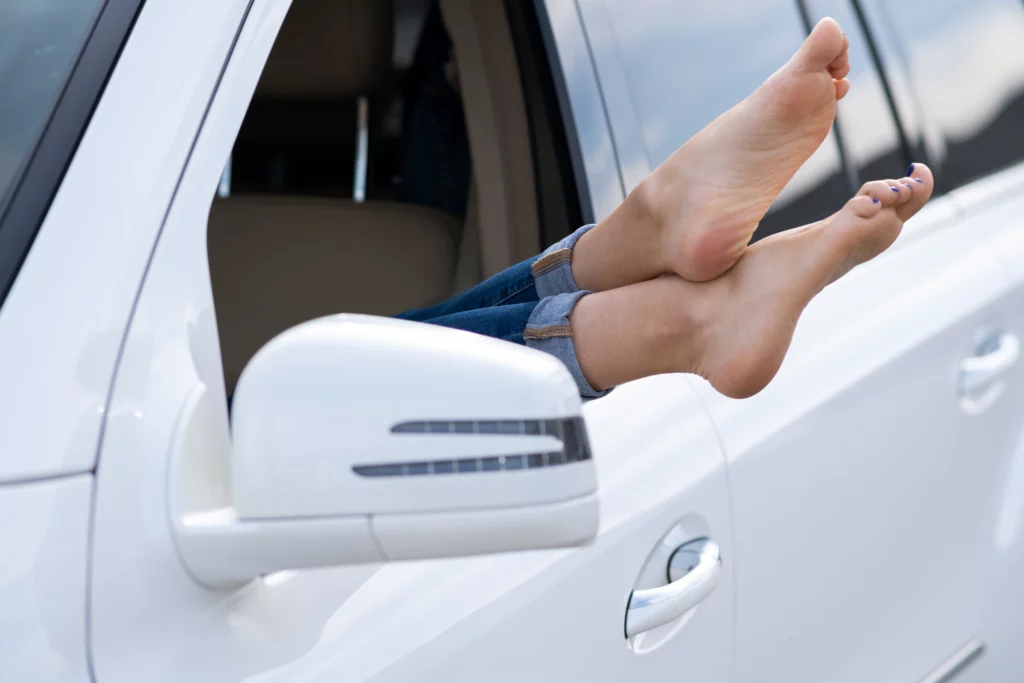 What are the Risks of Barefoot Driving?
Despite the fact that the laws allow barefoot driving, the truth is that this practice could involve unnecessary risks to our health. Driving a vehicle without shoes can negatively affect the way we drive in different ways:
Lack of grip with pedals. Bare feet can slip easier, especially when wet
You don't brake as hard as when you have your shoes on
You are more likely to get injured: accidental pedal strike, pain and fatigue if you have been on the road for a long time, chance of injury from glass or debris, etc.
Increased sensitivity, greater capacity for distraction
The shoes we have taken off could get stuck under the pedals
Possible cramps and spasms due to constant pressure of the foot on the pedal
Wearing Flip-Flops or Heels While Driving is not Safe
Yes, barefoot driving carries a number of risks. However, driving with inappropriate footwear can be even more dangerous. In fact, many states recommend that, before driving in flip-flops or high heels, it is preferable to drive barefoot.
The design and type of shoes may adversely affect driving. This includes everything from the way you step on the pedals to your ability to measure your braking force. It is not the same to drive in heels as in beach flip-flops.
According to a survey conducted in England, the improper use of footwear could be responsible for 1.4 million traffic accidents per year. As many as 60% of those surveyed said they do not drive in the right shoes. Apparently, flip-flops are everyone's favorite choice.
In order to avoid potential traffic accidents and possible injuries, it is recommended to have a pair of appropriate driving shoes in the car. In addition to providing comfort, it will make you feel safer on the road.
We Can Help!
Have you been injured in an accident? Was the other vehicle's driver not wearing proper footwear? Even if these "unintentional" situations' specifics may go overlooked, we must always pay attention to every little detail. A collision with serious consequences could happen as a result of barefoot driving.
If you or someone you care about has been injured or killed in a car accident due to negligence, you can fight for your legal rights today. Adamson Ahdoot can help you get the financial compensation and peace of mind you deserve. Our attorneys, with over 100 years of combined legal experience, have closed cases with very successful settlements. Call us at (800) 310-1606 to schedule a free case evaluation.