Nothing ruins your day quite like a car accident – especially when you aren't at fault and the other driver speeds away before providing their information.
A million questions race through your mind. Your first concern is whether or not you were injured. If not severely injured, you would then examine your car for damage. Depending on the extent of your personal injury and property damage, you could experience serious financial and physical hardship.
The accident may cause you to miss work, make it difficult to care for family members and reduce your quality of life. Even if you're involved in a hit-and-run car accident, you can still file a claim and seek the hit-and-run compensation you may be owed.
What is a Hit-and-Run Accident?
A hit-and-run accident occurs when a driver causes property damage or personal injury/death to another person or their property and then flees the scene.
The Role of "Fault"
In California, only the driver who is "at fault" must pay to fix the damages. This means that the driver who causes the property damage or personal injury must cover expenses due to that damage and resulting bodily harm, lost wages, and emotional distress.
It's also possible that both drivers were partially at fault. In that case, each party is responsible for the amount of damages they caused. For example, the insurance carrier could find you 55% at fault, which means you'll pay 55% of the repairs.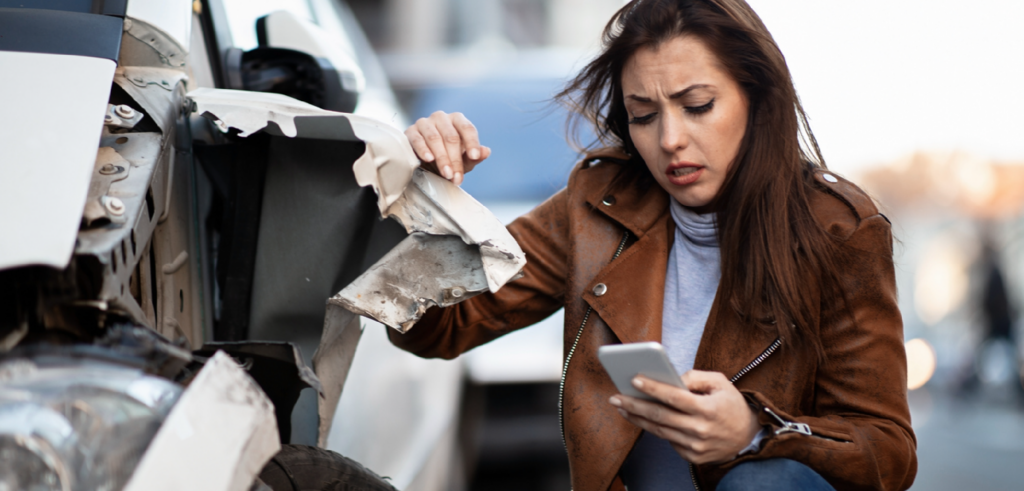 When you experience a hit-and-run, either scenario is possible. Regardless of the party at fault, however, both parties must abide by the California Vehicle Code to avoid criminal liability for a hit-and-run collision.
This means that if you were partially at fault, prosecutors could also charge you for a hit-and-run offense if you flee the scene.
Types of Hit-and-Run Accidents in California
As indicated above, a hit-and-run accident occurs in one of two situations: when property damage occurs and when personal injury or death occurs. The former is a misdemeanor, while the latter is a felony offense.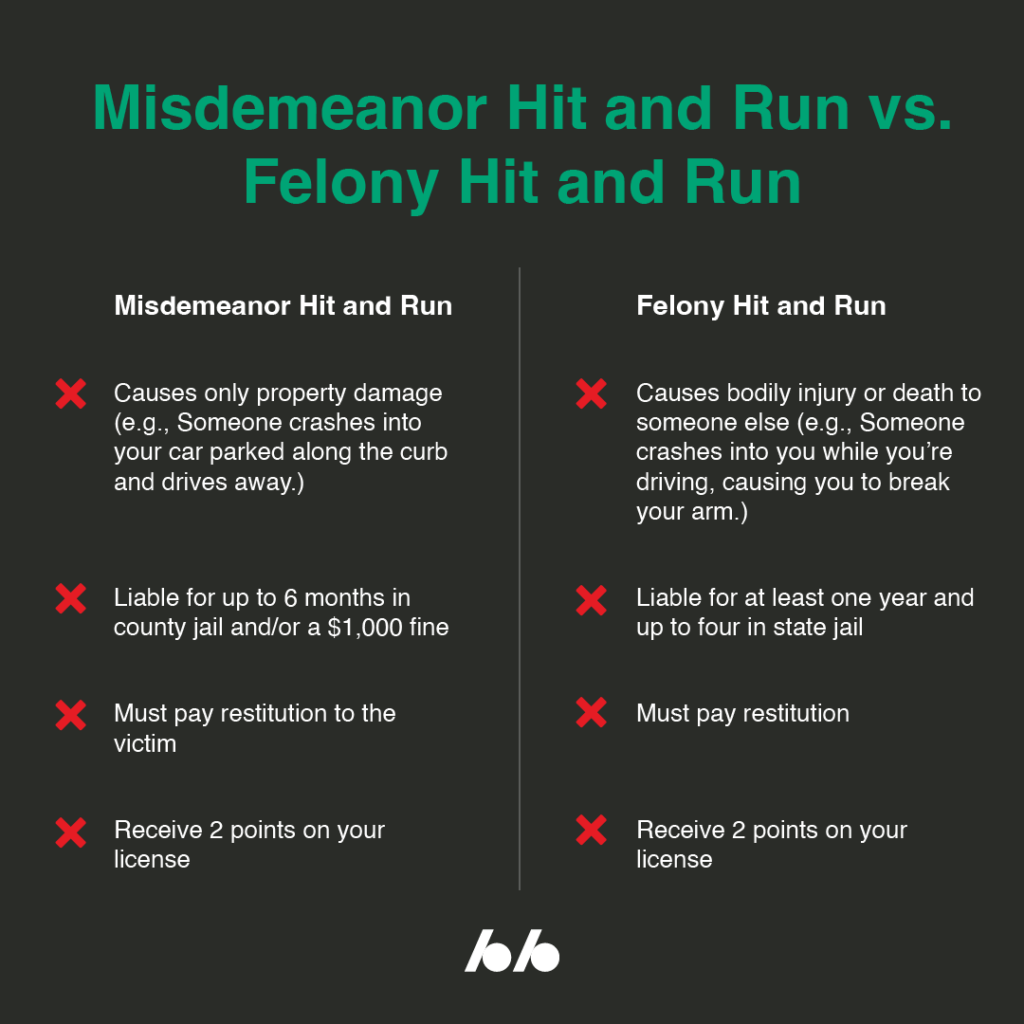 1. Misdemeanor Hit-and-Run
When you've experienced a car accident resulting in damage to property owned by someone else, the California Vehicle Code imposes four responsibilities. You must:
Immediately stop your vehicle and move it out of the roadway (if possible).
Provide the other party with your name and address.
Show the other party a copy of your driver's license and vehicle registration. If you don't own the vehicle, provide the other party with the contact information of the person who does.
Finally, you must also exchange your insurance information or face a $250 fee.
Fleeing the scene without performing these duties means you may be liable for a misdemeanor offense under California Vehicle Code Section 20002.
What does it mean to cause damage to someone else's property? This could be as simple as crashing into someone's mailbox or running over a bicycle. However, you should be mindful that "property" also includes pets and homes. Perhaps more commonly, property damage also occurs when you crash into someone else's car – even a parked one.
In any of these situations, you must attempt to locate the owner of the property if they aren't with it at the time of the crash. A best practice is to leave a note with your name, address, contact information, and details about the accident at the scene.
Legal Penalties
California state laws prescribe several possible punishments for a misdemeanor hit-and-run offense. These include:
Up to 6 months in county jail
A fine of up to $1,000
Restitution to the victim (i.e., payment for property damage)
Two points on your DMV record that may increase your insurance premium
Depending on your criminal history and driving record, it's possible that a judge would sentence you to community service and a probation period. If this is your first offense and alcohol was not a factor, you may also seek a "civil compromise." This would dismiss the charges after you fully compensate the victim.
2. Felony Hit-and-Run
A felony hit-and-run occurs when the car accident causes injury or death to someone else. The California Vehicle Code Section 20001 states, "Any driver of a vehicle involved in an accident resulting in injury or death to someone else shall immediately stop the vehicle at the scene of the accident and shall fulfill their legal requirements in Vehicle Code Sections 20003 and 20004."
Together, these three sections require the driver to:
Immediately stop at the crash site and provide the other party and police with identification.
Provide "reasonable" assistance to the injured party, which includes transportation to a hospital if necessary.
Call the police if someone dies.
Provide the other party and police with car registration, insurance policy, and driver's license.
A felony hit-and-run offense imposes harsher penalties, so the charge is naturally a bit more complex.
The prosecutor must show that you were "involved" in the accident. This means that there's a direct connection between you and the crash. A connection is presumed where:
You make any statements about the accident to the police, insurance adjuster, or other parties
Damage to your car correlates to damage to the other person's car
Legal Penalties
As a more serious crime, the felony hit-and-run results in harsher penalties. These include:
Up to 1 year in county jail with at least 90 days served for a non-serious injury and up to 4 years in state prison for permanent injury or death
A fine ranging from $1,000 to $10,000
Restitution to the victim
Two points on your DMV record
If you have never served a sentence in state prison and meet certain other conditions, then the charge may be reduced to a misdemeanor.
How to File a Hit-and-Run Claim and Get Compensation in California
According to the latest information compiled by the AAA Foundation for Traffic Safety, there were over 700,000 hit-and-run accidents nationwide by the mid-2010s. Almost 20% resulted in a bodily injury, while there were at least about 2,000 deaths. In California alone, there were at least 337 deaths.
If you're one of these individuals involved in a hit-and-run, you may be able to file a legal case depending on the amount of information you have. As soon as the collision occurs, take note of:
The license plate number of the other car, even if only partial
Make, model, and color of the other car, even if you have to guess
Any damage caused by the accident
Identifying characteristics of the other driver
The direction in which the other car fled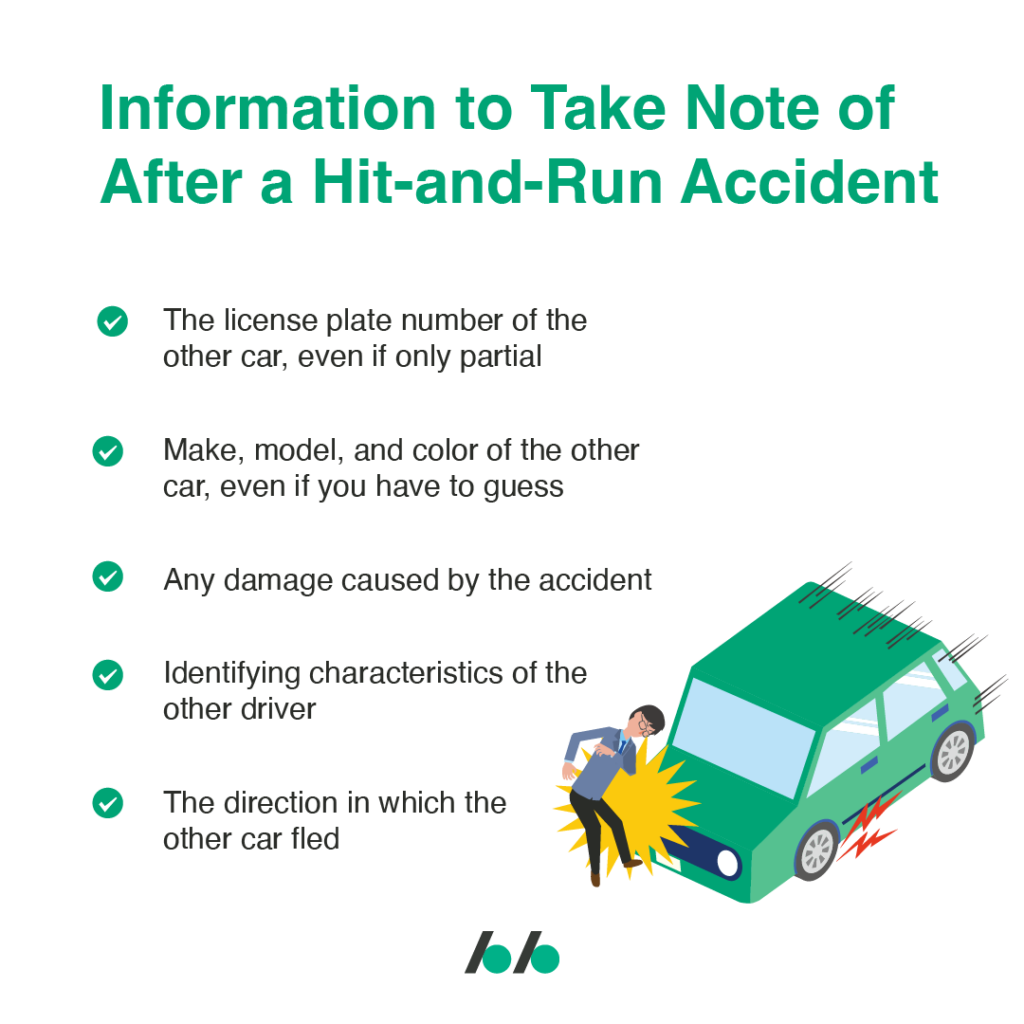 If you don't have enough information to pursue a claim against this other driver, you'll have to rely on other means to get compensation.
Your Other Options When Pursuing Hit-and-Run Compensation
In a car accident where the other driver is at fault, you'll want to seek compensation from the other driver's car insurance. When that's not possible, these options may help.
MedPay Claim
You may have an add-on to your car insurance called Medical Payments (MedPay) and/or Personal Injury Protection (PIP) coverage. These are "first-party" claims, meaning you file them with your own insurance carrier.
With MedPay, fault doesn't matter – your insurance carrier will pay your claim no matter who caused the accident. However, MedPay won't cover every form of injury, particularly where the damages exceed the policy limit.
Expenses covered by MedPay include:
Doctor, rehabilitation, and hospital bills
Ambulance, medical imaging (e.g., x-rays, MRIs), and medical equipment charges
Short- and long-term care
Collision Coverage
Even when the other driver is at fault in a hit-and-run accident, collision insurance will reimburse you for at least some damages. You will most likely have to pay a deductible, however.
Unlike MedPay, your insurer will not pay for medical bills. Collision insurance also will not cover property damage suffered by the other person.
Negligent Driver Insurance
Negligent driver insurance is optional in California. If you have chosen to pay for this added benefit, this policy will cover certain damages.
You must prove that the other driver acted negligently. This means that they failed to act like a "reasonably prudent" person. In this case, you have to show that a reasonably prudent person would not cause an accident and then flee the scene.
Uninsured Motorist Claim
If successful, an uninsured motorist claim can save you from paying your insurance deductible. To make the claim, you must know the other party's insurance. In a hit and run, that will be challenging.
If you were able to note enough information about the other driver before they fled the scene, it may be possible to locate them by their license plate or by following up on witness leads.
Frequently Asked Questions
Can You Sue for a Hit-and-Run on a Parked Car?
Yes! Provided that only property damage occurs, this would be a misdemeanor hit-and-run.
What Evidence Is Needed to Convict in a Hit-and-Run?
This depends on whether the hit-and-run caused property versus bodily damage. But in general, the prosecutor must prove that the driver knew that they caused bodily or property damage, and then fled the scene purposefully.
Who Pays for Damages in a Hit-and-Run?
If you can track down the at-fault party, then they will pay the damages. However, you can also obtain compensation from MedPay coverage, collision insurance, or negligent driver insurance.
Experienced a Hit-and-Run? Adamson Ahdoot May Be Able to Help
If you've suffered a hit-and-run car accident, your first concern may be whether you've been personally injured. Your concern then turns to your car. Working with an experienced personal injury attorney at Adamson Ahdoot LLP can help you get the compensation you may be due. For over a decade, our experienced attorneys have gotten maximum compensation for our clients and the peace of mind they deserve.
Contact us today or call (800) 310-1606 for a no-cost, no-obligation consultation.