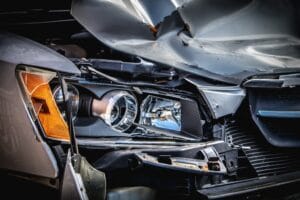 There are more than 5.8 million vehicles registered in Los Angeles County, which is one of the highest numbers of registered vehicles of any county in the U.S. Unlike other large urban cities, the residents of L.A. rely heavily on their vehicles to get to and from one location to the next. High numbers of vehicles on the road, roads that can't meet the demand, and modern technology have all contributed to the rising number of car accidents across Los Angeles and surrounding areas. 
According to the Los Angeles County Department of Public Health, there are approximately 55,000 car accidents resulting in injury or death every year in the county. What causes Los Angeles car accidents to happen?
The top 5 causes of Los Angeles car accidents are:
Driver distraction 
The National Highway Traffic Safety Administration (NHTSA) reports distracted driving was the cause of more than 3,140 tragic deaths in 2019. When in a vehicle, any activity that diverts a driver's attention from driving is considered distracted driving. Talking on the phone, texting, talking to another passenger, fiddling with the stereo, eating or messing with the navigation system are all activities defined as distracted driving. Of all these activities, texting is the most dangerous, reports the NHTSA. 
Driving while under the influence of alcohol or drugs 
Every day in the U.S., approximately 28 people tragically die as a result of drunk driving accidents. Alcohol and illegal drugs reduce the brain's ability to function and can affect response times, perception, and critical thinking. Even small amounts of alcohol or drugs can dramatically impair a person's ability to drive. 
Driver fatigue
According to the National Institute for Occupational Safety and Health (NIOSH), approximately 37% percent of American workers get less than the recommended 7-8 hours of sleep every night. Fatigue can work much like alcohol and reduce the brain's ability to function well. Tired drivers may nod off, forget the last few minutes of driving, reduce their reaction time, and make poor decisions more easily. 
Speeding 
In 2019, more than 9,470 people were tragically killed in speeding-related car accidents, reports the NHTSA. Speeding or going faster than the posted speed limit is a big problem for drivers and for more than two decades, has been one of the leading causes of car crashes nationwide. Speeding increases the likelihood of a driver losing control of a vehicle and the stopping time of a car. Speeding also increases the severity of car crashes and reduces the effectiveness of a vehicle's safety devices and equipment. Other than a blatant disregard for the law, the factors contributing to the problem of speeding are running late, traffic, and a sense of feeling "detached" from other drivers and their well-being. 
Bad road conditions 
Negligent drivers aren't always to blame for automobile accidents. In some cases, bad road conditions can lead to an accident happening. Potholes, missing barriers, poor signage, poorly painted lane lines, and poorly maintained streets are all causes of auto accidents. When a driver isn't aware or prepared for a danger, he or she can easily lose control of a vehicle or get confused. 
Have you been injured in a Los Angeles car accident caused by driver negligence or bad road conditions? Are you tired of dealing with questionable lawyers who don't seem to care about you or your injury? At Adamson Ahdoot LLP, we specialize in handling complex injury cases and treat every client as if they are our only client. Our Los Angeles car accident attorneys know for many clients and their families, dealing with the aftermath of an accident is one of the hardest times of their lives. 
When you work with our skilled legal team, you can expect attention to detail and support when you need it most. Please call our office today at (800)310-1606 to schedule a free consultation. Our Los Angeles car accident lawyers are dedicated to getting you the highest amount of compensation possible for lost income, medical costs, and pain and suffering.