Letting Love Flow Like Water
Water Drop LA and Adamson Ahdoot came together to quench thirsts and lift hearts in DTLA
This past weekend, the Adamson Ahdoot Outreach team was back at it.
This time they took their efforts into Downtown Los Angeles' Skid Row neighborhood, one of the country's largest populations of people without homes, to build relationships in the community and give out donations of clean water and other necessities.
Water Drop LA, a 100% volunteer-run nonprofit community organization started in 2020, was the organizer and leader of the effort. Their weekly event in Skid Row helps combat water inaccessibility by distributing over 2,000 gallons of water each week. They also lend support to partner organizations across Southern California by providing water for them to help meet the community's needs in other areas.
According to their website, "Among these groups are farmworkers in Oxnard and Coachella Valley whose water has been tainted by pesticide runoff, community fridges across LA, and organizers combatting water insecurity within low-income, housed communities."
Aria Cataño, one of Water Drop LA's founders, explained the community organization's role further.
"Water Drop's mission is to provide clean drinking water to people experiencing homelessness and other communities facing water insecurity. We believe that no person, regardless of their housing status, should go without access to clean drinking water: the most fundamental human need," Cataño shared.
She explained that as summer approaches and temperatures rise, it is precisely the moment for neighbors in Los Angeles to help those around them that aren't as fortunate. Her hope is that their involvement will help to prevent avoidable deaths and heat-related emergencies in unhoused communities.
"Every person and every organization plays a crucial role in this effort, and we welcome the hands-on engagement of firms like Adamson Ahdoot during this critical time."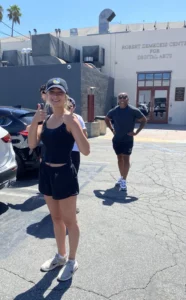 Adamson Ahdoot Paralegal Zoe Ash was among the Outreach Team members onsite to help with the effort. For Ash, participating in the event, provided team members a perspective of how people live only a few miles away. She claimed it is Adamson Ahdoot's responsibility as a firm to help those who are in need.
"Adamson Ahdoot places high importance on the community we serve. This includes those without access to many of the basic necessities for survival that we so frequently take for granted such as water, food, hygiene, and shelter. It is vital for Adamson Ahdoot to go out into the community to better understand and serve our clients who not only are struggling with injuries both mental and physical, but also in their personal life going through financial struggles," Ash affirmed.

It's easy to get involved. Water Drop LA currently accepts donations one Saturday a month in the parking lot of 3131 S Figueroa Ave. Water Drop LA's social channels update frequently with the exact date. They accept:
Food (perishable and non-perishable)
Clothing/shoes (High need for L sizes)
Bedding
Towels
Toiletries
PPE
Unused hygiene products
Gear (tents, tarps, thermal blankets, sleeping bags)
Join Water Drop LA for their weekly water distributions in Skid Row every Sunday from 11-2 p.m. All supplies are provided, and all ages are welcome.
Client-First Approach
Above all else, our clients come first. We go above and beyond to obtain the highest level of compensation possible.
Meet Our Attorneys
Multi-Focus Law Firm
Adamsom Ahdoot has successfully executed a plethora of personal injury cases.
Cases We Handle
Get in touch with our firm
Our team can better advise you on your legal options once we receive any available evidence about the incident.
Take Action Now