Autonomous Traffic Management System Could End Gridlock & Make Roads Safer
An autonomous traffic management system called NoTraffic, could help ease congested city streets and make roads safer for drivers and pedestrians too. NoTraffic, which was developed in Israel, is looking to bring outdated traffic lights into the 21st century by using cloud computing and artificial intelligence (AI).
Since their inception more than a hundred years ago, not much has changed about how traffic lights are used. Most traffic lights operate with a straightforward red-green-yellow signal concept. This red-green-yellow way of controlling traffic flow is essential in keeping drivers and other road users safe, but it appears this system is in much need of a facelift.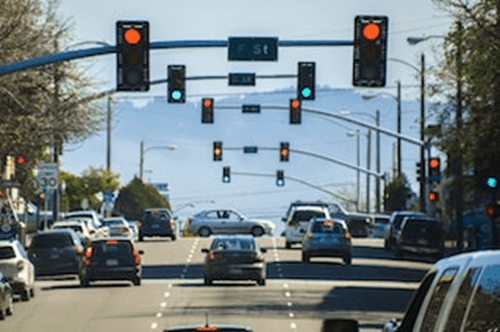 In most U.S. cities, traffic lights and signals are set manually after conducting traffic counts at different times of the day. Many of these timing plans are kept in place for years – not giving transit authorities the ability to make changes according to growing vehicle or pedestrian traffic. Sadly, it's becoming more and more apparent that these timing plans are falling short…approximately 50% of car accidents resulting in a fatality or injury occur at or near an intersection, reports the Federal Highway Administration (FHWA).
According to the L.A. Times, the top 5 most dangerous intersections in Los Angeles are:
Slauson Ave and Western Ave.
Hollywood Blvd and Highland Ave.
Martin Luther King Blvd and Crenshaw Blvd.
Vine St. and Hollywood Blvd.
West Way and World Way.
NoTraffic is hoping its system will help improve safety for all road users. NoTraffic's traffic management platform "transforms any traffic signal into smart infrastructure," allowing the system to see a complete picture of traffic and the ability to respond to users in real-time. The system's cutting-edge technology allows it to coordinate light changes based on the current flow of traffic and traffic needs.
Cameras outfitted with AI (mounted at intersections) have the ability to detect not just vehicles, but pedestrians and cyclists. This technology allows the light to change – or not change, based on the real-time needs of traffic. For example, if a large group of pedestrians is attempting to cross the street, the system will keep cars at the light longer.
The autonomous traffic platform isn't standard yet for all cities, but cities like Palo Alto and Redlands are some of the first to use what NoTraffic says is the "Future of Mobility."
Determining Negligence for a Severe Injury or Tragic Death
Traffic accidents resulting in the injury or tragic death of a loved one are almost always preventable. If you believe your loved one was injured or killed because of a faulty traffic light or signal, the Los Angeles personal injury attorneys at Adamson Ahdoot LLP would like to speak with you. We can quickly determine if a faulty traffic signal or light was the cause of the accident and collect the evidence needed to get you a successful outcome.
Call our office today to arrange a free consultation.
Client-First Approach
Above all else, our clients come first. We go above and beyond to obtain the highest level of compensation possible.
Meet Our Attorneys
Multi-Focus Law Firm
Adamson Ahdoot has successfully executed a plethora of personal injury cases.
Cases We Handle
Get in touch with our firm
Our team can better advise you on your legal options once we receive any available evidence about the incident.
Take Action Now